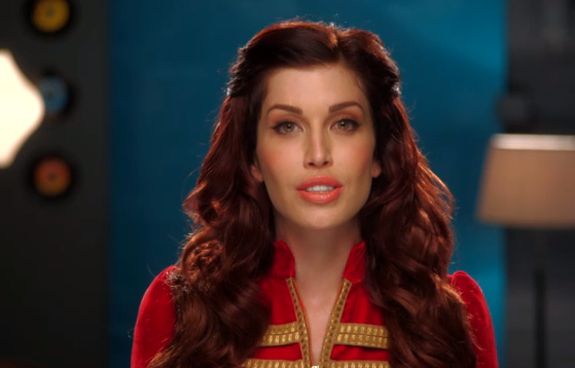 The entertainment industry lost many iconic figures in 2017– from Tom Petty to Mary Tyler Moore. However, the world of reality TV lost many notable names as well.
From entertainment industry legends to reality stars who succumbed to longtime drug problems, here are the reality TV folks who died in 2017.
(Names that are hyperlinked can be clicked for more information.)
Judge Joseph Wapner ('The People's Court'): February 26
The famous TV judge starred on reality court show 'The People's Court' from 1981 to 1993. He died of respiratory failure on February 26. He was 97.
Antonia Gorga ('The Real Housewives of New Jersey'): March 4
The mother of 'Real Housewives' star Teresa Giudice, who had made several appearances on her daughter's reality show,  died on March 4 from natural causes. She was 66.
Karissa Hilts ('Intervention'): March 8
Karissa appeared on a 2016 episode of 'Intervention' that showed her struggling with drug addiction while also running her family's diner. After her episode, Karissa got clean, but died as the result of a hit-and-run accident on March 8. She was 29.
Mike Aktari ('Jerseylicious'): March 13
Mike, best known for being Olivia Blois Sharpe's boyfriend on 'Jerseylicious' from 2010-2012, died on March 13. No cause of death was released publicly. He was 28.
Vince Jones ('Big Rig Bounty Hunters'): March 22
The History Channel reality star died at home on March 22 from a reported heart attack. Vince had been battling sleep apnea the last year of his life, and his family reported that the condition may have triggered his fatal heart attack. He was 46.
Clay Adler ('Newport Harbor: The Real Orange County'): March 26
Clay, who starred for two seasons on MTV's 'Newport Harbor: The Real Orange County,' died on March 26 from a self-inflicted gunshot wound. After his death, Clay's friends and family honored Clay, who was an avid surfer, with a memorial paddle out in Newport Beach. He was 27.
Paulie Giganti ('Hell's Kitchen'): April 20
Paulie appeared on 'Hell's Kitchen' in 2016, finishing in fourth place. On April 20, he was found in his home, dead from an accidental drug overdose. He was 36.
Bob Carter ('House of Carters'): May 16
Bob, who was the father of singers Nick and Aaron Carter, appeared frequently on his family's reality show 'House of Carters.' He died on May 16, reportedly from a heart attack. He was 65.
Michael Nance ('The Bachelorette'): May 28
Michael appeared on Emily Maynard's season of 'The Bachelorette' back in 2012. At the time of his appearance, he was working as a rehab counselor, having revealed that he had struggled with a prescription painkiller addiction in the past. Michael died from an accidental drug overdose on May 28. He was 31.
Danny Dias ('Road Rules'/ 'The Challenge'): June 4
After starring on 'Road Rules' in 2004, Danny went on to appear to appear on "The Gauntlet 2" season of 'The Challenge.' He later helped found an AIDS research charity. He died in June from complications of chronic substance abuse. He was 34.
Dr. Brandon Rogers ('America's Got Talent'): June 10
Known as "The Singing Doctor," Dr. Brandon Rogers died in a car accident on June 10, one month before his pre-recorded audition for 'America's Got Talent' aired. He was 29.
Stevie Ryan ('Stevie TV'): July 1
The YouTube star broke into the world of reality TV in 2012 with her show 'Stevie TV.' The reality/sketch comedy show aired on VH1 until 2014. Stevie died on July 1 from suicide. She was 33.
Hugh Hefner ('The Girls Next Door'): September 27
The Playboy founder, who also starred for several seasons on his reality show 'The Girls Next Door,' died on September 27. He was 91.
Ralphie May ('Last Comic Standing'): October 6
The comedian finished in second place on the very first season of 'Last Comic Standing.' Ralphie went on to have a very successful career in comedy before he passed away on October 6 from cardiac arrest. He was 45.
Mychael Knight ('Project Runway'): October 17
The designer appeared on the third season of 'Project Runway' and 2013's "All-Star" season. He died on October 17 after struggling with intestinal issues. He was 39.
Wendy Pepper ('Project Runway'): November 12
Wendy, who was contestant on the first season of 'Project Runway,' as well the 2012 "All-Stars" season, was regarded as one of the show's first "villains." She passed away from an unknown cause at the age of 53.
Frank "The Tank" Miller ('Flip or Flop'): November 17
The fun-loving 'Flip or Flop' contractor died on November 17 after a years-long battle with cancer. His 'Flip or Flop' cast mates raised money to help pay for his treatments and his funeral.
David Cassidy (Singer, 'Celebrity Apprentice'): November 21
The singer and actor was a teen idol in the 1970s, but he made a comeback via reality TV when he appeared on 'Celebrity Apprentice' in 2011. Unfortunately, he was the first celebrity fired that season. He passed away on November 21 from organ failure after a battle with dementia. He was 67.
(Photo: VH1)