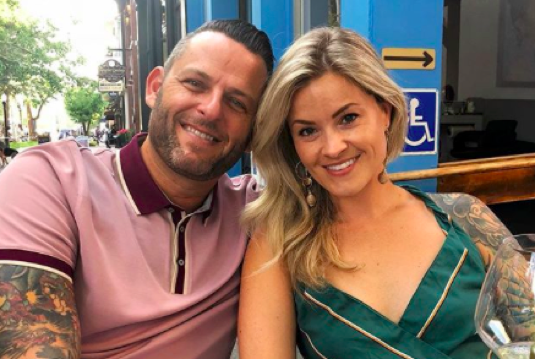 Sarah Rice, former competitor on The Challenge, is calling it quits with her husband Landon Patterson after four years of marriage. Fans were surprised by the news…but even more surprised by how Sarah's 'Challenge' nemesis, Johnny Bananas, responded!
According to People, Sarah made the announcement last week during an episode of her Brain Candy podcast, which she hosts with fellow 'The Challenge' alum Susie Meister. Sarah kicked off her announcement by acknowledging that some of her podcast listeners and social media followers had likely noticed Landon's absence as of late.
"You guys are probably like, 'Where's Landon? and, 'She hasn't been talking about him,'" she said. "And that's because we're gonna get a divorce, or we're getting one. Going through the whole process."
https://www.instagram.com/p/BqViU21gHZd/?utm_source=ig_web_copy_link
Sarah went on to say that two people could "be really good, but not a good fit."
"It felt like every day I was moving a little bit away from… who I am," she added.
Sarah said a recent road trip gave her the opportunity to think about her marriage, ultimately deciding that she had to tell Landon she loves him, but just isn't in love with him—- something she said is "real hard to do."
"It's kind of like a palm tree and an oak tree," she explained. "Like, they're both strong trees, but if you put them next to each other, one's not going to survive."
Sarah shared an optimistic Instagram post with her fans following the announcement of her divorce, noting that she didn't know what the future may bring but she's "ready for the ride."
As The Ashley previously told you, Sarah and Landon, who tied the knot in 2015, found out they were expecting in early 2018, but unfortunately lost the baby 12 weeks into Sarah's pregnancy. At the time, Sarah compared the tragedy to doing a final challenge and leaving with no money—something she experienced first-hand on 2016's Rivals III when, as fans of the show may remember, Johnny Bananas finished ahead of Sarah (his 'Rivals III' partner) during the final challenge and infamously opted to keep the entire $275,000 prize instead of splitting it with her.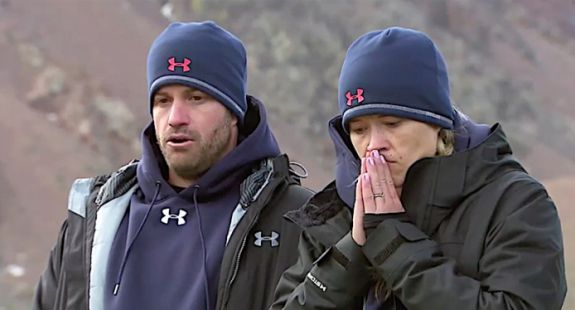 In typical Bananas fashion, after hearing the news of Sarah's divorce, Bananas couldn't help but throw in his $275,000 two cents on Twitter.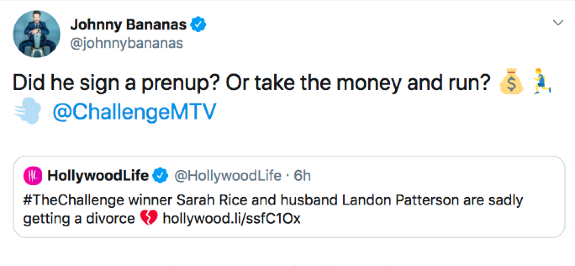 "Did he sign a prenup? Or take the money and run?" he tweeted on Tuesday.
Johnny took a lot of backlash from his Twitter followers for his ice-cold comment.
"SHE DIDN'T HAVE ANY MONEY FOR HIM TO TAKE. THAT WAS ALREADY DONE BY YOU," one person wrote.
"Dude come on, like on TV be shady all you want but this is real life. She is probably heartbroken. Have just an ounce of compassion. Just lost all respect for you," another person wrote.
Another 'Challenge' fan pointed out that Johnny is not exactly known for his tact, referencing when he taunted 'Challenge' co-star Devin Walker for appearing on "The Final Reckoning" soon after his father passed away.
"I mean, what's next? Making fun of the death of someone's father-? Oh wait…" a Twitter user wrote.
At press time, Johnny's tweet remains up, and Sarah has yet to comment on it.
RELATED STORY: 'The Challenge' Star Sarah Rice Reveals She Had a Miscarriage: "It's Like Doing a Final Challenge & Leaving with No Money"
(Photos: Instagram; MTV; Twitter)