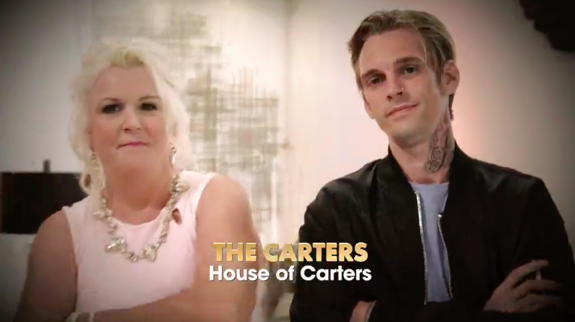 Aaron Carter revealed some good news to his social media followers this week when he shared that his mother, Jane Carter, is almost 40 days sober.
Aaron, who is starring alongside Jane on Marriage Boot Camp Reality Stars: Family Edition, shared the news on Monday via Instagram.
https://www.instagram.com/p/B3T0JiJlvMk/?utm_source=ig_web_copy_link
" … I'm so proud that she is almost 40 days sober and she is truly the love of my life," he captioned a photo of Jane. "Momma without you there would be no me."
Aaron went on to mention that some of his family had cut his mom off "due to the disease of addiction," however, he said having been to rehab twice himself, it is something he is more "knowledgeable about." He went on to thank the TV show The Doctors for helping him get his mom "the help she needed."
The episode of 'The Doctors' featuring Jane aired last month.
https://www.instagram.com/p/B2hGUR9l5tb/?utm_source=ig_web_copy_link
While the news of Aaron's mom's sobriety is not to be overlooked, questions of Aaron's own sobriety and overall well-being continue to arise, most recently when the singer debuted a rather large face tattoo. Aaron has since revealed new additions to his ink collection, including another face tattoo—though much smaller this time around—and a new neck tattoo, both of which he showed off on social media this week.
Aaron continues to deny any accusations of drug use and even attempted to prove his sobriety last week by posting a video of himself taking an at-home drug test.
Aside from the sobriety concerns, Aaron has also been dealing with some issues within his family.
Earlier this month, according to In Touch, Aaron's older brother Nick Carter of the Backstreet Boys revealed on Twitter that he and his sister Angel had filed for restraining orders against Aaron due to his "increasingly alarming behavior," specifically some alleged death threats directed at Nick and his family.
#mentalhealth #GunControlNow #GunControl pic.twitter.com/q280ClqyjI

— Nick Carter (@nickcarter) September 17, 2019
"In light of Aaron's increasingly alarming behavior and his recent confession that he harbors thoughts and intentions of killing my pregnant wife and unborn child, we were left with no choice but to take every measure possible to protect ourselves and our family," he wrote. "We love our brother and truly hope he gets the proper treatment he needs before any harm comes to himself or anyone else."
Aside from adding to his tattoo collection this week, Aaron revealed yesterday on Instagram that he purchased a "f**king castle" in Canada.
There's no word yet if the new Carter Canadian Castle will have a designated room for face tattooing, or a guest suite for Jane.
RELATED STORY: WEtv Announces Premiere Date for 'Marriage Boot Camp Reality Stars: Family Edition'; Meet the Cast and Watch the Season 13 Trailer
(Photos: WEtv; Instagram; Twitter)