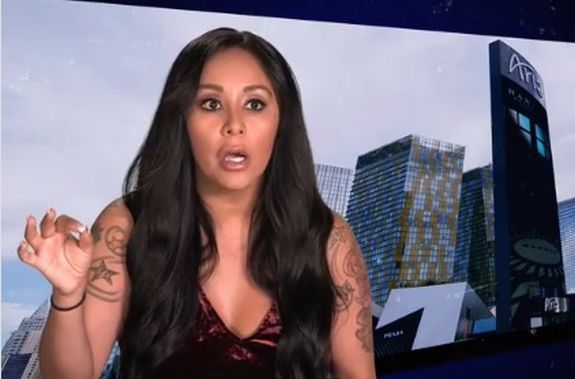 Nicole "Snooki" Polizzi may have already made up her mind on departing from Jersey Shore Family Vacation, but it doesn't mean her co-stars have completely given up on the possibility of her making a return to the show.
According to Us Weekly, Mike "The Situation" Sorrentino said not only did he initially try to talk Nicole into staying on the show, but he remains hopeful she'll eventually "have a change of heart."
"I didn't agree with it, but I have to support my sister," Mike said. "I had texted her, called her and tried to convince her to reconsider but she has to do what's right for her and we have to support her as a family. Maybe she'll come back and revisit, maybe she'll have a change of heart. Who knows? I'm hopeful for the future."
Vinny Guadagnino seemed hopeful for a possible return as well, adding that Nicole "quits every day" because of the difficulties she's faced from having to leave her husband and three children at home to film for the show.
"It's like, you want to do this thing so bad but you get pulled back into your newborn baby and stuff," he said. "So hopefully she can find a way — if there is one out there — to balance both. But right now, the scale, I think, was kind of tipping toward it wasn't working out."
In January, a month after her announcement, Nicole opened up more about the struggles of having to leave her kids to film for 'Jersey Shore Family Vacation' in Miami.
"My son is 7. So when we came back from Miami, I was gone for two weeks, then I came home for a night and then left for another two weeks. That literally scarred him," she told Us Weekly.
"So anytime I say, 'Mommy's going to work,' he's like, 'Mom, you cannot leave me again like you did. I was so upset. I don't want you leaving.' So now every time I say I'm leaving for work, he goes, 'How long are you leaving?' It kind of gives him anxiety now. I can't do that anymore. They are definitely happy that I'm not going to be leaving for days on end now."
While the concern for her own family's wellbeing was the main reason Nicole gave for wanting to leave her fist-pumping TV family, she also noted that she wasn't comfortable with "the direction" the show was moving in and that she needs some time for herself.
Though she didn't specify at the time, Nicole's comments may have been referencing the drama that occurred at Angelina Pivarnick's November wedding to Chris Larangeira… The drama that ensued after Nicole, Jenni "JWoww" Farley and Deena Cortese decided to roast Angelina during their bridesmaids toast at the couple's wedding reception.
The trio of roasters bridesmaids received a lot of backlash online after audio of the incident was released, with many online jumping to Angelina's defense and calling the group "mean girls."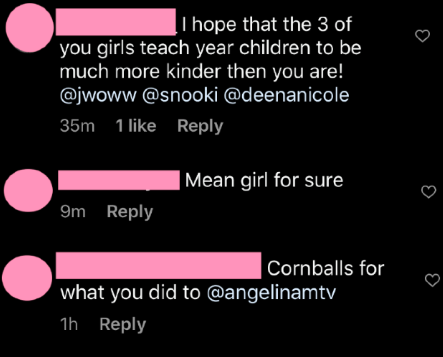 In addition to the occasional "mean girl" comments, Nicole is also prone to getting "mom shamed" from trolls on the internet. However, Vinny and Mike told In Touch Weekly that Nicole actually handles the haters really well and is "doing a good job."
"She's like, 'Calm down, Carol.' … It just shows she knows it's a joke," Vinny said. "[Nicole] knows these people are sick people … She doesn't really care."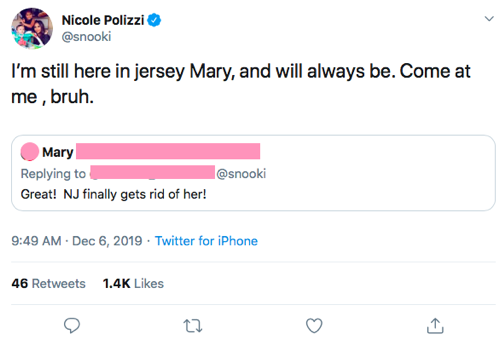 "The kings don't pay attention to peasants throwing stones at the castle," he continued, while Mike added, "A successful man or woman is one that can lay a firm foundation with the bricks that are thrown at them."
RELATED STORY: 'Jersey Shore' Star Ronnie Ortiz-Magro Ordered By Judge to Stop Contacting Jen Harley; Couple to Return to Court Next Month
(Photos: MTV; Instagram; Twitter)