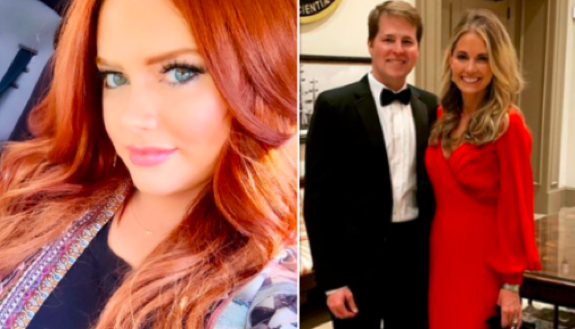 The world of Southern Charm has been anything but charming over the last few days. With racism accusations, cast members quitting, infidelity rumors and more, the cast has generated a ton of news, which The Ashley will now attempt to break down for you (in the most charming way possible)!
Earlier this week, Cameran Eubanks announced she was leaving the Bravo show after six seasons. Also this week, Kathryn Dennis was slammed after several private messages she sent to an African-American radio host went viral, showing that Kat used a racist emoji. (She later apologized, lost her job with Gwynn's and was defended by her ex Thomas Ravenel.)
Over the past day or so, plenty more has gone down with the cast of 'Southern Charm,' most notably two more cast members quitting the show, and Cameran's husband Jason Wimberly being accused of infidelity, a rumor Cam denies (as does the alleged mistress), and says Kathryn started!
On Wednesday, Cameran took to Instagram to address "insidious rumors" and "fake articles" being written about her and her marriage to Jason Wimberly. Cameran said she had planned to "make a kind statement" the following day about why she decided to leave 'Southern Charm', but ultimately decided to issue a statement earlier when she saw things floating around the Interwebs about her departure from the show being due to Jason cheating on her.
(One site claimed that Jason has been cheating for two years and is in love with his mistress.)
Cameran denied her husband was/is cheating, and denied that Jason had anything to do with her decision to leave the show.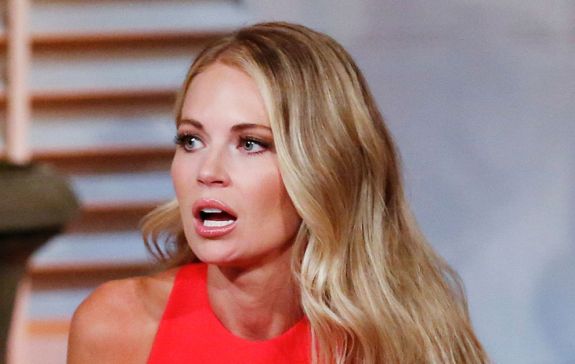 "While upsetting, it sadly doesn't surprise me as this is what reality television has come to nowadays and a large reason why I kept my marriage off the air," she explained. "You must protect what's sacred to you. Some things aren't worth a big paycheck. What upsets me the most is that my husband, who is the most sincere and faithful human I know is being falsely dragged into this. It disgusts me.
"He always supported me filming the show even though he wanted no part of the spotlight," she continued. I can't get too upset though because this is what you sign up for when you put [your] life on reality TV… and why I'm getting out of it … ."
Cameran insisted she made and informed Bravo of her decision months ago and that her leaving has nothing to do with the rumors surrounding her marriage.
Charleston makeup artist Rebecca Leigh Wash— aka the woman rumored to be Jason's mistress— also took an opportunity to clear her name… and address the allegations of where the rumor began.
Not only did Rebecca deny hooking up with Jason, but stated that she has never even met Cameran or Jason, and called the accusations against her "blatant unfounded lies that have shaken me to my core."
She went on to comment on rumors that it was Kathryn who started the cheating story.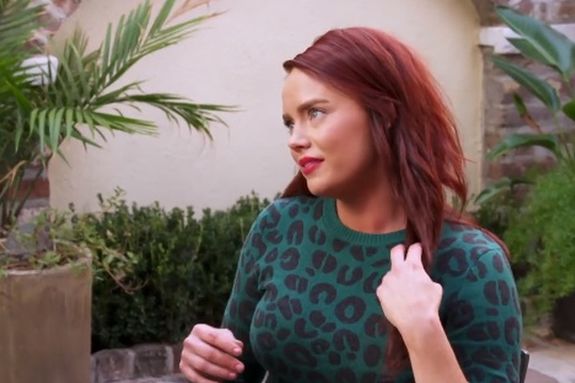 "I met Kathryn Dennis one time in July 2018 when I did her makeup for a photoshoot for a local clothing store," Rebecca wrote. "I have not seen or spoken to Kathryn since. I have only known her in my limited interaction in a professional capacity, and to suggest that I am somehow associated with these allegations is dumbfounding, hurtful and malicious. I am so sorry to the Wimberly family that someone would cut so low as to attack the core tenant of anyone's life – their family."
All About the Tea– a site behind the original cheating story— claimed on Thursday that Cameran quit when she found out Kathryn had spoken about Jason's alleged affair on-camera.
"Cameran reportedly flipped out when she discovered that producers were plotting to include Jason's affair in Season 7," the site reported. "She also learned that her costar and friend, Kathryn Dennis, filmed a few scenes back in January, exposing the affair on-camera."
https://www.instagram.com/p/CALbAgChtHI/?utm_source=ig_web_copy_link
Soon after Rebecca posted her statement, Cameran shared it to her Instagram Story, adding with it a message of support, calling Rebecca "the victim."
"It is so sad that this kind, beautiful and innocent girl had to be drug into the mud," she wrote. "I signed up for this by being on TV. She didn't. [Rebecca] is the victim here."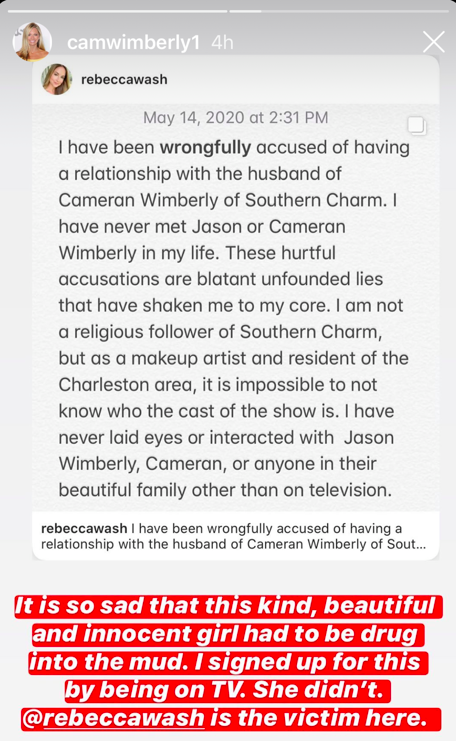 Naomie Olindo, another one of Cameran's 'Southern Charm' cast mates, went on to share the re-post and revealed that like Cameran, neither she nor Chelsea Meissner will be returning to the show next season because of "s**t like this."
Naomie also made it clear that she, too, blames Kathryn for starting the rumors.
"Shame on you [Kathryn] for this and MANY other things," Naomie added to the post, along with a monkey emoji – a reference to another controversy in which Kathryn is currently involved.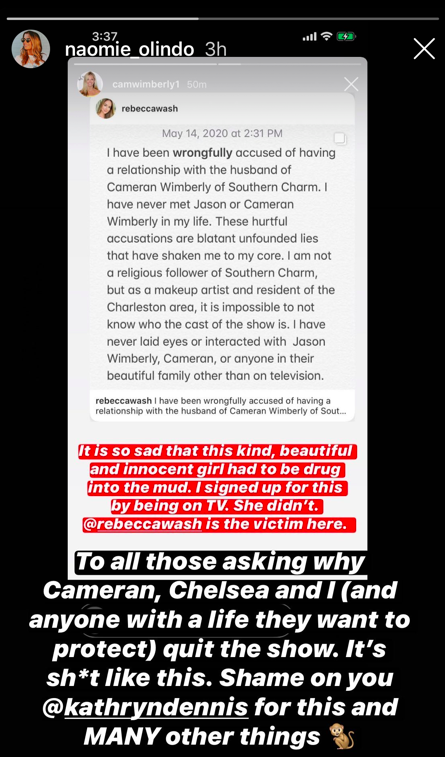 While Chelsea has yet to confirm that she's done with 'Southern Charm', Naomie tagged her (again) in a comment on Cameran's post about leaving the show, alluding that the three of them are in fact leaving the show.
"I'm so damn proud of you and us," Naomie commented.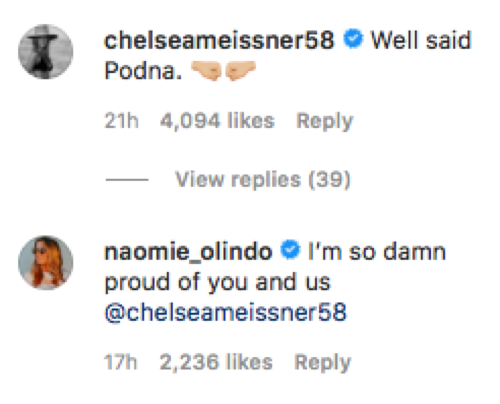 One 'Southern Charm' favorite who isn't going anywhere, is Patricia Altschul. Go ahead and break out your butler's bell and ring for your medicine, because Patricia just confirmed she "will still be around.. holding down the fort" along with Whitney Sudler-Smith and Michael the Butler.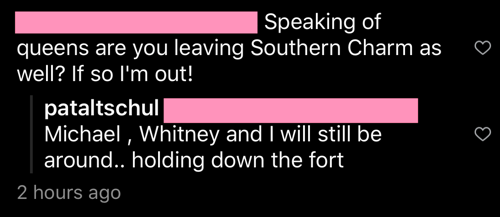 Stay tuned; The Ashley will continue to provide updates as more 'Southern Charm' drama unfolds!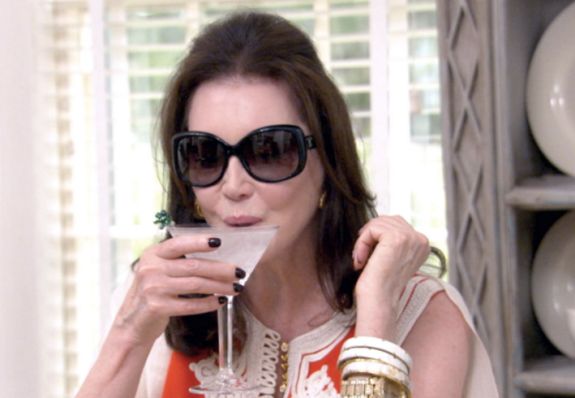 UPDATE! Kathryn's former 'Southern Charm' nemesis Ashley Jacobs, as well as former cast member Landon Clements have commented on the departure of Chelsea, Cameran and Naomie, as well as the Kathryn drama. Click here for the latest update!
RELATED STORY: Thomas Ravenel Defends 'Southern Charm' Star Kathryn Dennis After Her Racist Messages Go Viral: Kathryn Loses Job as Brand Ambassador
(Photos: Bravo, Instagram)