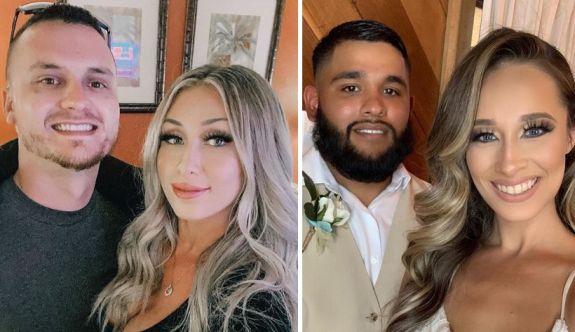 Wedding bells were ringing this weekend, as two different girls from 16 and Pregnant got hitched to their longtime loves.
Felicia Cooke and Nikkole Paulun— who both starred on the second season of the MTV show back in 2010 (alongside the Teen Mom 2 cast)— celebrated their weddings over the weekend. Felicia got hitched on Friday, while Nikkole's wedding was held on Saturday.
These are the first marriages for both Felicia and Nikkole.
Nikkole married Kyle Ledda, whom she became engaged to back in May. She announced the big news by posting a photo to her Instagram account, along with the caption, "Married my best freakin friend– July 18, 2020."
Photos showed her son, Lyle— whom she gave birth to during her "16 and Pregnant" episode– dressed up for the ceremony. She later posted videos of the celebratory dinner held after the ceremony.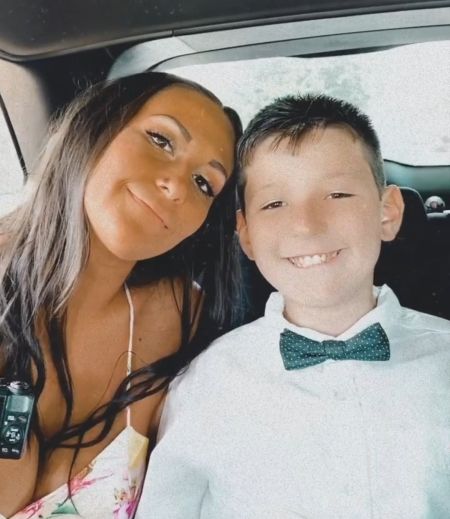 On Saturday, she revealed via Instagram Stories that this wedding will not be their only one.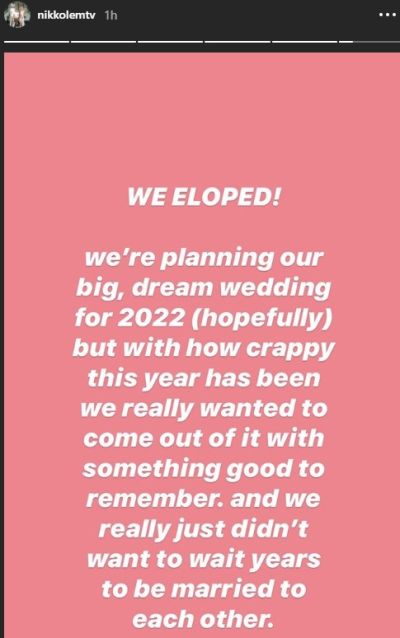 "We eloped! We're planning our big, dream wedding for 2022 (hopefully) but with how crappy this year has been we really wanted to come out of it with something good to remember," she wrote. "And we really just didn't want to wait years to be married to each other."
This was the third engagement for Nikkole, but marks the first time she's actually gotten married. She was previously engaged to Lyle's father, Josh Drummond (which, like pretty much everything related to Josh, did not work out). In 2014, she announced she was engaged to the father of her daughter Ellie. Although they were scheduled to get married in October 2014, they never made it down the aisle and instead broke up.
Nikkole has been dating Kyle for several years. In August 2019, Nikkole and her kids moved in with him. Last month, she revealed that she suffered a miscarriage, right before she and Kyle planned to announce the pregnancy.
Nikkole received congratulatory messages from her former "16 and Pregnant" Season 2 co-stars Kail Lowry and Leah Messer, as well as Ashley Salazar, who wrote, "OMGGGG! Congrats. You are beautiful!"
As for Felicia's nuptials, it appears they took place at the Lucky Spur Ranch in Justin, Texas. Felicia married her longtime boyfriend Jose Garza, whom she has been dating since 2017 and became engaged to back in December 2019. Both of Felicia's children by her ex, Alex Gutierrez— daughter Genesis, who was born on "16 and Pregnant," and daughter Giselle— participated in the wedding as flowergirls. Felicia's nearly one-year-old son with Jose, Greyson, served as the ring bearer.
On Saturday, Felicia posted a series of wedding photos to her Instagram page, as well as a message for her new husband.
"On this day, I choose you for life. I promise to be faithful to you, I promise to love you, to commit to you and support you," she wrote. "You have shown me what true love feels like, and for that I thank you. You are everything I need, and at this moment I know God had answered all my prayers. I love you always and forever DIPS**T! #TheGarzas."
Felicia has kept a much-lower profile than Nikkole has in the years since appearing on MTV. In fact, back in 2013, Felicia stated that she felt going on "16 and Pregnant" was the "worst mistake" of her life.
Check out more photos from Felicia's wedding below!
RELATED STORY: EXCLUSIVE! 'Teen Mom 3' Star Alex Sekella is Married! See Photos from Her Wedding to Longtime Love Tim Peters
(Photos: Instagram)