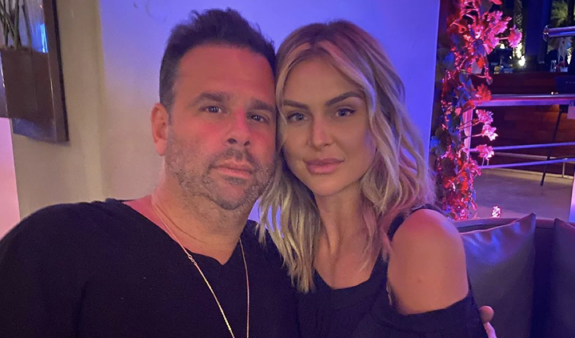 Make room on the PJ – Lala Kent and Randall Emmett are expecting their first child together!
The Vanderpump Rules star and her producer fiancé broke the news on Wednesday's episode of their podcast, Give Them Lala… With Randall. E! News reports that Lala began her announcement by telling listeners she was shaking because she "can't believe that it's a real life thing."
"I'm really emotional… let me gather myself," she continued. "I cry about everything, but today, it's very much happy tears."
Acknowledging her 30th birthday, Lala went on to say she couldn't "think of any other way to celebrate" and that the "best gift" had been given to her.
"My body also helped out, too. I am pregnant." she revealed. "I am so excited, I feel very maternal and motherly."
Lala, who has been engaged to Randall since August 2018, admitted the reality of her pregnancy and 30th birthday were "hitting [her] in the face."
"It's like, holy s**t, I'm turning 30, there's something living inside of me, growing … and my life is changing very quickly and I don't love change," she continued. "Even though it's all great things it's like, 'Well, wait a minute. I'm a kid still, how am I having a kid?'"
Just last week, Randall admitted that he and Lala were trying to conceive a baby, telling Us Weekly that they were "on the apps" tracking Lala's ovulation.
"We have our normal course of being together and then the moment comes and she's just like, 'It's Friday at 3 o'clock. You are not going anywhere," he said. "So yes, we are working on it. It's only a matter of time."
This will be Lala's first child and Randall's third, as he already shares two daughters with ex-wife Ambyr Childers.
Earlier this summer, Lala's former 'Vanderpump Rules' co-star Stassi Schroeder revealed she was expecting her first child with fiancé Beau Clark.
Both couples were set to tie the knot this year, however their respective weddings were postponed due to the ongoing pandemic.
RELATED STORY: Stassi Schroeder Reportedly Discussing Future Projects with Production Company Behind 'Vanderpump Rules' Two Months After Getting Axed By Bravo
(Photos: Instagram)