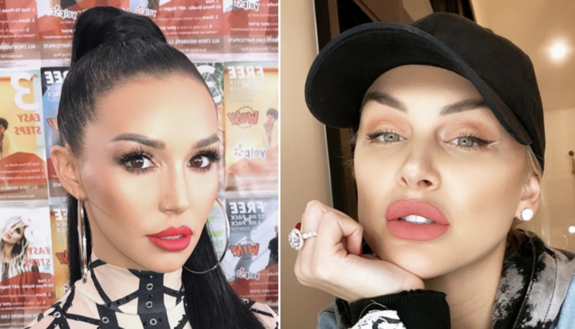 Amid the recent Vanderpump Rules baby boom news, Lala Kent and Scheana Shay have found an opportunity to get into some good old fashioned 'VPR' drama.
The feud between the former friends began after fans of the cast questioned why Scheana was not in attendance at Lala and fiancé Randall Emmett's recent gender reveal. According to TooFab, Scheana addressed the question on an episode of her podcast, Scheananigans, candidly revealing that she and her boyfriend Brock Davies "weren't invited." Scheana also stated that Lala wasn't there for her following her recent miscarriage— and Lala had a lot to say in response to Scheana's accusations!
Brock, who was Scheana's guest for the episode, said he and Scheana didn't fall on the "priority list" of people who should come to the gender reveal, to which Scheana said made it pretty clear where her friendship with Lala stands.
"Over the last few months, we haven't really talked honestly," she added, before revealing their friendship began to deteriorate in June around the time Scheana suffered a miscarriage while alone in Palm Springs.
"Brock decides to go golfing and I'm like, literally [having a] full panic attack," she continued. "I'm like, 'I don't know anyone in Palm Springs' and my mom was like 'Well, why don't you call Lala?' I was like, 'You know what? Actually yeah, like, this could be a turning point in our friendship. She'll be here for me at my lowest of low and we'll get back on track.'"
https://www.instagram.com/p/BnPkm8IAS6n/?utm_source=ig_web_copy_link
After making an emotional call to Lala (and venting to her about Brock's decision to go golfing), Scheana said she asked Lala to come over but Lala said she was going to dinner. Although she said Lala did invite her to come along, Scheana said she didn't want to socialize at the time so she declined the offer.
"She literally said to my mom, 'If she needs anything at all, I will be there. I'm 5 minutes away in Palm Springs,'" she said. "I needed her and she wasn't there because she had dinner with celebrities. Let's be real."
Scheana and Brock said they learned later that Lala had gone to dinner that night with Machine Gun Kelly and Megan Fox. Lala's fiancé Randall was at the dinner as well; however, both Scheana and Brock noted that they have spoken to Randall more than Lala in recent months and both are on good terms with him.
Following the release of Scheana's podcast, many fans slammed Lala for not being there when Scheana needed her.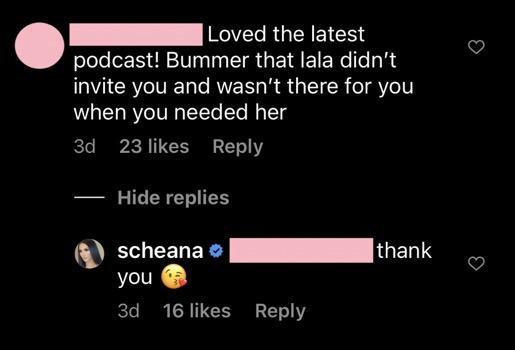 Not long after, Lala took to her Instagram Story to let her followers know she wasn't "trippin' too hard" about Scheana's comments… before going on to slam Scheana for everything from misplacing her anger to perpetually having messy relationships.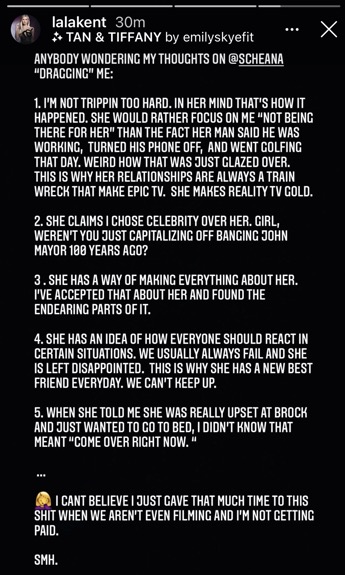 "She would rather focus on me 'not being there for her' than the fact her man said he was working, turned his phone off, and went golfing that day," Lala wrote. "Weird how that was just glazed over. This is why her relationships are always a train wreck that make epic TV. She makes reality TV gold."
In response to Scheana claiming that she chose celebrity over her, Lala clapped back, accusing Scheana of "capitalizing off banging John Mayer 100 years ago." She then claimed Scheana "has a way of making everything about her."
"I've accepted that about her and found the endearing parts of it," she continued. "She has an idea of how everyone should react in certain situations. We usually always fail and she is left disappointed. This is why she has a new best friend everyday. We can't keep up. When she told me she was really upset at Brock and just wanted to go to bed, I didn't know that meant 'come over right now.' I can't believe I just gave that much time to this sh*t when we aren't even filming and I'm not getting paid. SMH."
While some sided with Lala on social media, agreeing that Scheana is often seeking attention, others found Lala's Instagram Story to be "unbelievably insensitive" and even "mean" given what Scheana went through this summer.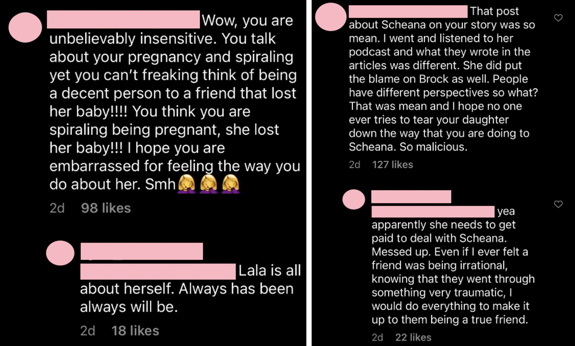 " … You think you are spiraling being pregnant, she lost her baby!!! I hope you are embarrassed for feeling the way you do about her … ," one person commented, to which another responded, "Lala is all about herself. Always has been always will be."
"That post about Scheana on your story was so mean," another comment read. " … She did put the blame on Brock as well. People have different perspectives so what? That was mean and I hope no one ever tries to tear your daughter down the way you are doing to Scheana. So malicious."
Despite the current drama happening between the two 'VPR' stars, both were able to put aside their differences and come together (or at least be in the same house without making a scene) for Jax Taylor and Brittany Cartwright's gender reveal party on Sunday.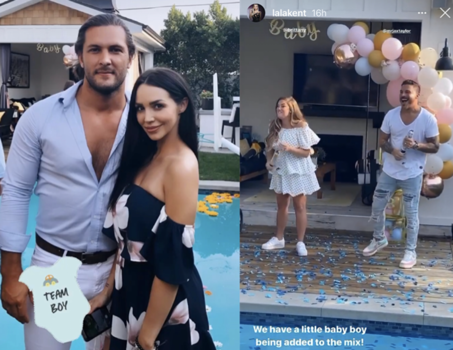 RELATED STORY: Tamron Hall Claps Back (Hard) at Stassi Schroeder's Claims That She Was Ambushed During Their Interview
(Photos: Instagram)