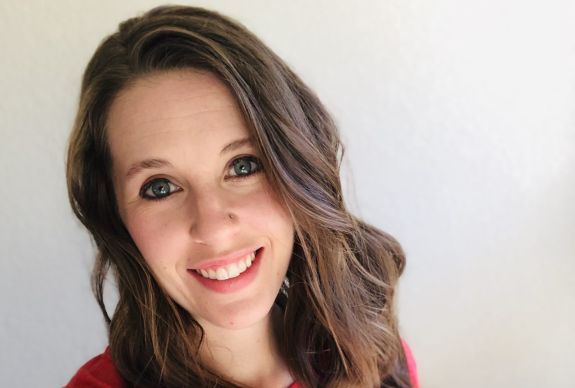 Jill Dillard is toasting to her new life of freedom!
The former Counting On star recently posted a photo of herself to Instagram imbibing in a pina colada while on a dinner date with her husband Derick. While a photo of an of-age woman drinking alcohol is hardly news, this is a Duggar, making it very surprising.
It marks the first time any of the Duggar kids have actually confirmed that they are drinking alcohol.

In the comment section of Jill's Instagram post, Jill confirmed that the drink was not a virgin version.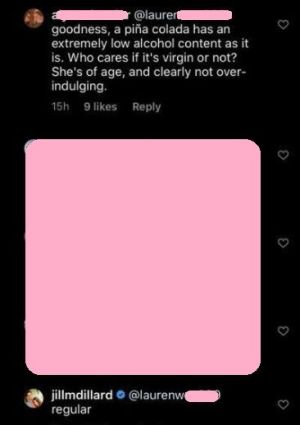 Jill's admission to drinking alcohol was met with plenty of praise from those happy to see her embracing her new life free of her family's strict rules.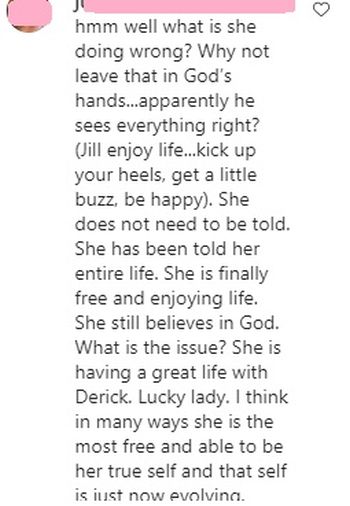 "Jill enjoy life, kick up your heels, get a little buzz, be happy," one person wrote to her in the comment section. "She does not need to be told. She has been told her entire life. She is finally free and enjoying life."
However, others felt that she was setting a bad example for other Christians by indulging in alcohol and posting publicly about it.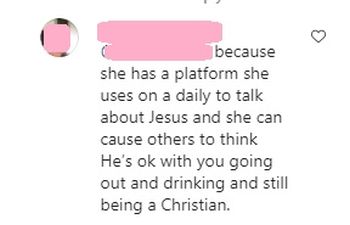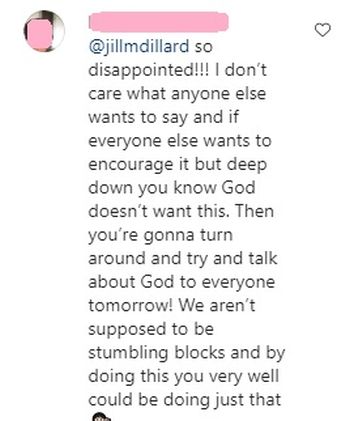 "She has a platform she uses on a daily basis to talk about Jesus and she can cause others to think He's OK with you going out drinking and still being a Christian," one nay-sayer wrote.
"So disappointed…deep down you know God doesn't want this," another comment reads. "Then you're gonna turn around and talk about God to everyone tomorrow!"
Two years ago, Derick stated on Twitter that, while he doesn't believe that drinking is against the Bible's teachings, it's not exactly encouraged among their religious group.
"We don't believe the Bible teaches that drinking is a sin," Derick told a fan who asked about their stance on alcohol "However, it does warn against/ condemn other aspects of alcohol."
Thank you. No problem in wondering, but we don't believe the Bible teaches that drinking is a sin. However, it does warn against/ condemn other aspects of alcohol.

— Derick Dillard (@derickmdillard) July 4, 2018
Jill's parents, Jim Bob and Michelle Duggar definitely do not condone drinking, and they, as well as other members of the Duggar clan, have expressed their feelings against it over the years.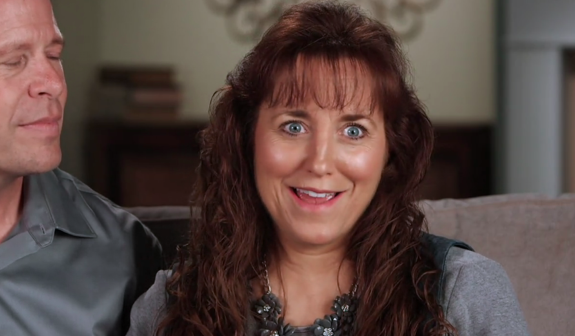 In 2014, Jill and her sister Jessa Seewald talked about the horror they felt when they realized a punch they drank at a political event contained alcohol. In 2017, Jessa explained that the Duggars have fun without alcohol.
"As part of personal conviction, my family doesn't drink alcohol or dance," Jessa said. "We have tons of fun in other ways. Yeah, we're not missing out."
In July, Jill and Derick joined Jill's cousin Amy and her husband Dillon King at Dillon's wine and cigar bar, surprising fans. (They also skipped out on Jim Bob's birthday party to do so, making it even more shocking.)
Both Amy and Jill have noticeably distanced themselves from Jim Bob and the Duggar clan over the past few years. Amy recently commended Jill for taking control of her life, stating that Jill "smiles brighter these days."
Jill's husband Derick has made it no secret that he and Jim Bob no longer get along, with Derick even revealing that he and Jill are no longer allowed at the Duggar Family home without Jim Bob's permission. (This could be one of the reasons they were not at the party.) Derick has stated that he believes the ban is due to Jim Bob thinking that the Dillards are a bad influence on the other Duggar kids.
RELATED STORY: Jill Dillard & Amy Duggar Declare "Freedom" After Skipping Jim Bob Duggar's Birthday Party to Go On Double Date at Wine & Cigar Bar
(Photos: Instagram, Twitter, TLC)