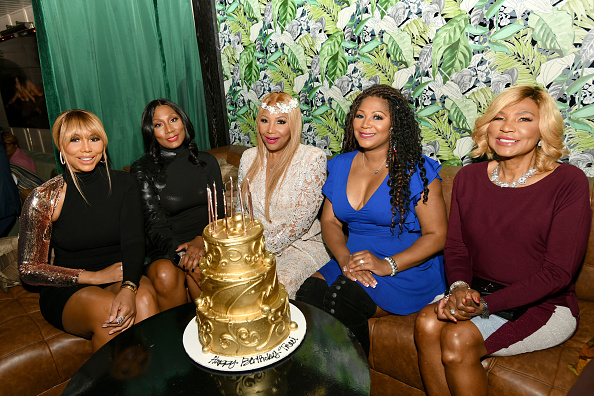 Tamar Braxton is not happy that WEtv chose to film her family reacting to her July suicide attempt, and after taking the network to task for the decision on Twitter and Instagram, the former Braxton Family Values promptly booted her entire family from her social media accounts.
The Neighborhood Talk confirmed that Tamar is no longer following any of her sisters, or her mother Evelyn, as of press time. This mass "unfollow" seemed to happen around the same time that Tamar took to Twitter to rant about her family and WEtv's decision to film about her suicide attempt, despite the fact that she is no longer on the show.
On Instagram, Tamar told a follower that the trailer for the upcoming season of 'Braxton Family Values'—which shows the Braxtons finding out Tamar tried to take her own life— had scenes that were filmed after she left the show and "behind my back."
In the new trailer, Tamar's mother and sisters each talk about how they felt when they heard Tamar had tried to commit suicide.
"I was stunned and really numb," Towanda Braxton tells the camera.
"There was no way to prepare for this," Trina Braxton adds.
Tamar took to Twitter on Wednesday to express her anger towards the network and "others" (presumably her family members) for using her "pain for their pleasure and ratings."
"After waking up to that disgusting trailer…. F**K @wetv and whomever else is participating in using my pain for their pleasure and ratings," Tamar wrote, while promoting her upcoming "tell all" interview on The Tamron Hall Show. " … at some point this abuse HAS to STOP!! !!"
Following her suicide attempt, Tamar slammed WEtv for not letting her out of her contract, as well as underpaying and overworking her, among other things.
"I was betrayed, taken advantage of, overworked, and underpaid. I wrote a letter over 2 months ago asking to be freed from what I believed was excessive and unfair. I explained in personal detail the demise I was experiencing. My cry for help went totally ignored. However the demands persisted," she wrote in July.
WEtv promptly cut ties with Tamar after her statement was released; the network chose to continue to air Tamar's spin-off show, Tamar Braxton: Get Ya Life, though.
Toni, Trina, Evelyn and Towanda and Traci Braxton have yet to comment publicly on Tamar's latest rant.
Watch the 'Braxton Family Values' trailer that Tamar's referring to below!
View this post on Instagram
RELATED STORY: Tamar Braxton Responds After New 'Braxton Family Values' Trailer Shows Braxton Family Reacting to Her Suicide Attempt
(Photos: Earl Gibson III/Getty Images; Instagram)