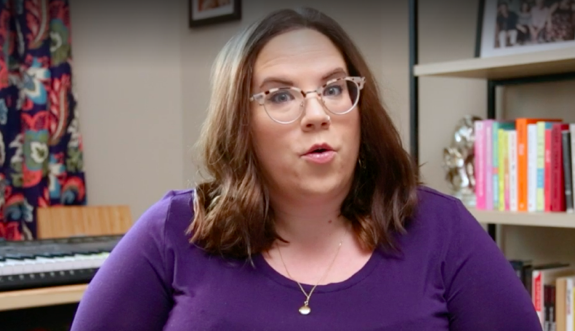 As Whitney Way Thore prepares for viewers to watch her relationship with ex-fiancé Chase Severino crumble on the upcoming season of My Big Fat Fabulous Life, she's firing back at those questioning the show's authenticity.
Last season on 'My Big Fat Fabulous Life,' fans saw Whitney and Chase get engaged, however, things ultimately took a turn when Whitney announced in May that the two had split and Chase was expecting a baby with a woman "with whom he has a long history."
Chase went on to welcome a daughter in September and in the trailer for the new season, viewers see Whitney tearfully confront her ex shortly after the child's birth.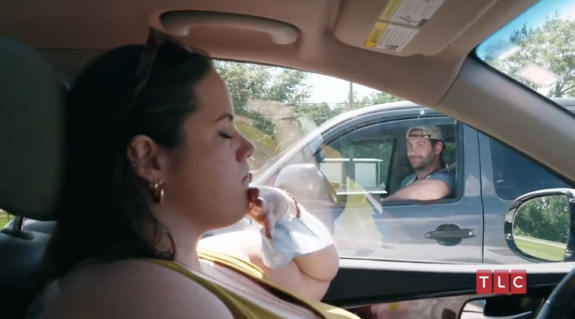 With the season premiere less than two weeks away, Whitney is now confronting fans of the show on social media who admitted to the TLC star they believed both 'My Big Fat Fabulous Life' and her relationship with Chase were "scripted." The exchange (including Whitney's lengthy response) went down in the comment section of Whitney's recent Instagram post, in which she promoted the show and thanked fans for their well wishes regarding the demise of her relationship.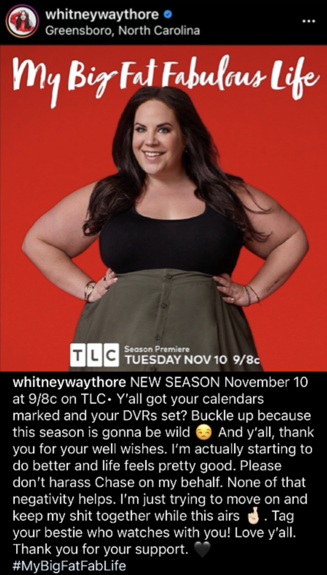 "I'm actually starting to do better and life feels pretty good," she captioned her post before asking that her fans not "harass Chase" on her behalf. "None of that negativity helps. I'm just trying to move on and keep my sh*t together while this airs."
In response to Whitney's post, a fan commented that they liked the show, but thought Whitney's relationship was scripted, to which Whitney replied, "negativity doesn't help anyone."
"[Whitney,] I don't think [the fan] was being negative here," another person commented. "Seems to be just making a statement. You have a lot of fans! We follow you and support you – But seems lately your posts are so unnecessarily defensive??"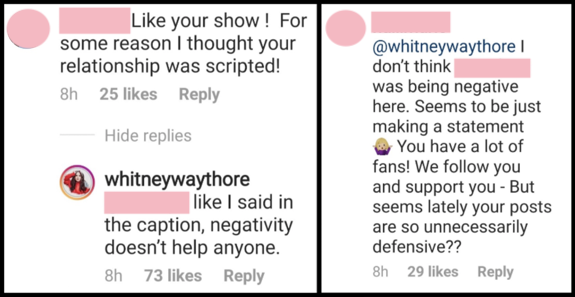 Whitney went on to reply to the comments (and the allegations), telling the fan that for the last five years she's dealt with people accusing every person in her life of "being an actor or actress, saying they wouldn't be there if they weren't getting paid."

"Apparently no love interest has ever been real because HOW could a man want me or love me," she continued. "If you're lucky enough to have a romantic partner are you HONESTLY telling me you wouldn't get offended if people speculated that it was fake because you were simply unlovable? Now imagine living in the public eye and that coming from strangers like yourself. I'm being UNNECESSARILY defensive? Jesus."
'My Big Fat Fabulous Life' returns November 10 at 9/8c on TLC.
RELATED STORY: Whitney Way Thore Confronts Her Ex-Fiancé Chase Severino After the Birth of His Daughter in New 'My Big Fat Fabulous Life' Clip
(Photos: TLC; Instagram)