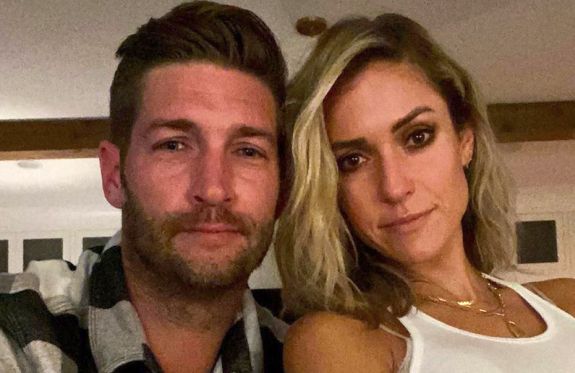 Jay Cutler wants a piece of the Uncommon James fortune… and his soon-to-be ex-wife Kristin Cavallari ain't having it!
The former Very Cavallari stars—- who announced their split last year—- have had their divorce proceedings stalled, according to TMZ, due to Jay reportedly asking Kristin to fork over half of her company as part of their divorce settlement. The couple was married at the time Kristin launched Uncommon James in 2017, so Jay is reportedly fighting for 50 percent ownership of the company, which is considered a marital asset.
Kristin wants to maintain full ownership of Uncommon James and is "pushing back hard" on Jay's request, TMZ reports. The site's source claims that Kristin is arguing that Jay did not put any of his own money into the company.
"Everybody is cooperating to get everything finalized and valued," a source for E! News stated. "Everything has been agreed on except the division of assets. Generally, in divorce cases, assets, including businesses are valued and then determined on how they are split. Uncommon James is her company, so it's natural for it to be valued, and as soon as it's done, they will look at it and decide how to divide it.
"If they are unable to agree, then the court will determine it," the source added.
However, the site's source insists "Jay and Kristin are getting along fine as far as moving along to get this over with."
(Kristin's attorney, Rose Palermo told E! News in a statement that, "There is no delay on the divorce. It's proceeding according to the schedule the court set out.")
Jay and Kristin have kept their divorce amicable recently, with Jay even wishing Kristin a happy Mother's Day last month, stating that their three kids "have all the luck" when it comes to getting a good mother.
Of course, earlier in the divorce proceedings, things between Kristin and Jay were anything but amicable. The former couple— who married in 2013– had a short yet somewhat bitter fight over the custody of their three children, with Kristin even claiming that Jay was "guilty of such inappropriate marital conduct as renders further cohabitation unsafe and improper" — insinuating that Jay had been unfaithful during their marriage.
Jay also blocked Kristin's attempts to purchase a new home after the split was announced. (Jay and his lawyer reportedly refused to allow their finance manager to release the funds she needs to make the purchase.)
The couple eventually worked everything out, though, with Kristin going on to purchase a new home and Jay and Kristin agreeing to be "joint custodians and joint decision makers" for the kids.
Kristin reportedly signed a prenuptial agreement at the time of their marriage, and Jay was allegedly pushing hard in the beginning of the proceedings to ensure that it was enforced. It is unknown how that prenup will come into play in regard to this disagreement.
RELATED STORY: Cable Installer Sues Kristin Cavallari & Jay Cutler for $500,000 Over Alleged Dog Bite; Claims Kristin's Assistant Demanded He Leave Immediately After Being Injured
(Photos: Instagram)