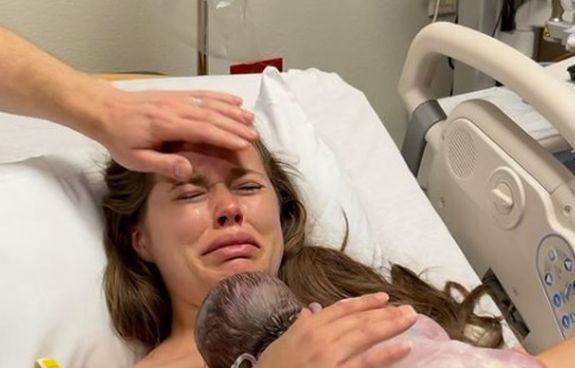 UPDATE! Jessa uploaded the second video on Tuesday, showing the labor, delivery and birth of the baby. She and Ben announced that it's a girl, whom they named Fern Elliana. She was born on Sunday night, with Jessa's mom Michelle Duggar present. (She actually ended up cutting the umbilical cord.) Baby Fern weighed in at 8 lbs., 5 oz. and measured 21 inches long. For the first time ever, Jessa received an epidural during her labor. (Scroll to the bottom of the article to watch the labor and delivery video.)
Original story….
The Duggar Family has grown yet again.
Jessa Duggar Seewald and her husband Ben Seewald apparently welcomed their fourth child this week, though Jessa and Ben have not yet officially confirmed the date of the baby's birth. On Monday, Jessa posted a video to her family's YouTube, showing the first part of her birth story with Baby No. 4.
The birth was not filmed by TLC cameras, as Jessa's first three births were. The network recently announced that it would not be renewing the Duggars' show Counting On (due to Jessa's brother Josh's serious ongoing legal issues), so it appears that we will now have to hightail it over to YouTube if we want to watch Jessa and other assorted members of the Duggar Family heave out blessings.
View this post on Instagram
"Baby Seewald #4 has arrived!" Jessa wrote on Instagram in the caption of a photo of her holding the baby in a hospital bed.
In the YouTube video— which starts out last Tuesday, July 13— Jessa informs the viewers that she is having "consistent" contractions. However, the contractions seem to stop, but not before Jessa talks about having her "bloody show."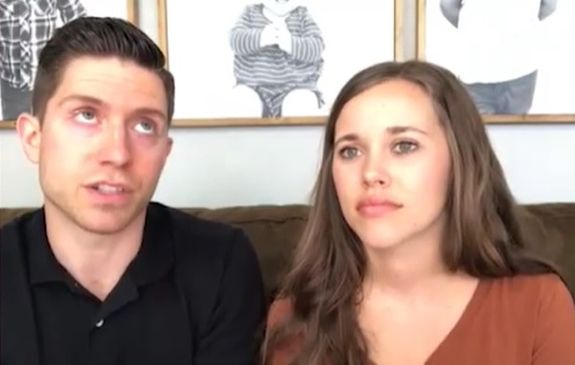 Jessa— who had all three of her children on her couch at home— appears to have opted for a hospital birth this time around.
Jessa and Ben have yet to announce the sex of their baby or the name. (This is normal for the couple; after all, it took them almost a week to announce the name of their first son…a baby they ended up naming Spurgeon.) They are already parents to Spurgeon, as well as son Henry and daughter Ivy.
"Ben and I have been sitting on the gender here for forever — months and months — and you'd think we'd have a name by now. But it's harder than it seems," Jessa says in the video. "I feel like the more kids you have, the more you've used up, you know, the favorites."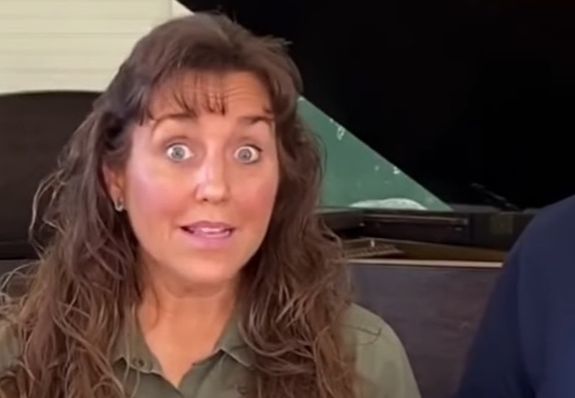 Jessa says she dislikes some of the names she was considering when she was pregnant with her other babies.
"I look back on my name list from previous pregnancies and I'm just like, they don't really just — none of them are just like, 'wow.' So I kind of start from scratch. And Ben too….the first two kids were five days old before we settled on a name!"
"There's a name I really liked," Jessa said. "And Ben thought it sounded like a pilgrim name. And he said no."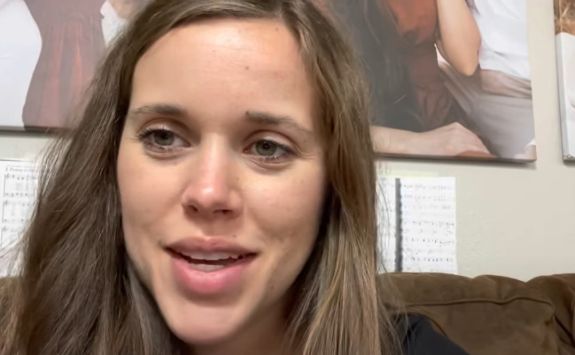 On footage filmed Sunday, Jessa tells the camera that it's around 3 a.m. that she's been having contractions for hours and can't sleep.
"I would say they're like, on a scale of one to 10, probably like a seven or an eight. But they're still spaced out, so I get a break," she said. "Definitely feel like the real deal to me. I tend to feel the real labor contractions more in my back and that's what these have been,"
The video shows them heading to the hospital that afternoon, but then stops. The second part of the birth video (where the blessing is squeezed out) shows the actual birth of the baby, as well as the other Seewald children meeting their sister.
Watch Parts 1 & 2 of Jessa's birth video below! To read The Ashley's recap of Jessa's birthing of The Spurge on the couch, click here!
RELATED STORY: Anna Duggar is Reportedly Feuding with Duggar Family & Blaming Others for Husband Josh Duggar's Arrest
(Photos: TLC; YouTube, Instagram)