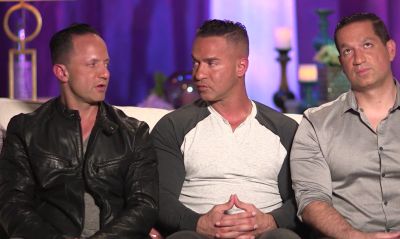 It seems that Jersey Shore's Mike Sorrentino has a situation with his brother.
Maximo Sorrentino (former known as Frank Jr.) has lashed out at his family, claiming they don't love him and are making defamatory remarks against him, as well as stealing his identity.
Maximo– who has appeared alongside Mike and other family members on Marriage Boot Camp: Reality Stars as well as the family reality show The Sorrentinos— started his very public battle with his family with an Instagram post on October 21.
Maximo shared a photo of a hospital card from the trauma section of Cooper Hospital University Medical Center and claimed that he was about to have emergency surgery. Judging by the photo caption, Maximo's family was not there to support him through his medical emergency.
"Emergency Surgery tomorrow morning. Thank you to friends, fans who wished me well. To my scumbag family don't ever speak to me again," Maximo wrote.
Later that day, Maximo expanded on what was going on via Twitter, sharing his own Facebook post. The post claimed that he was having an apparently life-threatening surgery and his chances of making it through weren't the greatest. (Spoiler alert: he did make it through; however on Twitter he claims he has more surgery to undergo.)
READ ##TheTruth pic.twitter.com/tDt5AmWS7w

— Maximo Gianfranco Sorrentino (@frankiestylze) October 21, 2021
He took another dig at his family, claiming no one has texted him or reached out.
"I have emergency surgery at 4:30 p.m. today," he wrote. "I want to thank every fam, friend & those I consider family for their prayers, thoughts, & advice. There is a chance that the condition I have could take my life while in surgery or immediately after it concludes. I never got a phone call, text message, fax, or an email from my family."
He then goes on to tag members of his family including mother Linda Sorrentino, brothers Mike and Marc Sorrentino, and sister Melissa Sussman before continuing on.
"The biggest disrespect anyone has ever done to me was done by all of you. Good Luck in life, if I make it through the 2 part surgery, then I'm blessed. If I don't make it through then you all just lost someone who loved you but was not given love in return."
This was followed by an Instagram post claiming his father had stolen his identity as a teenager, opening up credit cards in his name, as well as a false driver's license, loans and bank accounts.
While the family as a whole hasn't made any statement, Mike did tweet after his brother's call out.
Not everyone has access to me because I want peace more than attention

— Mike The Situation ☝🏻 (@ItsTheSituation) October 22, 2021
"Not everyone has access to me because I want peace more than attention," he tweeted.
While Mike didn't outright say this was about his brother, it did follow hot on the heels of what his brother was sharing.
The relationship between the two Sorrentino brothers has been more strained for a while. Last month,The Ashley reported that Mike called the cops on Maximo after he made an unannounced visit to his house to bring presents for Mike's infant son, Romeo. According to the harassment claims Mike filed against Maximo in July, he requires notice ahead of time if his brother is making a house visit.
Mike called the police due to his brother's behavior of excessively ringing the doorbell and peering in. The police responded quickly and Maximo left without incident after being told he wasn't supposed to be there.
Maximo had brought gifts for Mike and Romeo (a pair of matching Puma and BMW tracksuits, in case you care.) Mike rejected the gifts.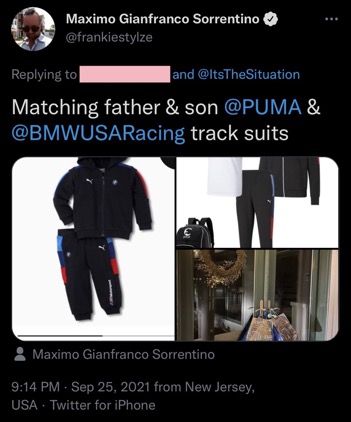 Maximo told TMZ that he promised not to come to the house again without calling ahead. That didn't stop fans from calling Mike out for doing this to his brother. This time, Mike addressed the situation publicly.
A user commented, "What kind of dude calls the cops on his own brother? Despicable."
Mike replied, "a responsible adult protecting his family from an estranged family member who has fallen prey to mental illness from long term meth addiction."
The 'Jersey Shore' star also wrote that the entire Sorrentino family has had enough of Maximo's "despicable" behavior.
"My whole family has him blocked, not just me," Mike wrote. "Even my mother and what does that say? We just want him to get help and he is refusing."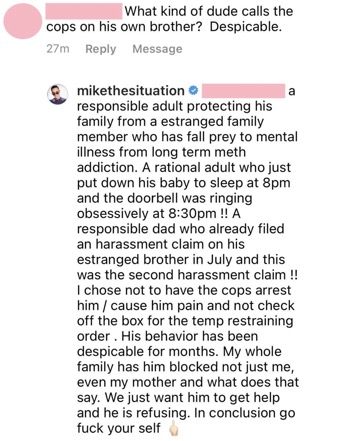 Mike continued this comment with saying he had just put Romeo to bed and the bell was ringing obsessively thirty minutes later.
Maximo went on the defense and offense soon after, tweeting that he was sorry to see his brother saying such defamatory statements "regarding my character and health." He claims he is working with a PR team to address his brother's allegations.
RELATED STORY: 'Jersey Shore' Mike "The Situation" Sorrentino Says Brother Maximo is Suffering From Mental Illness & Meth Addiction; Maximo Responds to Allegations
(Photos: WeTV; Instagram; Twitter)