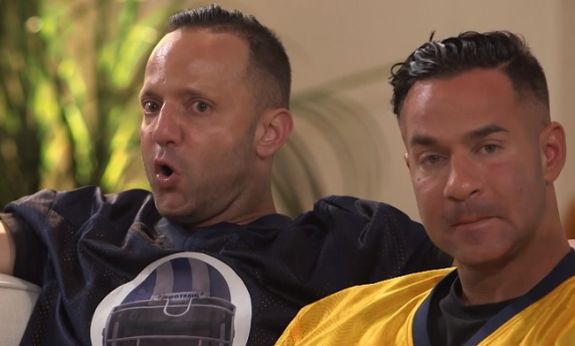 Mike "The Situation" Sorrentino isn't a fan of unannounced house visits– especially ones from his brother Maximo.
According to TMZ, the Jersey Shore Family Vacation star called the police Tuesday night after Maximo showed up with some gifts for his and wife Lauren's newborn son, Romeo. (Maximo claimed that the gifts included some Puma BMW tracksuits for Mike and Romeo.)
Once he arrived at the New Jersey home, Maximo allegedly rang the door excessively, peered into the house through the glass doors and lingered for a while, before ultimately hanging his nephew's gifts on the doorknob.
The Sitch was reportedly watching the whole scene go down from inside the home. Upon his first Maximo sighting, Mike called the police, who responded to the scene in less than a minute.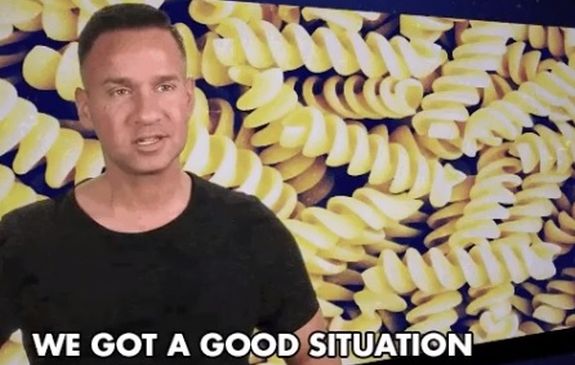 The cops spotted Maximo as he was leaving and they told him he wasn't allowed on his brother's property unless invited to be there. The police then let Maximo leave without further incident.
TMZ reports that Mike called the cops on his brother because the two of them are not on good terms. In fact, Mike has filed harassment claims against Maximo in the past– most recently in July– and feels that Maximo's erratic behavior warrants a heads up when it comes to house visits.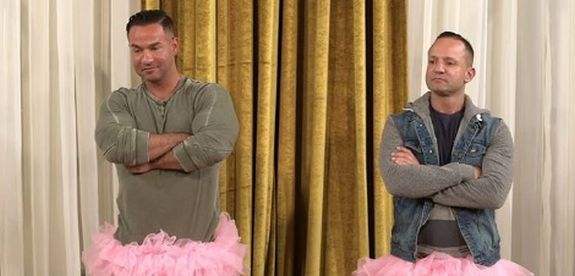 According to Maximo, there aren't any ongoing issues between he and his brother and he's upset that The Snitch Sitch called the police on him.
Fans of Marriage Boot Camp may remember the Sorrentino brothers–- Mike, Maximo and Marc–- appearing together on 2017's Marriage Boot Camp Reality Stars: Family Edition. Mike and Maximo joined the show in an effort to mend their relationship following a nasty public fight that happened in 2014.
Mike has yet to publicly address the, um….situation. However, Maximo revealed to TMZ that he promises not to show up to Mike's house without calling ahead first.
(Photos: WeTV; Instagram; MTV)