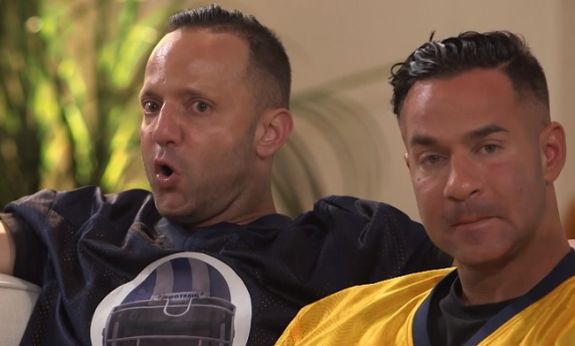 Mike "The Situation" Sorrentino and his brother Maximo have yet to fist-pump and make up following Maximo's recent unexpected visit to Mike's house.
TMZ reported last week that Maximo dropped by Mike's New Jersey home to drop off some gifts for both Mike and Mike's newborn son, Romeo, only for Mike to call the police on him. After Mike received criticism from fans for not allowing his brother into his home, the Jersey Shore star took to Instagram to explain that he was protecting his son and wife, Lauren, from Maximo, whom he claims is mentally ill and addicted to meth!
While Maximo wasn't arrested for his lurking/attempted gift drop-off last week, police did inform him that he was not allowed on his brother's property unless invited to be there. At the time, it was explained that Mike didn't welcome his brother with open arms (or an open door) due to the pair's rocky past.
Earlier this summer, Mike reportedly filed harassment claims against his brother and he continues to feel that Maximo's erratic behavior warrants a heads-up when it comes to house visits.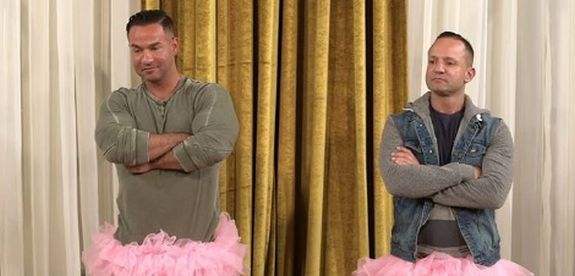 Over the weekend, Mike responded to the fans who felt he was being mean by not letting Maximo into the house.
"What kind of dude calls the cops on his own brother?" one person wrote. "Despicable."
"A rational adult who just put down his baby to sleep at 8pm and the doorbell was ringing obsessively at 8:30pm," he continued, before mentioning the July harassment claim and confirming that he chose "not to have cops arrest [Maximo]."
While Mike didn't want to see his brother sporting a pair of handcuffs last week, he did accuse Maximo of exhibiting "despicable" behavior for months," which he claims other members of the Sorrentino family have noticed as well.
"My whole family has blocked him not just me, even my mother and what does that say," Mike stated. "We just want him to get help and he is refusing."
(As 'Jersey Shore' viewers know, Mike has been sober for many years now, and continues to be an advocate for Banyan Treatment Centers.)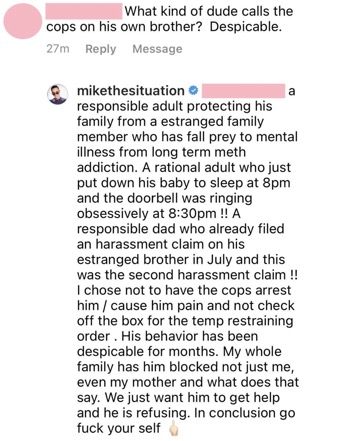 Maximo went on to deny the "defamatory statements" he claims his brother made regarding his "character and health," telling followers he was working with his PR team to address the allegations accordingly.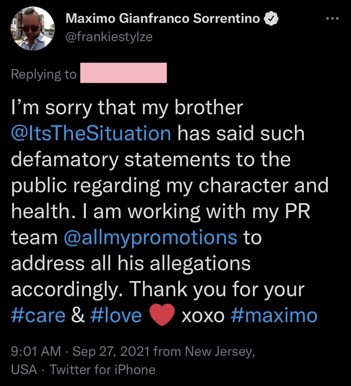 When asked about the contents of the gifts he purchased for Mike and Romeo, Maximo said he gifted the pair matching Puma and BMW tracksuits.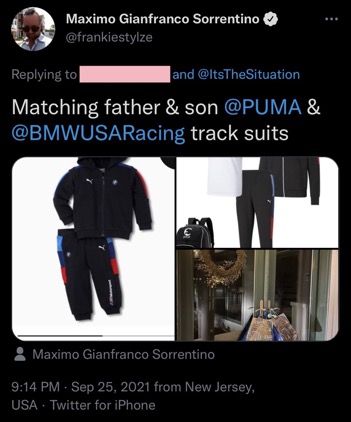 As his brother refused the gifts, Maximo said he plans to donate the unwanted items.
RELATED STORY: 'Jersey Shore Family Vacation' Baby Mama Jen Harley to Walk Free After Domestic Violence Case Against Her is Dismissed
(Photos: We TV; Instagram; Twitter)