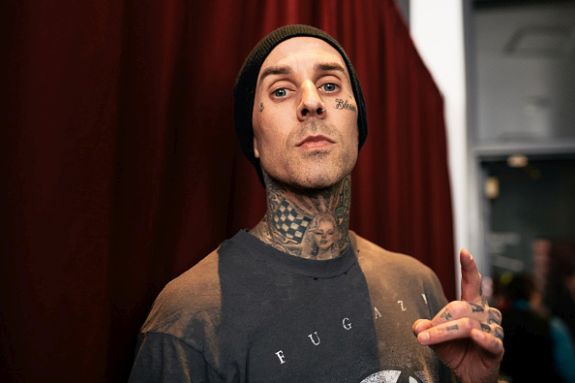 Travis Barker is taking time away from drumming and mouth-mauling Kardashians to star in a new [weird as hell] reality TV show.
Deadline announced on Wednesday that the Blink 182 musician (and current fiancé of Kourtney Kardashian) will appear in Inked and Iced— a new reality show that will show Travis helping other celebrities get full body tattoos and diamonds implanted into their teeth– all while they're knocked out under anesthesia.
No, seriously…
Travis— who sports nearly a whole body full of tattoos as well as diamonds on his teeth already— will work with Dr. Tom Connelly, a Beverly Hills dentist who calls himself the "Father of Diamond Dentistry."
"The unscripted series will follow Barker's new business venture with 'diamond dentist' Dr. Tom Connelly, featuring celebrities and musicians undergoing high-end diamond dental implants while simultaneously receiving full-body tattoos, all while under anesthesia," Deadline reports.
It's unknown which "celebrities" will get "inked and iced" on the show; however, last month Dr. Connelly posted a video of an unconscious man having tattoos applied to various parts of his body while also getting diamonds placed in his teeth. (The participant's face wasn't shown, however.)
"3 doctors, 5 tattoo masters. Trailblazing…" he captioned the video.
Travis and Dr. Connelly will partner with Paul Lima (who is a former executive for Kinetic Content, the production company behind shows such as Married At First Sight.)
While the premise of the show may sound strange, one of the show's producers, Aengus James of This Is Just a Test Media claims Travis is a "genius" for dreaming it up.
"'Inked and Iced' is about self-expression, the human body as an art canvas, capitalism, eccentricity and entrepreneurship. Travis is a genius," he said. "It's the kind of out-of-the-box programming that Paul is tremendous at developing."
Travis previously starred on Meet the Barkers, a reality show about his family that ran on MTV from 2005-2006.
It has not yet been announced when 'Inked and Iced' will premiere or which network it will air on.
(Photos: Emma McIntyre/Getty Images; Instagram)