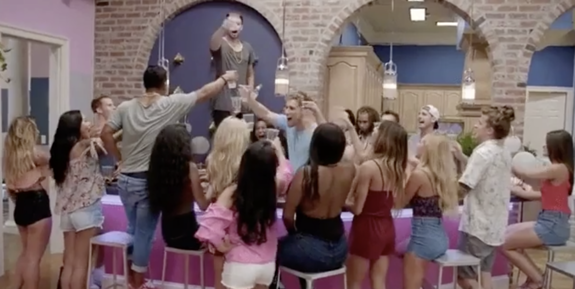 MTV's Are You The One? is going global– and moving to Paramount+.
The dating competition series is set to begin casting in the spring, Variety reports, giving 22 single men and women from around the globe an opportunity to find their "perfect match" while living under one roof at an international location that has yet to be announced.
'Are You The One?- Global Edition' appears to be scheduled to film for four weeks in June and July, according to the casting website.
As we saw in the first eight seasons of 'Are You The One?,' the singles will try to identify all perfect matches in the house in order to take home a cash prize– something all but one group has managed to do in the show's history. These matches are determined via an algorithm and extensive matchmaking process.
While the most recent season of 'Are You The One?' changed up the format by casting 20 sexually fluid singles, it has not been revealed whether the upcoming global season will stick to this format.
This new season comes about a year after Season 5 contestants went public with behind-the-scenes stories of a racist scandal they say the show's production team covered up. The contestants also claimed that the producers made financial threats to them and allegedly covered up numerous other racism and sexual scandals during their time in the Dominican Republic.
Ink Master, which previously aired on Paramount Network, will also be making the move to Paramount+, while new series All Star Show– featuring 14 cast members from Jersey Shore, Love Is Blind, RuPaul's Drag Race, Bachelor in Paradise and more– will also premiere on the streaming service.
RELATED STORY: 'The Challenge' Stars Leroy Garrett & Kam Williams Are Expecting Their First Baby Together: Their MTV Co-Stars React
(Photos: MTV; Instagram)