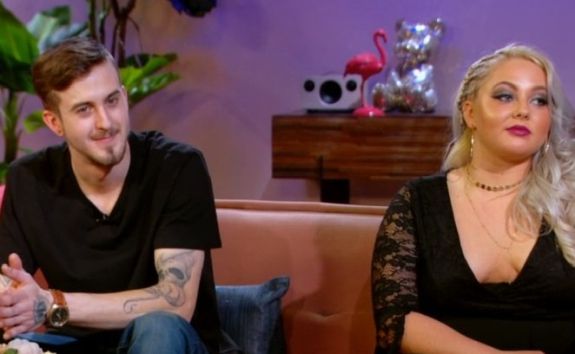 Third time's (hopefully) a charm for Teen Mom 2 couple Jade Cline and Sean Austin.
The on-again, off-again couple– who will be appearing on the upcoming series Teen Mom: The Next Chapter– confirmed this week that they are officially engaged to be married (again), and have been for a couple of months.
While the engagement news was revealed by MTV this week when the network shared some of the upcoming storylines for 'Teen Mom: The Next Chapter,' Jade went on to post a clip of the most-recent proposal to TikTok and confirm that she said "yes."
During a Q&A session on her Instagram Story, Jade revealed that she and Sean actually got engaged back in July, though they kept the big news quiet so they didn't "ruin the clip for the new season."
Since getting engaged, the couple has been busy, even finding the venue where their wedding will take place.
"S**t" is getting real LOL," Jade wrote.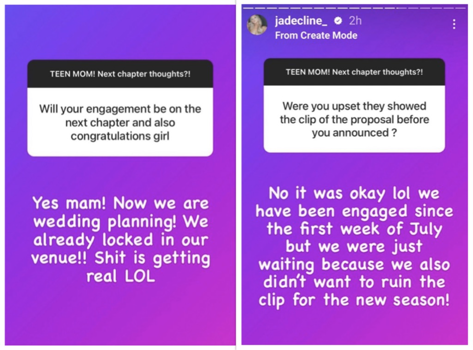 In addition to showing off her latest engagement ring, Jade revealed Thursday that she and Sean are going to the same jeweler to have their wedding bands made "soon."
Jade told her fans that she is "obsessed" with her engagement ring. In a video clip of the proposal, Jade can be heard telling Sean, "it's so big!" (She means the ring…I think…)
"It's exactly what I've always wanted," Jade said of her new rock.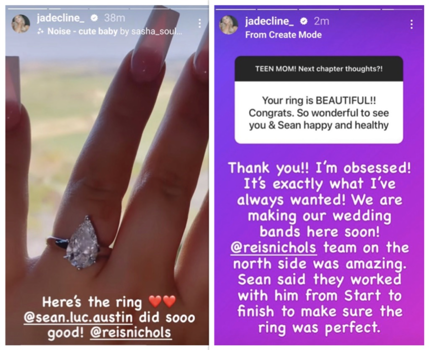 Jade and Sean are planning to walk down the aisle in October 2023 in a "gothic Victorian" themed ceremony.
"Super elegant but def October vibes," she added.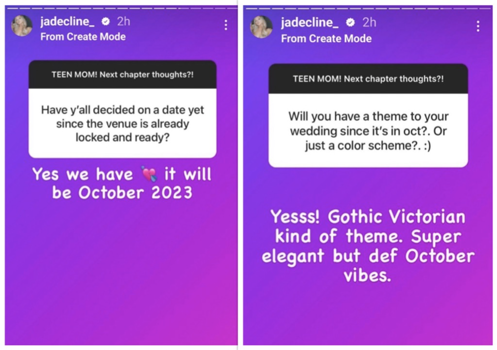 The former Teen Mom: Young and Pregnant star said she is excited to return to the screen this year to share all of the progress she and Sean have made as a couple.
"Me and Sean have done such a turnaround in life and I love that we can share it with you all," Jade wrote.
"Hopefully it shows others that life can be hard but it won't be bad forever," she said on Instagram. "There's always a better day! We are all human and a lot more similar than we may think."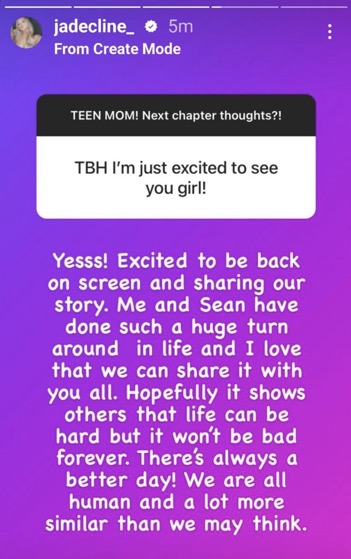 As 'Teen Mom 2' fans may remember, Sean went to a three-month inpatient rehab facility in Texas last year to focus on his sobriety. As part of his treatment, Sean received counseling and therapy to help him deal with his substance abuse issues.
Back in March, Sean opened up about some of the things he was doing to maintain his sobriety, which included cutting certain people out of his life and having a "good circle" of people around him. When asked at the time when he and Jade would get married, Sean he didn't know, but if he and Jade "do it right," Jade would have "a whole year to plan the wedding."
Jade and Sean are just one of the couples from 'Teen Mom: The Next Chapter' who are planning a wedding. Cheyenne Floyd and Zach Davis are set to get married next month, while Leah Messer and Jaylan Mobley recently got engaged.
RELATED STORY: More 'Teen Mom: The Next Chapter' Storyline: Briana DeJesus Gets Diagnosed With Bipolar Disorder & Cheyenne Floyd Gets Rushed to the Hospital (RECAP)
(Photos: MTV; Instagram)