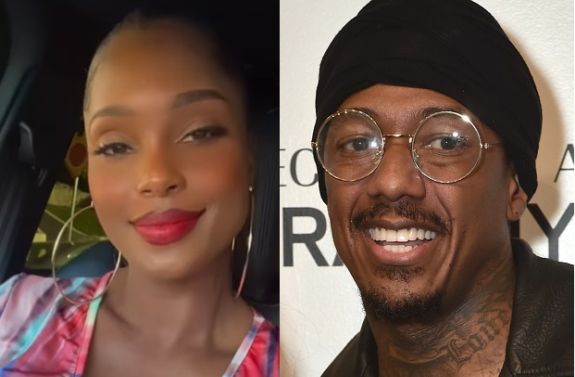 Just weeks after Nick Cannon announced he was expecting another baby with Brittany Bell, the Wild 'N'Out star randomly revealed that he has just welcomed yet another child with yet another baby mama.
On Thursday, Nick revealed on Instagram that former The Price Is Right model and photographer LaNisha Cole just gave birth to his ninth child– a daughter named Onyx Ice who was born on Wednesday, September 14. Before the birth announcement, Nick had never mentioned publicly that LaNisha was pregnant with his child. LaNisha– who is Nick's sixth baby mama– had not publicly revealed who her baby's father was until announcing Onyx's birth.
In his post, the host of The Masked Singer praised LaNisha, calling her "one of the most guileless, peaceful and nonconfrontational kind souls I've ever witnessed."
"Introducing ONYX ICE COLE CANNON… Once again Today I am in Awe of the Devine Feminine!" Nick wrote in the caption of a family photo. "God has given me and @MissLanishaCole the privilege of hosting an Angel here on earth. I vow to protect, provide, guide and love this child to the best of my abilities… And I promise to love this little girl with all my heart, regardless what anyone says…"
View this post on Instagram
"Today has been such a special day for us," LaNisha wrote on Instagram Stories on Thursday. "I can't tell you how blessed I feel to welcome Onyx Ice Cole Cannon into this world. The joy that I feel as a mother is something that has forever opened up my heart in a huge new way. She's surrounded by so much love and I'm already obsessed with her!"
View this post on Instagram
In his post, Nick asked that people respect LaNisha— as well as his five other baby mamas— and point all of their criticism of Nick's never-ending spawning toward him and not LaNisha or the other mothers.
"As we all know I am not easily triggered and have quite tough skin and have always been an open book but not everyone in my family has that same level of strength," Nick wrote. "So I pray and ask others to please project all criticism and cynicism towards ME and not the loving and precious Mothers of my children. @MissLanishaCole is one of the most guileless, peaceful and nonconfrontational kind souls I've ever witnessed, and only deserves to revel in this moment of blissful joy of motherhood. Please give her that. She is so loving and pure hearted."
View this post on Instagram
As The Ashley previously reported, Nick is due to welcome his 10th child (whose mother is Brittany Bell) very soon. In July, Bri Tiesi gave birth to Nick's eighth child, a son they named Legendary Love Cannon.
Baby Onyx joins Nick's enormous family tree, which includes Legendary, as well as son Golden and daughter Powerful Queen (with Brittany); twin sons Zion Mixolydian and Zillion Heir (with Abby De La Rosa, who is currently pregnant again— most likely by Nick— and due in October); twins Moroccan and Monroe (with ex-wife Mariah Carey); and Zen, Nick's son with Alyssa Scott who died from a brain tumor at five months old in 2021.
For those of you counting at home, Nick currently has nine children– six boys and three girls– and at least one more boy on the way. He currently has six baby mamas. At one point earlier this year, Nick actually had at least four different women— Brittany, LaNisha, Bri and Abby — pregnant all at the same time. (Alyssa is currently pregnant again; however she has not confirmed Nick is the father of that child.)
During an appearance on the Lip Service podcast in June, Nick stated that the amount of kids he'll welcome in 2022 will be high… due to his "f**king like crazy" around December of last year due to being depressed over Zen's death.
Two months before Zen died in December 2021, Nick had taken a vow of celibacy, which he broke to help him get through the grief.
"I was supposed to make it to the top of the year," he said. "Then obviously I started going through some stuff … I got depressed with the loss of my son. So in December … the thing is everybody saw I was so down. So everybody was like, 'Let's just give him a little vagina, and that's gonna cure it all.'"
Nick's birth announcement post for Onyx was met with mostly congratulatory messages; however, some of the singer's fans couldn't help but poke fun at his seemingly never-ending birth announcements with different baby mamas.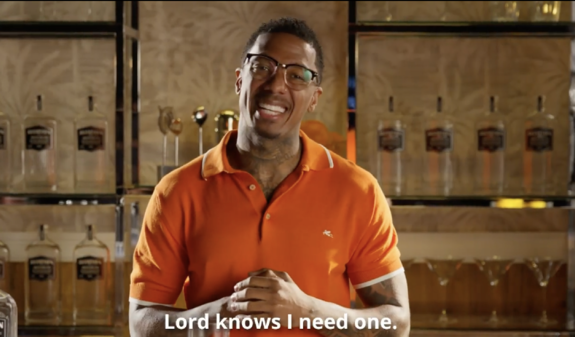 "U not tired yet?" one person asked Nick.
"You introduce a new baby every month!" another person wrote.
"Congrats! But, Aright Nick i think it's vasectomy time. Cut it out," someone else (sort of) joked.
"At this point he should just copy and paste this caption and just change the name for the next kid," one person wrote.
RELATED STORY: Nick Cannon Talks About the Relationships Between His Five Baby Mamas; Says He Never Intended To Have So Many Kids
(Photos: Instagram; Getty Images)