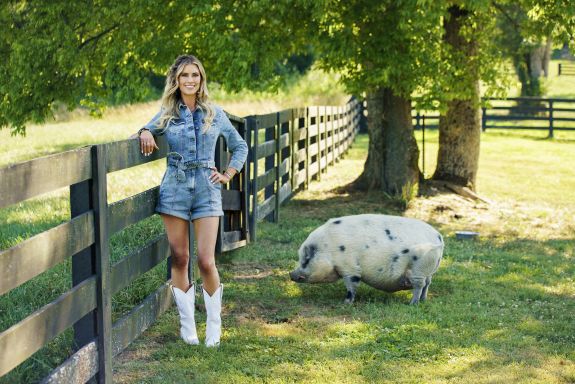 Christina Hall will be all over our TVs in the upcoming months.
The former Flip or Flop star— who will star in a final 'Flip or Flop' special this week— will be debuting her latest spin-off show, Christina in the Country, in January 2023. The new series will take place in Tennessee, where Christina and her family have a second home.
The Southern California native announced 'Christina in the Country' back in April, and in a press release on Tuesday, HGTV revealed the show's premiere date to be January 12.
According to HGTV, 'Christina in the Country' will be broken down into six hour-long episodes, during which the designer will renovate properties to create her clients' dream homes.
In the premiere episode, Christina, along with designer and project manager James Bender, and their team, will turn an older house into a breathtaking modern abode for James' sister and her husband.
View this post on Instagram
Throughout the season, Christina will help several other couples turn their visions into reality by creating bespoke designs according to their wishes. Viewers will watch as rooms are transformed into custom-made bathrooms and living areas.
The show will not just focus on renovations. 'Christina in the Country' will also spotlight Christina's life with her husband Josh Hall and her three children, Taylor, Brayden, and Hudson. (It's unknown, though, how much Hudson will actually appear on the new show, given that his father Ant Anstead— who is Christina's ex-husband— has made it clear that he does not want Hudson to be part of Christina's shows or social media posts.)
'Christina in the Country' will also show Christina enjoying Nashville's many activities, such as horseback riding, line dancing, berry picking and visiting an alpaca farm.
"I've fallen in love with Tennessee and it truly has become our home away from home. We're enjoying all the perks of living in the country – the privacy, clean air, nature and clear night sky. And having the opportunity to grow my design business both here and California is a dream come true," Christina said in a statement.
View this post on Instagram
Christina rose to fame when she first starred on the HGTV show 'Flip or Flop' in 2013 along with her now-ex-husband Tarek El Moussa. The show featured the married couple buying houses in California and fixing them up to sell for a profit. The two real estate moguls divorced in 2018 but continued to work together on 'Flip or Flop' until March 2022.
In 2019, Christina went on to star in her own show 'Christina on the Coast,' which spotlights Christina turning her clients' California homes from outdated properties into modern, luxurious settings.
Season 4 of 'Christina on the Coast' will be available on December 8 on HGTV and Discovery+.
'Christina in the Country' will debut on HGTV on January 12, and will also be available on Discovery+ the same day. Fans can also watch each new episode of 'Christina in the Country' on HGTV GO starting January 12.
RELATED STORY: Christina Hall & Her Fans Slam Ant Anstead After Ant Accuses Christina of Exploiting Their 3-Year-Old Son On Social Media & Reality TV Shows
(Photos: HGTV; Instagram)