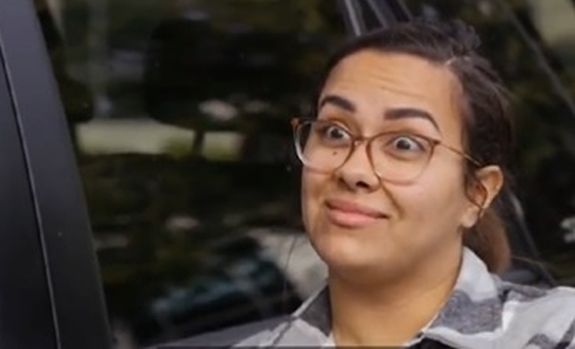 From building houses to rebuilding a relationship with your baby daddy, it's been another busy week for the stars/former stars of the Teen Mom franchise! In an effort to bring you up-to-date on the latest Teen Mom OG and Teen Mom 2 news, The Ashley brings you the Teen Mom News Pile.
Here are some of the major (and minor but interesting) 'Teen Mom'-related things that happened over the last few days…
Briana DeJesus gets slammed online after applauding herself for being a "single mom" with two paid-off houses.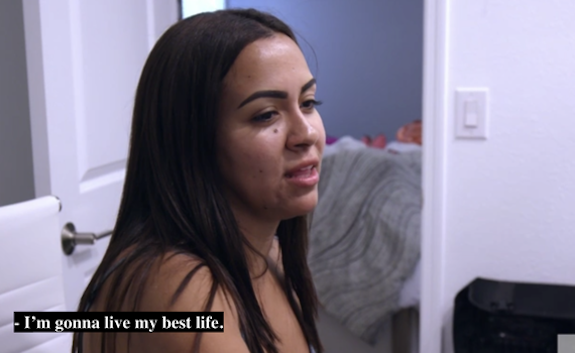 Briana DeJesus' surprise reveal on Christmas that she is building (and has paid off) a second home in Florida for her family created a lot of backlash after Briana applauded herself for being a "single mom" who pulled off this feat. However, because she failed to note that she was able to buy the homes only because she of her money from appearing on the 'Teen Mom' shows, Bri was raked over the coals by her followers, who pointed out that she is not the typical single mom who is struggling financially.
"We did it….again!!!! Merry Christmas to us!" Briana shared on Instagram. "I kept this a secret from the girls to be able to surprise them today. So blessed to have two homes fully paid off as a single mother of 2. I am forever grateful for the opportunities God has placed in our life. We move into our new home in the spring and we are so excited."
As fans of 'Teen Mom' know, Briana previously built a home in Orlando, Florida, where she and her girls were living along with her mom, Roxanne, and sister, Brittany. However, the home–- seen on 'Teen Mom 2' and 'Teen Mom: The Next Chapter'–- is currently occupied by Roxanne (and her extensive shoe collection) only, as Brittany is now living with her boyfriend and Briana has moved into a different home with her girls.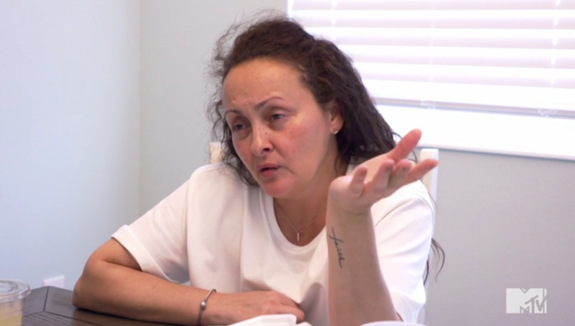 Briana said just a month ago that she was ready to buy another home and would be "looking at homes in Texas"; however, in the comment section of her post, she revealed that her older daughter Nova objected to her plan to move to Texas.
"I was looking at houses in Texas and Nova caught the only fit!" Briana wrote. "So we are staying in Florida for now! But I still want another home in TX. That is the goal. Maybe later."
Briana's decision to stay in the Sunshine State wasn't what drew criticism from people in the comment section of her latest post, though. Instead, Briana was called out for failing to note that most of the money she used to purchase her homes was made by appearing on the 'Teen Mom' shows.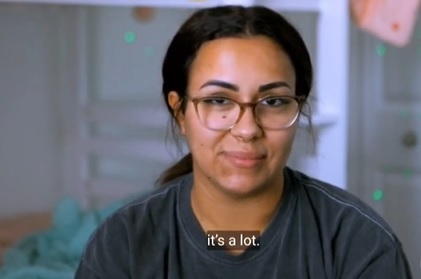 "All this just from getting pregnant at 16," one person wrote in the comment section of the post.
"Must be nice to afford it," another person wrote. "I work my a** off and I still can't afford stuff like this. Maybe I need to put myself in the public eye and cry about my [baby daddy] not paying child support."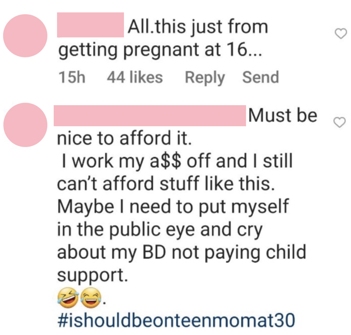 Others noted that Briana didn't give credit where credit was due–- to MTV.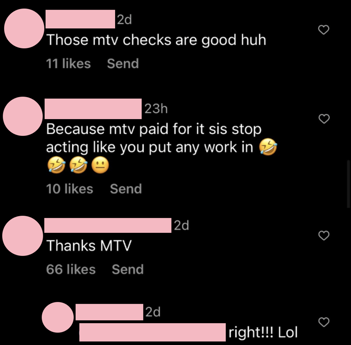 "You're not a regular single mom," someone else wrote. "You make hundreds of thousands of dollars for putting your dirty laundry in public."
"They may get new houses but they have lost their privacy," someone pointed out of Briana's two daughters.
"Because MTV paid for it sis stop acting like you put any work in," one comment read.
"Don't forget to say thank you to MTV," another wrote.
It should be noted that Briana is one of the only girls from the 'Teen Mom' franchise that works a "regular" job (in addition to appearing on MTV). She has worked in the timeshare industry for years.
Maci Bookout says she's worked through some of the hate she has for Ryan Edwards & wants to help him have a relationship with their son, Bentley.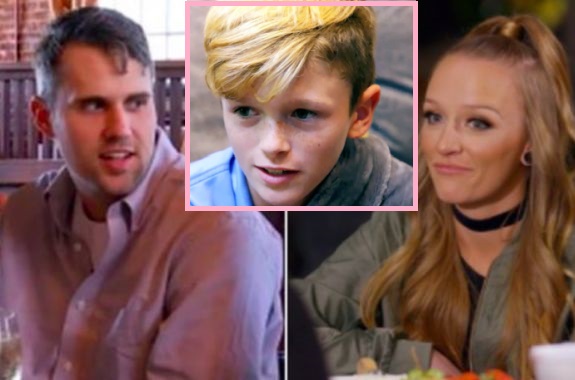 After years of Maci Bookout and Ryan Edwards airing their tumultuous co-parenting relationship on MTV, it seems that the exes may have finally made some progress for the sake of their 14-year-old son, Bentley.
While promoting the upcoming season of 'Teen Mom Family Reunion,' (premiering January 3 on MTV) Maci was asked how her relationship with Ryan is today. Surprisingly, the mom of three revealed to Page Six that there has been some amount of progress between her and her ex-– at least enough for the two to have each other's phone numbers, anyway.
In an interview with E! News Maci said her first step to helping Bentley and Ryan reconnect was letting go of some of the hate she held onto for Ryan.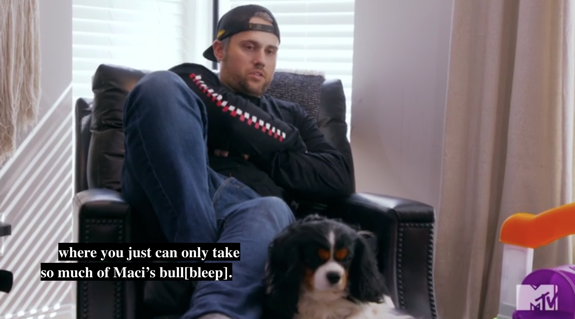 "… I think honestly the main thing that made it more clear was the work that I had done on myself and working through my anger, my sometimes even hate, just working through all of that and pinpointing what's worth holding on to and what's worth letting go of, " she said.
Maci admitted to Page Six that throughout filming, Dr. Cheyenne Bryant (aka Coach B) was able to help her gain some insight on the situation between Bentley and his dad.
"We were able to determine what role I played in the relationship–- or lack of relationship–- that Bentley and Ryan have," she said. " … And figuring out just how I can show up better as a mom for Bentley and be supportive of him in his relationships."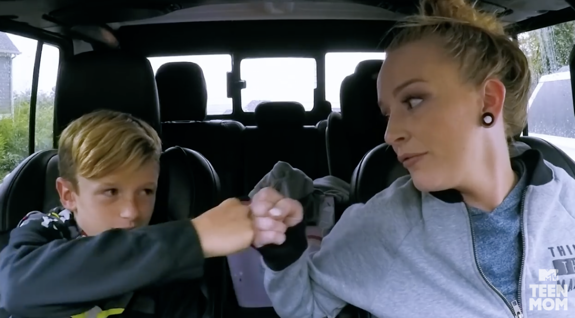 Maci told E! News that for a long time, she didn't really understand how she played a part in Ryan and Bentley's relationship.
"It's like, Bentley has a phone," she said. "If [Ryan is] not calling or texting Bentley, what does that have to do with me? But on a much bigger scale, I do play a large role in it."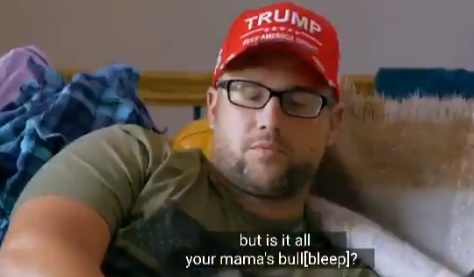 Though Bentley is old enough now to have more of an opinion on things-– specifically his relationship with his dad–- Maci said it doesn't necessarily make the co-parenting relationship between her and Ryan any easier.
Maci added that getting to know "the hard parts" of her and Ryan's relationship as co-parents has made things more comfortable for her.
"Not easier, but maybe just a little more comfortable," she said.
Jenelle Evans' (Kind of) BFF Tori Rhyne (Jokingly?) Slams Her For Being Mean, Bossy and "Cringey As F**k" On TikTok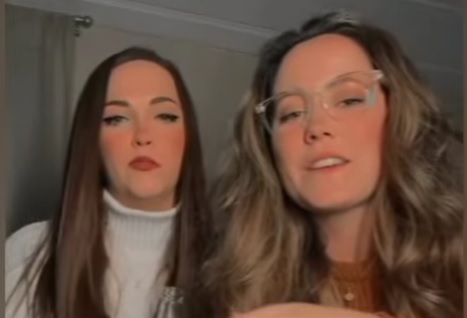 It's hard to believe that it's been a decade since Jenelle and her on-and-off best pal, Tori, beat the ever-living BeJesus out of each other on-camera with their assorted fists and drumsticks. While these two have been through a lot— drunken nights, wedding day arguments and long periods of estrangement— they are apparently friends again (for now anyway).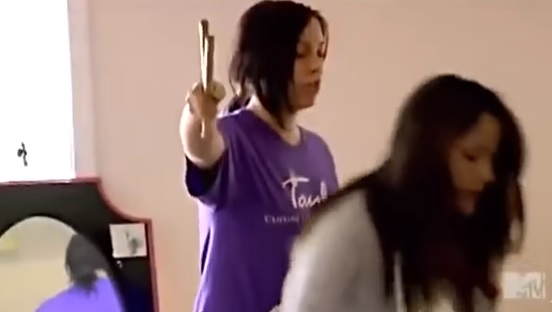 While they may be currently getting along, things got a little heated this week when Jenelle and Tori decided to talk about what they dislike about each other, while making a video for TikTok. While Jenelle kept things relatively light, Tori went straight for the jugular– calling Jenelle out for her mean, bossy ways, as well as for her habit of making absolutely cringey TikTok videos.
"You were so bossy all the time. Every time you made me go do something, you also don't want me to do it…" Tori said, later adding, "You're so f**king mean. You're so mean sometimes…"
Tori also slammed Jenelle for her cringe-tastic TikTok videos.
"Every TikTok that I see about you sometimes is cringy as f**k," Tori told Jenelle, who looked kind of offended by the jab.
Jenelle argued that her TikToks (which often include shaking her rump roast off-rhythm to music, showing herself crying or participating in general #SwampLife activities) aren't cringey because they get a lot of likes and that she "jumps on trends" of the app.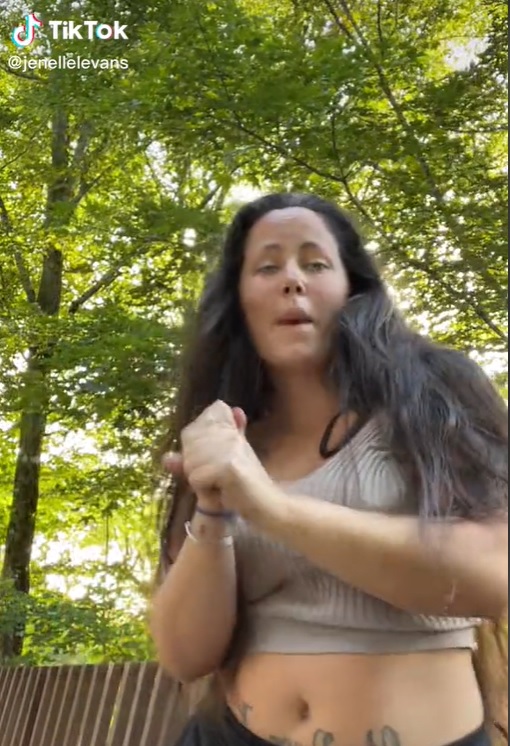 Tori, however, was ruthless and continued to mock Jenelle's TikTock-ery.
"She's cringey," she said. "And I have to support it because you're my best friend, but half the time, I cringe."
Next, Tori slammed Jenelle for randomly ghosting her for weeks or months at a time.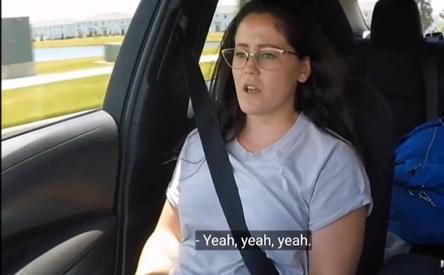 "You make all these plans with me and then you ghost me for like f**king a week or maybe a month and you don't talk to me. And I'm left thinking she don't like me no more," Tori complained.
Jenelle admits that she does ignore Tori for no reason. Tori then mocked Jenelle for constantly being on social media.
"Another ick is that she ignores me when I see that she's online all time. She's online all the time."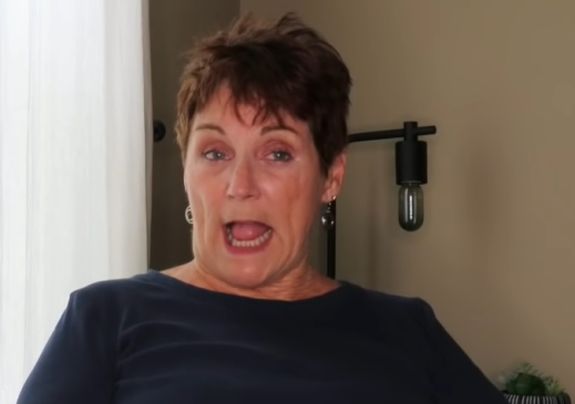 In the comment section, Jenelle insisted she's not mad at Tori for what she said.
"Nah we just argue sometimes," Jenelle wrote.
"16 and Pregnant" star Jordan Ward is Engaged Again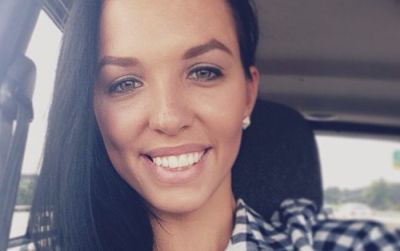 Wedding bells will soon be ringing for "16 and Pregnant" girl Jordan, whose very memorable episode during the show's third season remains the most-watched episode of the show of all time.
Jordan— who, as fans may remember, had a twin sister named Jessica, and went on to marry Brian Finder, the father of her son Noah, shortly after her episode aired. She was also the first girl from "16 and Pregnant" to get pregnant again. Although she was pregnant when she filmed the Reunion show for her season, Jordan was asked not to reveal the pregnancy.
(As The Ashley reported in her 2013 book Teen Mom Confidential, Jordan's second pregnancy was the main reason producers chose not to use girls from the third season of "16 and Pregnant" to make up the cast of Teen Mom 3. Instead, they chose girls from Season 4.)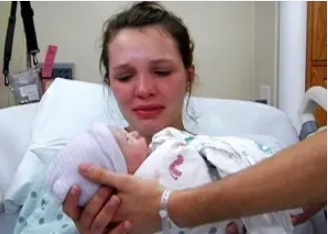 Anyway, Jordan and Brian divorced after their daughter Arri was born in 2011, and Jordan went on to have a third child– a son named Leo— in 2017 with another man.
On Christmas Day, Jordan became engaged again to a man named Chris. It appears that Jordan's twin sister Jessica approves, as she posted photos and details of the proposal to social media this weekend.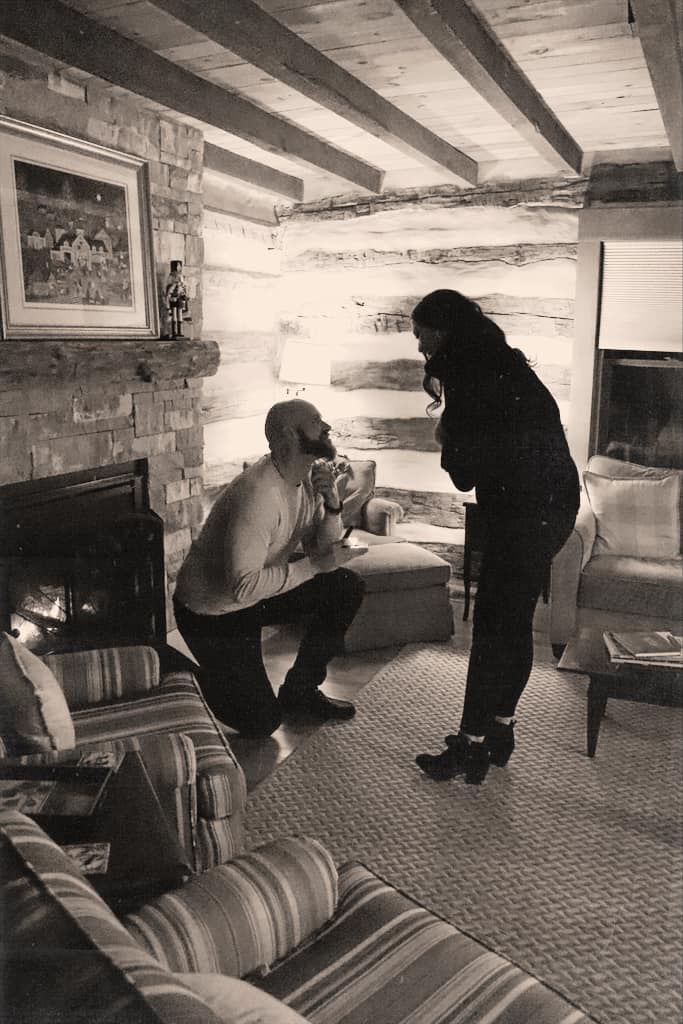 "So excited for my sister!" Jessica wrote on Facebook. "Y'all know how much I love my sister and how much she means to me! She deserves the world of happiness and Chris gives that to her. Her and Chris have been smitten about each other since they've met and I can't wait to see what the future holds!"
According to Jessica, Chris had Jordan's engagement ring custom-made for her.
View this post on Instagram
Jordan is currently living in St. Louis, Missouri, and working as a lash artist. Jessica is now married and the mother of two kids.
To catch up on more recent 'Teen Mom' news, click here!
(Photos: Instagram; TikTok; MTV)