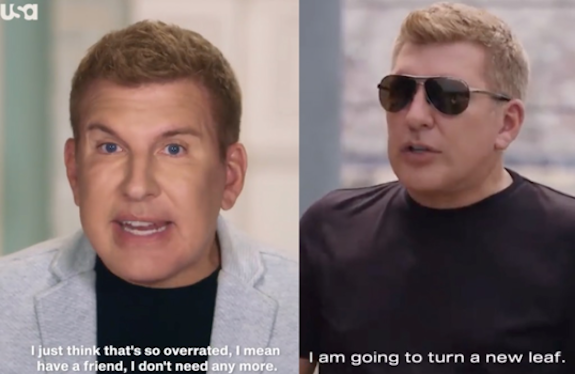 It looks like Todd Chrisley is officially in the running to become Mr. Congeniality of his correctional facility.
As The Ashley previously reported, Todd and wife Julie Chrisley were handed 12- and seven-year prison sentences, respectively, after being found guilty of tax evasion and bank fraud crimes. The Chrisley Knows Best stars both checked into federal prisons in January to begin serving their time, and while Todd and Julie are currently appealing their convictions, both are reportedly adapting to prison life rather well, according to Todd's eldest daughter Lindsie Chrisley.
On this week's episode of her The Southern Tea podcast, Lindsie gave listeners an update on how her dad is doing in the slammer–- sans hair dye, cosmetic procedures, teeth whitener, designer duds, etc.
"My last visit with my dad, I couldn't stop telling him how great that he looked," the 33-year-old said, according to People. "He looks very, very good. I told him, I said, 'Even your hair looks better, a little bit longer and a little bit grayer.' His nails aren't completely bitten off."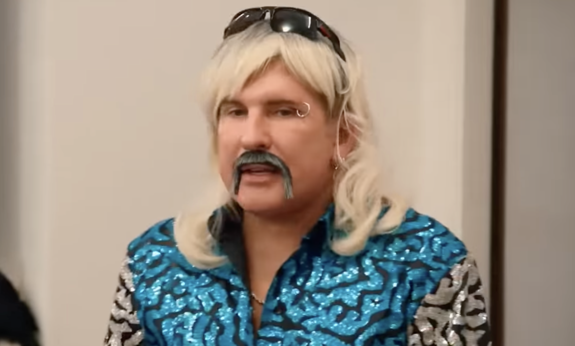 (Todd and Julie's 26-year-old daughter Savannah Chrisley has also commented on Todd's color-changing locks, claiming on a February episode of her Unlocked podcast that it "is really weird" to see her dad with gray hair.)
Lindsie, who was estranged from Todd and the rest of the Chrisley family for years, said her dad is doing well physically, and is also "in such a better place" mentally, as well.
"His spirits are great," she said. "He is really just embracing the process there and making the best of the process there with the people that are also there serving time with him.
"He's made great friends," she continued. "He talks about his friends there."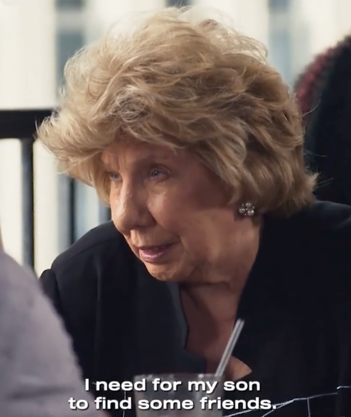 Prior to her dad and stepmom reporting to their respective correctional facilities, Lindsie said she wondered if the other inmates would be familiar with the family's now-canceled series 'Chrisley Knows Best.'
" … I know the answer now, is yes," she shared.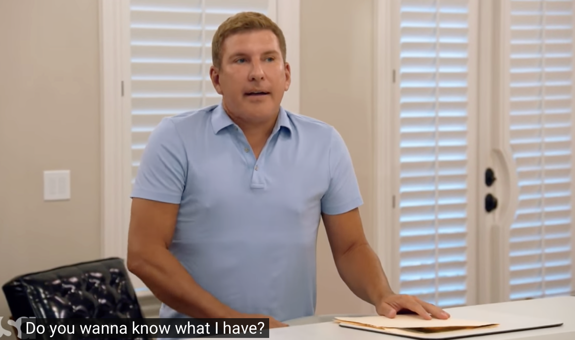 Lindsie added that both Todd and Julie have been "welcomed with open arms" by their fellow inmates, which she considers a "blessing" as that isn't always the case.
" … I do feel like we're so blessed in that regard," she said.
Though the four-week trial did not conclude with the verdict the Chrisleys were hoping for, prison consultant Justin Paperny— who was a guest on Lindsie's podcast this week– commended the couple for having the guts to go to trial instead of taking a plea deal.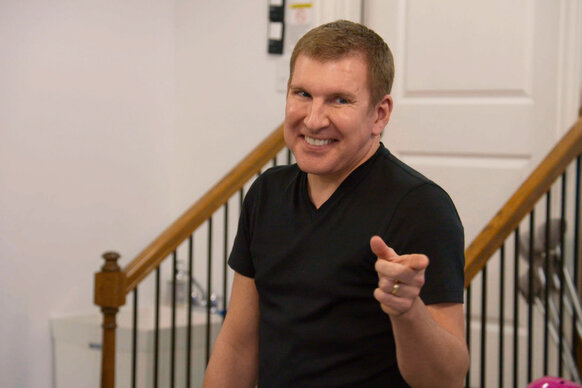 "The odds of prevailing at trial, as you know, are very low," he said. "So to go through it, knowing the odds are against you–- and then to endure the conviction and a lengthy prison term with your dignity and a plan, still finding meaning, connecting with your family–- it's hard to do, and it can be inspirational to other prisoners."
RELATED STORY: Savannah Chrisley Details Moment Her Parents Todd & Julie Chrisley Were Found Guilty In Court: "We Were Not Expecting That"
(Photos: USA Network; Instagram)