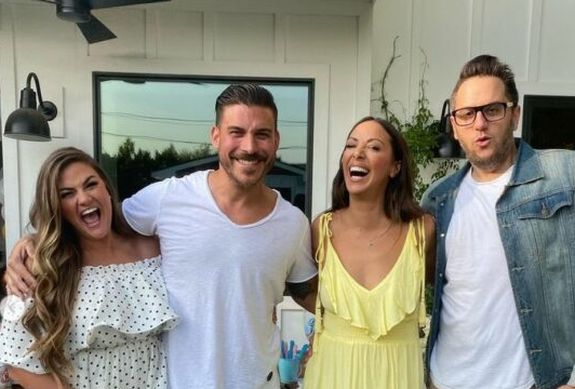 Ever since the SUR gang from Vanderpump Rules started getting married, having families, and moving into the Los Angeles suburbs a few years ago, rumors have spread that Bravo would launch a spin-off series following past and present cast members in their post-SUR lives. With the immense success of the recently wrapped tenth season of 'VPR' — and reintegration of some disgraced former cast members —- it looks like the new show is finally a go!
Jax Taylor, Brittany Cartwright and Kristen Doute are going to lead the as-yet-unnamed show, according to Deadline (While the spin-off has no name as of press time, Vanderpump Village and Valley Rules are show names that have been tossed around in the past.)
"The series will follow a group of tightknit friends, who are trading in their glamorous West Hollywood lives and swapping bottle service for baby bottles as they adapt to the next chapter of their fun-loving lifestyle in The Valley," the outlet reported yesterday.
Multiple sites, including Deadline, are reporting the series will launch with an eight-episode season and that deals are still being worked out. At press time, neither Jax, Brittany nor Kristen had commented on the news publicly, but Jax did allude to possibly coming back for a VPR spinoff when he spoke to Rolling Stone back in May.
"It's definitely not dead, but I can't talk about it," he told the publication. "I apologize. There are a lot of moving parts right now, and this interview is happening right in the middle of it."
Jax and Kristen were part of the original 'VPR' cast, starting with the show back in 2013. Brittany joined in Season six when she started dating Jax. The couple later starred in their own one-season spin-off, Vanderpump Rules: Jax & Brittany Take Kentucky.
Jax, Brittany and Kristen all exited 'VPR' in 2020. Kristen and friend Stassi Schroder were fired when details came out about racist actions they'd taken against castmate Faith Stowers. Details are a little hazier when it comes to why Jax and Brittany left the show. Some cast members have stated that Jax was fired and Brittany followed him off the show, while the couple themselves claimed the decision to leave was theirs alone.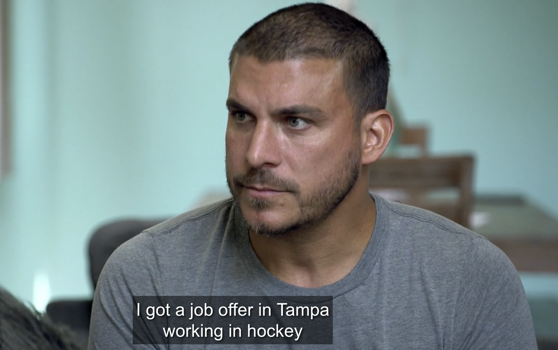 Whatever bad blood may have existed between the Jax, Brittany and Kristen, and show producers quickly dissolved in the wake of Scandoval. Jax and Brittany hosted three episodes of a 'VPR' watch-along show on Peacock this past season and Kristen made a surprise cameo in the season finale, providing a little spiritual guidance to Ariana Madix following her breakup from Tom Sandoval, Ariana's boyfriend of nine years who cheated on her with castmate Raquel Leviss and at one time was Kristen's live-in boyfriend.
Interestingly, Kristen recently stated on a podcast that she had no desire to appear on anything 'Vanderpump Rules'-related, except for maybe doing a scene like the one she filmed for the Season 10 finale.
"I'm so happy I'm not on that show. And I would never go back to that show, other than in the capacity I did this season, which was one quick scene," she said. "After three years of being off [the show], I went to therapy for a very long time. Every time that I do 'Vanderpump' or I think about it, I have to go back to therapy again…
"It's really weighing on me," she continued. "All the memories are coming, they're flooding back, and all the demons."
At the time, Kristen did not discuss the possibility of doing a 'Vanderpump' spin-off, though.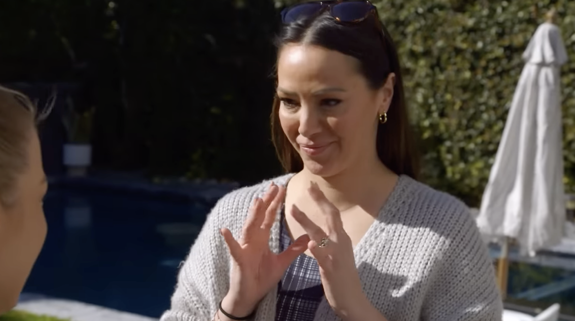 This isn't the only 'VPR' spin-off in the making. Earlier this month, news broke that Hulu will be debuting a new reality series about the staff that works at Lisa Vanderpump's French villa.
While these new shows are being prepped, filming has begun on the eleventh season of 'VPR,' with TMZ catching Ariana, Katie Maloney, Lisa, Ken Todd, Tom Schwartz and James Kennedy shooting scenes in Los Angeles on Wednesday. Per TMZ, there's still no word on if Raquel will be rejoining the show.
The Ashley has the details on where every cast member currently stands for season 11.
RELATED STORY: Kristen Doute Talks About Returning to 'Vanderpump Rules' After Being Fired & How the Producers Treated Her "Like a Little Kid": "I'm So Happy I'm Not On That Show"
(Photos: Bravo; Instagram)