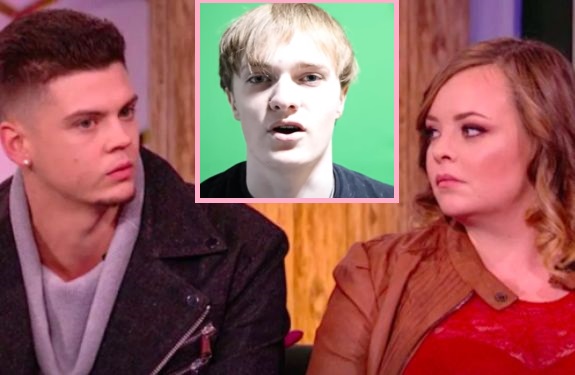 The months-long feud between Catelynn Lowell and her family–– namely her mother, April, and younger brother Nick–– reignited over the weekend when Cate shared a recent phone conversation she had with the two, in which Nick can be heard calling his sister a "fat ass."
Nick's alleged name-calling comes just a month after he posted a lengthy video to YouTube slamming Cate's husband, Tyler Baltierra, for mistreating his sister and making insulting comments about Cate's weight. (Nick even made a point to include a clip of the infamous "I don't want no heifer for a wife" scene from Teen Mom OG in his video.)
This weekend, Catelynn took to social media multiple times to defend Tyler and state that he never weight-shamed her, and that it was made to appear that way on the show due to editing and strategic questions asked by their producer.
The Teen Mom: The Next Chapter star included a snippet from Nick's video in her post over the weekend, along with the alleged phone conversation that took place last week, telling followers her brother is "the only person that has ever called me fat."
Cate even went on to issue a warning to those following her brother on social media, stating that he is just posting these videos to build his social media following.
"My brother says Tyler calls me names etc. which he has NEVER!!" she tweeted. "But if you hear the end of this video it's my BROTHER calling me names so if ur gonna follow him just kno what type of person he is! A fake clout chasing one! Lies on lies!"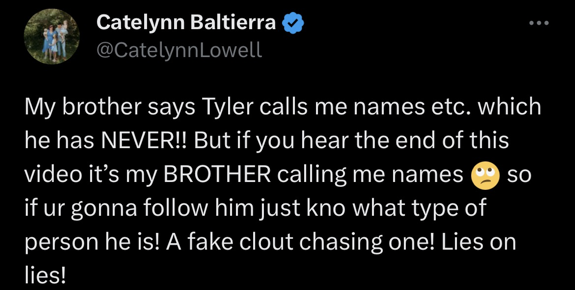 Cate also took to Instagram Live to "clarify" Tyler's past comments about her weight. In a clip shared by @teenmomfanz, Cate claimed that viewers didn't know what was really going on behind the scenes at the time.
"The truth is, back in the day when it was, 'Tyler was saying things about my weight,' it was actually our producer at the time [who] was pushing that [storyline]," Cate said, alleging that the topic of her weight was addressed on the show because she had mentioned wanting to lose weight before her and Tyler's wedding.
According to Cate, she did mention to Tyler (after giving birth to their daughter Nova) that she wanted to lose some weight and admitted that she struggled with accountability. Because of this, Cate said she turned to Tyler to help her with her goals, even asking him to "call her out" if he noticed that she was "failing" in her weight loss goals.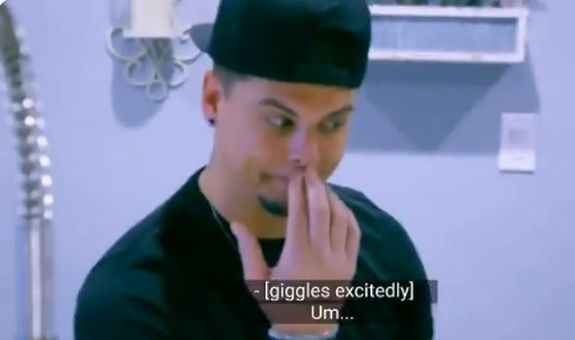 "But [the show] never showed that part of it," she claimed. "On TV they would only show Tyler literally calling me out–- the thing that I asked him to do."
She went on to accuse the show of using this storyline because she and Tyler were just "too happy" and "had no drama" to work though on-camera.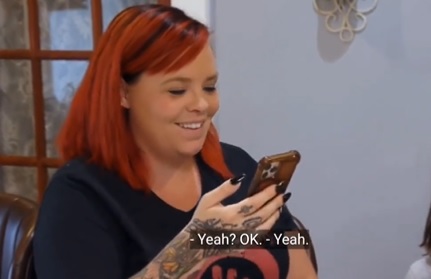 "They didn't want to show the side of me being like, 'Hey Tyler, call me out if you see me falling off,'" she said. "And at that time in my life, I wasn't going to the gym, I wasn't, you know, I was doing it all at home and on Weight Watchers. I had postpartum [depression] on top of it, not even knowing at the time that I had it … ."
(Cate also mentioned on Instagram Live that the "certain producer" she and Tyler had at the time seemed to only focus on her weight and Tyler's alleged issues with her body-– something she also mentioned in an Instagram post on Sunday.)
"For the LAST TIME! My husband has NEVER called me fat or fat-shamed me!" Catelynn wrote. "S**t is edited and do you REALLY think I would stay with someone that [speaks] down on me? HELL NO! What type of woman would that make me while I'm literally raising little girls! It's ridiculous but here I am again!"
"I'm just so sick of ppl bashing my husband and in the same breath making me seem like some quiet, held-down woman," Catelynn added. "…that WHOLE conversation was edited and y'all took it WAY out of context! And I'm just SO SICK OF HEARING ABOUT IT!"
Cate defended Tyler (again) Monday on social media, telling fans (again) that the statements in question that were made by Tyler on 'Teen Mom OG' had been "edited HARDCORE," insisting she isn't "some weak ass b*tch" that would stay in a relationship with someone who body shamed her.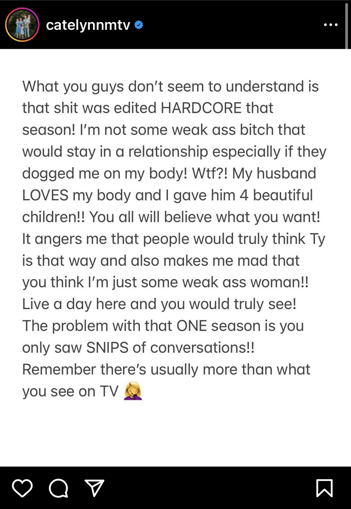 "My husband LOVES my body and I gave him 4 beautiful children!!" Cate continued. "You will all believe what you want! It angers me that people would truly think Ty is that way … Live a day here and you would truly see!
"The problem with that ONE season is you only saw SNIPS of conversations!!" Cate added. "Remember there's usually more than what you see on TV 🤦‍♀️."
Cate shared her statement on both Instagram and Twitter, insisting that Tyler treats her and their daughters like queens.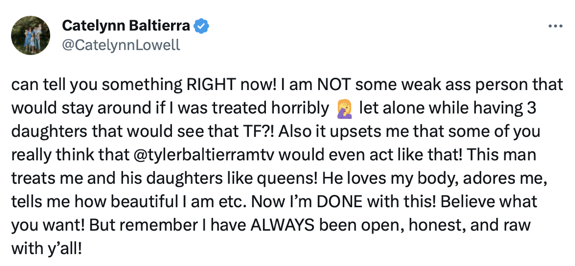 "He loves my body, adores me, tells me how beautiful I am etc.," she noted. "Now I'm DONE with this! Believe what you want! But remember I have ALWAYS been open, honest and raw with y'all!"
In response to the post, Tyler encouraged Cate to not worry about the "big conspiracies" viewers have about comments he made nearly 10 years ago; however, Tyler admitted that he agreed with some of the criticism from fans, claiming he "could've definitely used better delivery" and "been more compassionate" with Cate at the time regarding her health goals.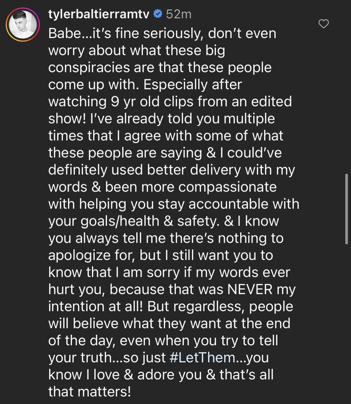 " … I know you always tell me there's nothing to apologize for, but I still want you to know that I am sorry if my words ever hurt you, because that was NEVER my intention at all!" Tyler wrote. "But regardless, people will believe what they want at the end of the day, even when you try to tell your truth…so just #LetThem…you know I love and adore you & that's all that matters!"
You can watch the "I don't want no heifer" scene in question below!
RELATED STORY: 'Teen Mom: The Next Chapter' Star Tyler Baltierra Raps About His Dad Butch's Drug Use In New Clip Shared By Wife Catelynn Lowell
(Photos: MTV; YouTube; Instagram; Twitter)