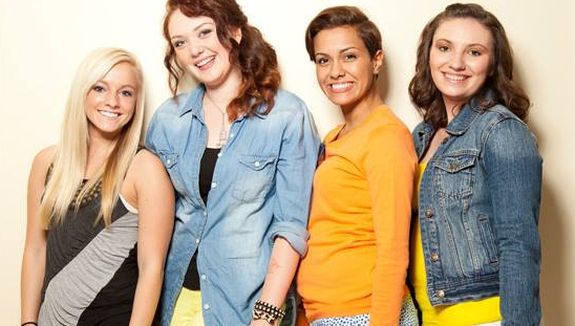 The Ashley is probably more excited for the launch of Teen Mom 3 than she has been about anything 'Teen Mom'-related in a long time. (Except, of course, anything Barbara Evans related.) The Ashley and other fans of the franchise have been patiently waiting for MTV to release a premiere date for the series. No date has been released, but The Ashley broke the news a while back that the show will premiere in August.
MTV has even launched the show's official Facebook page, which seems to back up The Ashley's sources' information that the show is coming very soon. According to one person close to the show's production, we can expect to see the trailer for 'Teen Mom 3' Season 1 within the next 10 days.
The source tells The Ashley that the trailer will be "very intense," much like the episodes that will follow. The footage was filmed back in the spring and summer of 2012, with the reunion special being filmed in November. The source tells The Ashley that all of the girls have changed a lot since it was filmed.
For instance, Alex's baby-daddy will be shown on the series, although he hasn't seen his child since May 2012. The relationships between all of the other girls and their baby's fathers have also changed. (The Ashley's book, Teen Mom Confidential has a whole chapter on the 'Teen Mom 3' girls, including some of the plot lines you'll see!)
All of The Ashley's sources have told her that the four girls: Briana DeJesus, Katie Yeager, Mackenzie Douthit and Alex Sekella have a common goal of changing the face of 'Teen Mom.' Over the years, thanks to drama-loving franchise stars like Jenelle Evans and prison-inhabiting Amber Portwood, the 'Teen Mom' franchise has become synonymous with drugs and drama. The new girls are hoping to bring the franchise back to its original goal of showing how hard it is to be a teen mother.
According to one very close friend to one of the girls, "They are all very humble. They aren't looking to be big celebrities on magazines. I don't think any of them will change all that much after the show premieres."
The Ashley will post the trailer as soon as it's released!
Will you be watching 'Teen Mom 3?'
(Photo: MTV)