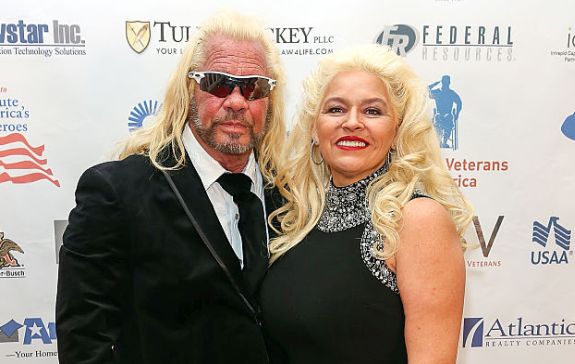 Beth Chapman, who starred with her husband, Dog, on the A&E reality TV show Dog the Bounty Hunter, is currently in a medical-induced coma in the ICU of a Hawaii hospital, her family confirmed in a statement on Sunday.
Beth has been battling cancer for years and, after a long remission, she was diagnosed with throat cancer in November after undergoing emergency surgery to remove a tumor from her throat. Since then, she has been undergoing aggressive chemotherapy.
In a statement, Duane said that he and his family "humbly ask everyone to please pray for Beth." He also sent his "sincere thanks to everyone for their prayers throughout Beth's battle with cancer."
No further details regarding Beth's condition have been released. On Sunday afternoon, Leland Chapman posted a series of photos to Instagram of Beth and the family. He did not, however, give any updates on Beth's condition.
View this post on Instagram
In January, it was announced that Dog and Beth would star in a new reality show for WGN called Dog's Most Wanted. In promo videos for the show posted to Dog's Instagram account earlier this month, Dog sent a message to criminals.
"My wife, the love of my life, is fighting for her life," he says. "Instead of being at home helping her, I'm out here looking for you! So I'm warning you in advance: may God have mercy on you when I catch you…'cause I won't."
"You've been warned," Beth says in the video.
The show's premiere date has reportedly been pushed back to next year, but WGN has not released any additional details.
Earlier this month, Beth posted a photo of herself, back at work at their business, Da Kine Bail Bonds.
"Get up dress up show up! #cancerwillnotbeatme," she captioned the photo.
UPDATE! According to Perez Hilton, Beth has been in the hospital all weekend. The site's sources say someone in Beth's Hawaii home called 911 and reported a "chocking emergency," due to a breathing problem Beth was reportedly having. She was rushed to the hospital.
"Family sources say the choking problems are linked to the throat cancer she has been suffering; she suffered a similar breathing problem back in April," Perez Hilton reported. "As of Sunday afternoon, Beth is still in a coma. Members of her family who aren't already on the island are rushing to be by her side."
RELATED STORY: Dog The Bounty Hunter Will Return To TV With New Series As His Wife Beth Chapman Continues Cancer Battle
(Photo: Teresa Kroeger/Getty Images; Instagram)