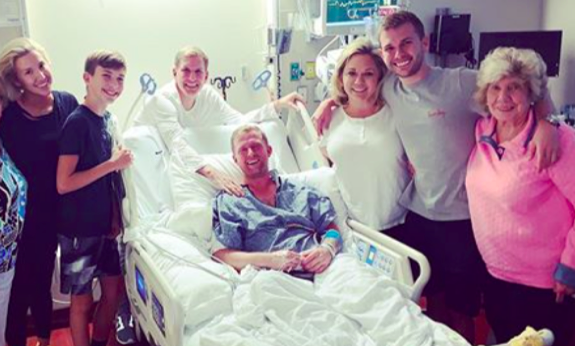 Two weeks after Chrisley Knows Best star Todd Chrisley shared on social media that his oldest son Kyle had been hospitalized, the family is opening up about what actually happened.
According to People, Kyle joined Todd and Todd's wife Julie on Thursday's episode of their Chrisley Confessions podcast, where he revealed that he was hospitalized in August for a suicide attempt.
"I take my medication and I had a bad side effect to it and I tried to take my own life," Kyle said. "With the meds, I got all kinds of crazy thinking going on."
Todd pointed out that a side effect of one of Kyle's medications was "suicidal tendencies," though he noted that Kyle was no longer taking that particular medication.
"Yes, we're off of that," Kyle confirmed.
During the podcast, Kyle also said he was getting "one shot a month"; however, he didn't go into detail as to what the shot is for. He also claimed to be feeling "a lot better."
The news of Kyle's suicide attempt comes a week after Todd shared a photo of the family surrounding Kyle in a hospital bed, along with a caption proclaiming, "not today Satan."
"NOT TODAY SATAN, NOT TODAY… God shows up and shows out, now won't he do it? Kyle is great and we are back to the grind," the caption read.
While Todd's photo showed Kyle surrounded by his brother Chase, sister Savannah, grandmother and other people, his sister Lindsie is noticeably absent.
At the time, a spokesperson for the Chrisley family told People that Kyle's hospitalization was related to his medication.
"Kyle is fine. He had an adverse reaction to his medication, but as you can see from the photo his father posted on Instagram, he is doing great."
While this description was truthful, it did omit the part about Kyle's suicide attempt.
Two weeks before Kyle was hospitalized, Todd and Julie were indicted for tax evasion and a number of other financial crimes, all of which they are denying.
Kyle, who had previously been estranged from his father, was quick to come to his family's defense following the indictment. In an Instagram post, Kyle claimed that he had lied in the past about his father's financial wrongdoings and he went on to praise Todd and Julie for always forgiving him despite his problems with drug addiction and that fact that he hasn't "been the best dad to Chloe"—his daughter, whom Todd and Julie are raising.
Kyle went on in the post to encourage his sister Lindsie, who is estranged from the family herself, to follow in his footsteps in mending things with their father, however, he also blamed her and their biological mother Teresa Terry for being the ones who reached out to authorities, leading to Todd and Julie's indictment.
Lindsie not only denied the claims made by her brother, but she went on to accuse Todd and her younger brother Chase of attempting to extort her with an alleged sex tape between herself and former Bachelorette star Robby Hayes. Robby has since revealed that the "sex tape" was not intentionally filmed, but rather captured by way of a puppy camera in Lindsie's friend's home.
When contacted by FBI agents, the owner of the alleged puppy cam denied that such tape exists and despite Todd's 2017 tweets referencing both puppy cams and cheating, he and Chase have denied that any extortion occurred.
RELATED STORY: Savannah & Chase Chrisley Allegedly Made to Testify Before Grand Jury Against Their Parents Todd & Julie; FBI Looking Into Sex Tape Extortion Allegations Against Todd & Chase
(Photos: Instagram)