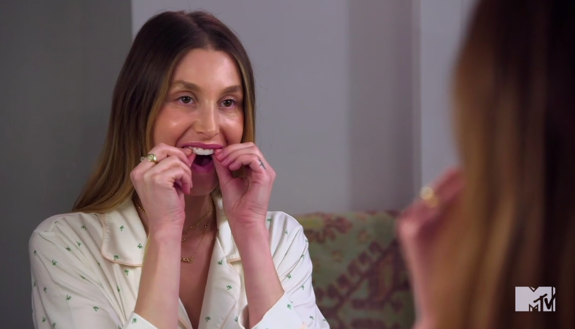 Season 1 of The Hills: New Beginnings finally came to an end this week, but thankfully not before wrapping up the (very) few storylines that actually managed to stick. We ended this season with a double-episode featuring wine tasting, an adult tutu, an award-winning breakup, an appearance by Ryan Cabrera's hair and lip-syncing. We also finally learned Brandon's secret move to get the ladies. (Spoiler alert: it involves children's cartoons.)
Cover yourself in enough healing crystals to cure your fake British accent as we run down the Top 10 Wildest Moments from 'The Hills: New Beginnings' Season 1 finale.
1. Spencer calls Brody out for his faux marriage.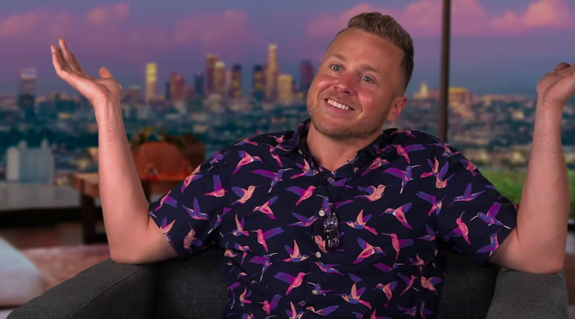 With Spencer and Brody finally back on good terms, the two head to a coffee shop to cement their renewed bromance over lattes and espresso. Before long, the conversation turns to the status of Brody and Kaitlynn's marriage—- specifically the legalities of their union.
"I just feel like you're living two different lives," Spencer tells Brody. "When I got married out of the country, I had to do one in America, had to be nice and legal."
Brody then gives an explanation to Spencer as to why he and Kaitlynn didn't legalize their marriage after their Indonesian ceremony.
"Let me tell you something about marriage, there's a lot of legality involved, like, I don't believe in the whole signing part of it, but everything else, I'm with it," Brody says.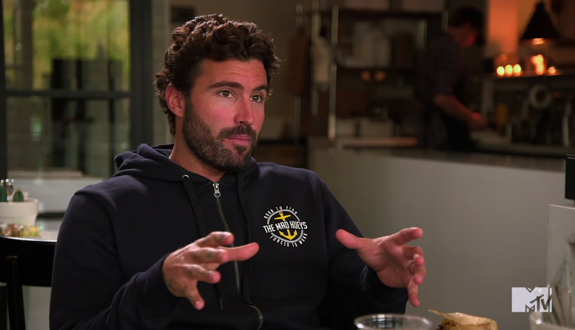 Spencer suggests that Brody and Kaitlynn are married spiritually, but Brody insists that their union is the real deal.
"Kaitlynn and I are extremely happy, we're extremely in love and that's all that matters," he says in his interview.
Hot tip: when you've just gotten back into the good graces of your once-best friend, don't refer to he and his wife as being "Indonesian-married."
2. Brandon calls it quits with his kinda, sorta girlfriend.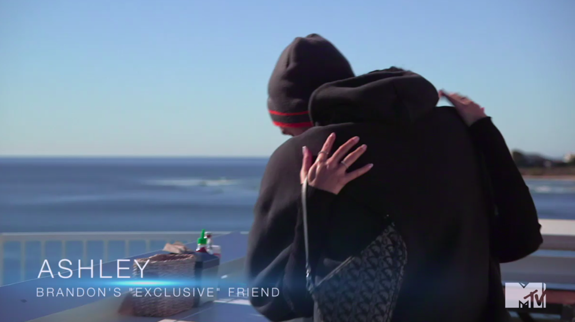 While working to repair the relationship with his dad Tommy Lee, Brandon finds that his not-girlfriend Ashley is a Stage-5 Clinger isn't sympathetic to his family drama, so he decides it's best that they go their separate ways.
When Ashley meets up with Brandon, she's caught off guard to hear that Brandon wants to call things off—so much in fact, that she accuses him of faking his feelings for her. (On this show? Never!)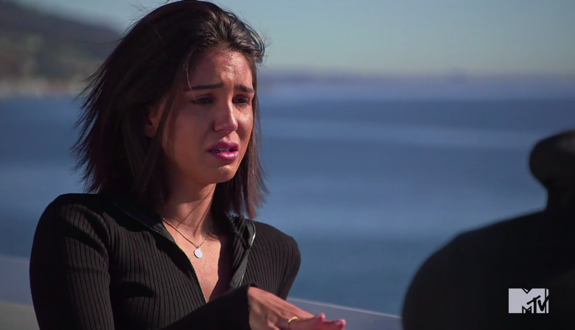 "You're literally the best actor and like, you should get a Grammy," Ashley tells Brandon before storming off.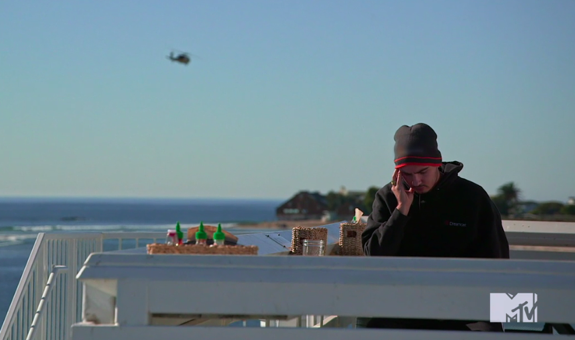 Let's all have a moment of silence for Ashley and her final scene on this show, which could have been a total mic-drop moment if Grammy awards were given to actors and not musicians.
3. Whitney suffers a major loss.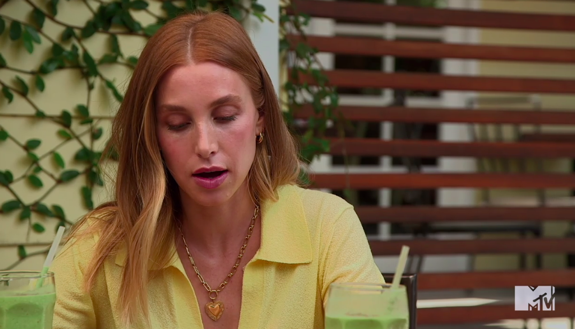 Whitney meets up with Kaitlynn and shares with her that she recently suffered a miscarriage. While Whitney says she's still grieving the loss, she's also dealing with the guilt of being somewhat relieved about it.
"I also had some weird feelings of relief when this started to happened because I was like, I'm okay with this and then I felt guilt for feeling like this was possibly a positive thing for me," she tells Kaitlynn. "I just felt like such complicated feelings."
Whitney starts to choke up as she explains that she hadn't come to terms with whether or not she wanted a second child.
"It's hard to open up about these kinds of things with people because I just don't want anyone to think that I'm being insensitive," she adds.
4. Kaitlynn almost takes the high road.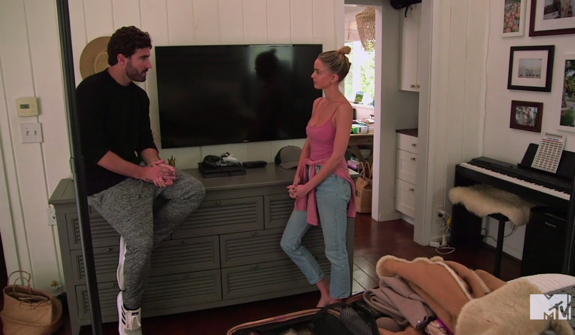 When packing for Spencer and Heidi's vow renewal in Santa Barbara, Kaitlynn expresses her trepidation about attending the festivities after getting wind that Jason's wife Ashley has been gossiping about her and Brody.
"A few days ago, Whitney told me that when she was at Audrina's fashion show, Ashley was talking about me and Brody and our personal life and our relationship," she explains. "It just makes me angry because it's none of anybody's business. I'm not looking at Jason and Ashley and talking about, 'Oh they should never have had kids because Jason had a gambling problem and gambled their house away or whatever.' Ya know what I mean? I don't say those things to other people. That's not my place."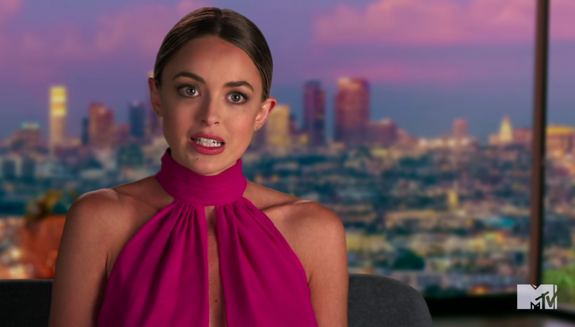 Right, so you just say those things on national TV instead? Got it.
5. The most random combination of people on this show go wine tasting.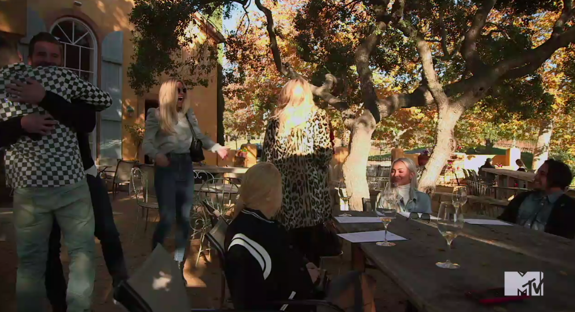 As some of the group arrives in Santa Barbara, they decide to kick things off with some wine tasting. Joining Heidi and Spencer on this pre-wedding excursion are Stephanie, who the two were literally not speaking to until about five seconds ago; Justin Bobby, who Stephanie was accused of sleeping with earlier this season; Justin's Friendsgiving date, who announces to everyone that she and Justin are boyfriend and girlfriend, despite Justin never agreeing to it; Jason, the recovering gambling addict and alcoholic; and his wife Ashley who, according to Kaitlynn, likes to go around gossiping about other people's marriages.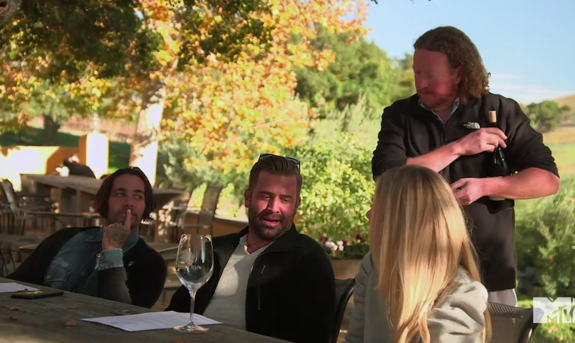 Cheers!
6. Brody & Kaitlynn's almost early exit.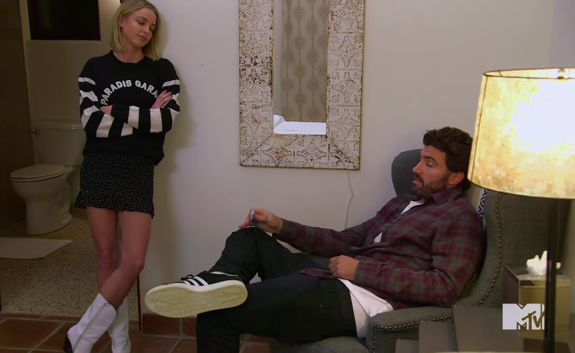 After everyone has arrived in Santa Barbara and settled into the house, Kaitlynn overhears Ashley talking to Frankie's wife Jen about her and Brody's possibly-open-relationship and she isn't happy about. Kaitlynn tells Brody what she overheard and Brody makes the call that the two of them should go home.
Of course, though, Brody announces their departure in a very Brody way.
"We're gonna dip bro, we're not gonna stay here," Brody tells Brandon and Justin. "We didn't come here to like—right out of the gate it's like, Kaitlynn's already getting s**t from the girls. We came here to be supportive of Spencer and Heidi … I can tell that we're not wanted here."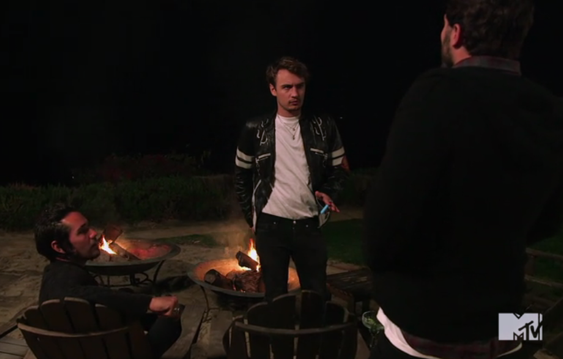 Upon hearing this news, Brandon and Justin make a dash to the house to tell everyone about Brody and Kaitlynn's plans. Ultimately, a seemingly drunk Spencer convinces the two of them to stay, shortly after addressing the "weird vibe" Brody says he and Kaitlynn are getting in the house.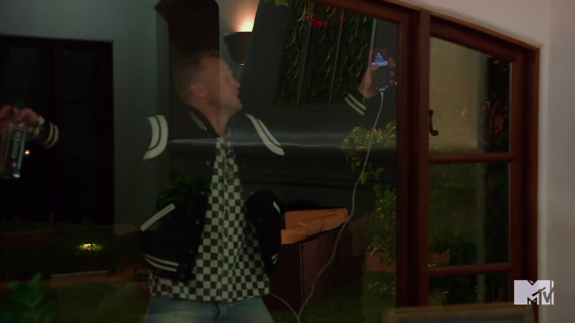 "The only vibe is that you're sober and we've been drinking since 1 o'clock," Spencer says, adding that Brody is "like a dang wrecking ball right now."
Props to Spencer for that appropriately-timed Miley Cyrus reference, by the way.
7. Stephanie feels societal pressures to reproduce.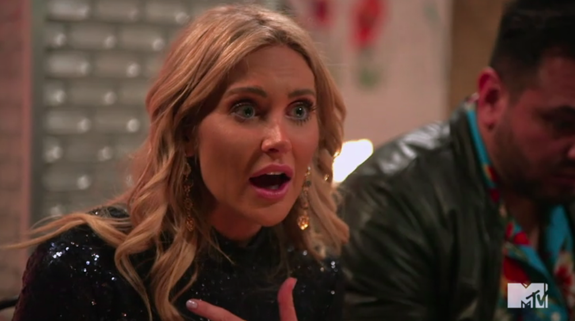 With everything back on track in the house (for now), the group heads out to dinner. Kaitlynn tells Stephanie that she and Brody have decided to put their baby plans on hold for the time being. Stephanie then shares her own unique take on kids and marriage.
"I never felt the need to get married young and have children young but now that I am getting older, like, society's making me feel like I'm a weirdo and like, a black sheep," she says. "Literally, like, I feel like they're probably thinking, 'Is Stephanie a lesbian?'"
Kaitlynn proceeds to ease Stephanie's worries—or at least she tries to.
"I mean, everyone's kind of a lesbian," Kaitlynn says.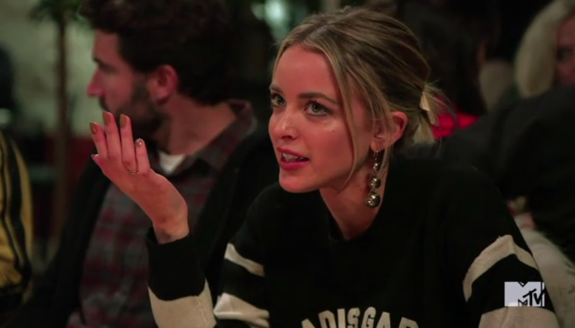 OK, between this comment and Spencer's Miley reference, MTV needs to cool it with the foreshadowing. Subtly is key, guys.
8. Spencer and Heidi renew their vows.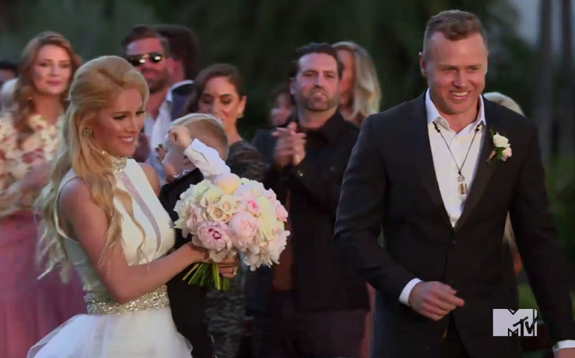 The next day, the whole group comes together to watch as Heidi and Spencer celebrate 10 years of fame whoring marriage by renewing their vows. All things considered, the ceremony is beautiful and Heidi and Spencer's vows actually seem genuine. Hell, even Justin Bobby can't help but to shed a tear or two!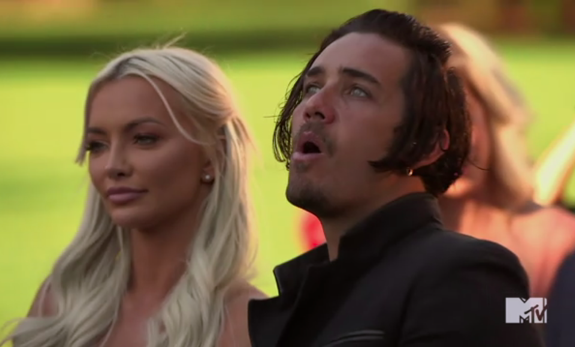 "There's a moment where you get like, a little lump in your throat," Justin says. "It's like a crazy, nostalgic love that nobody can touch. That's the s**t that I yearn for."
Justin Bobby: philosopher and low-key romantic.
9. Kaitlynn and Ashley clear the air.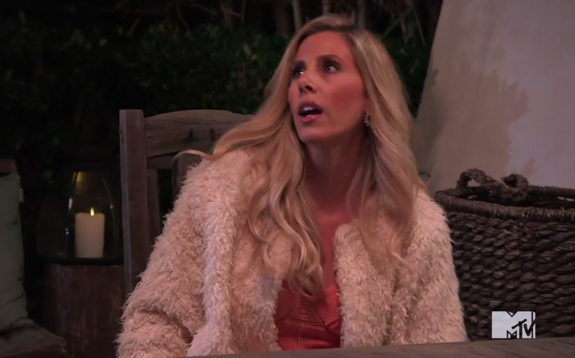 After avoiding each other for the better part of the Santa Barbara trip, Ashley finally breaks down and pulls Kaitlynn aside to talk things out and explain why she's been telling everyone that Ashley and Brody shouldn't have kids.
"Listen, having a baby is a really big responsibility, it's not my decision to tell you what you should or shouldn't do. It's just Brody travels a lot," Ashley says. " … It's really hard raising a kid by yourself. I did it. I did it for six months because Jason was really sick."
Ashley then mentions the whole alleged open-marriage thing, to which Kaitlynn finally sets the record straight, so to speak.
"So does Brody have sex with other women?" Ashley asks.
"Not without me being involved," Kaitlynn replies. " … Everything with me and Brody is under my control, let's put it that way."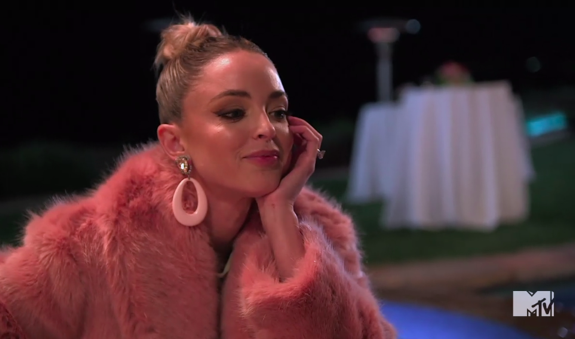 Well, that clears that up.
10. Heidi graces us with Glitter and Glory.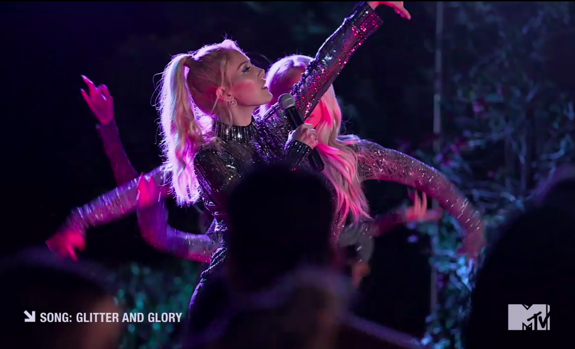 No vow renewal on this show would be complete without a musical performance by Heidi Montag: Christian Pop Princess, her sparkly turtleneck, her equally-sparkly back-up dancers and of course, the track to which she is lip-syncing.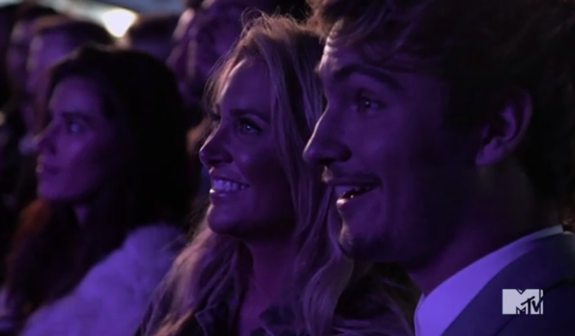 Even though Heidi can't hit a high note to save her life, at least this season was able to end on one.
RELATED STORY: The Top 5 Wildest Moments from 'The Hills: New Beginnings' Episode 10
(Photos: MTV)