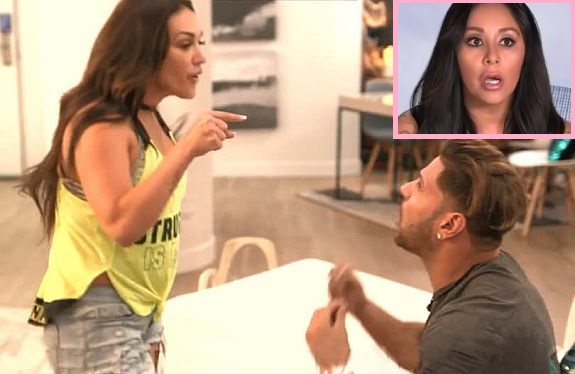 The saga of Ron 'n' Jen continues….but this time, they've added Snooki into the hot mess!
Jen Harley— the baby mama (and off- and on-estranged ex) of Jersey Shore star Ronnie Ortiz-Magro— used Instagram to slam both Ronnie and Nicole Polizzi over the weekend. In a series of Instagram Stories, Jen posted photos of her bruised face and body (injuries she says she sustained during the fight with Ron in October that got him thrown in jail).
Jen also insinuated that she will be coming for Ronnie in court.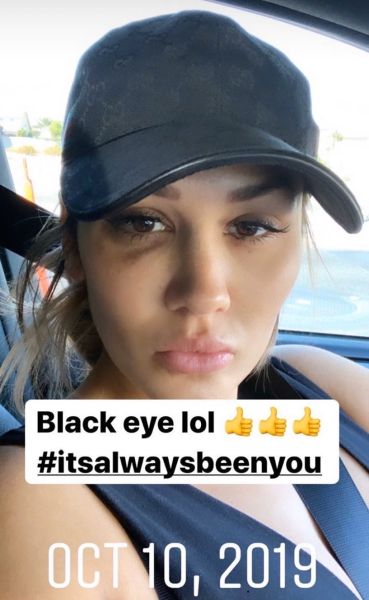 After posting a photo of herself with a black eye (which she insinuated Ronnie gave her during the October incident), Jen posted a photo from around that time that showed her battered torso.
"My body bruised and beat," Jen wrote, before throwing out a date that may be their next court date. "#Dec20."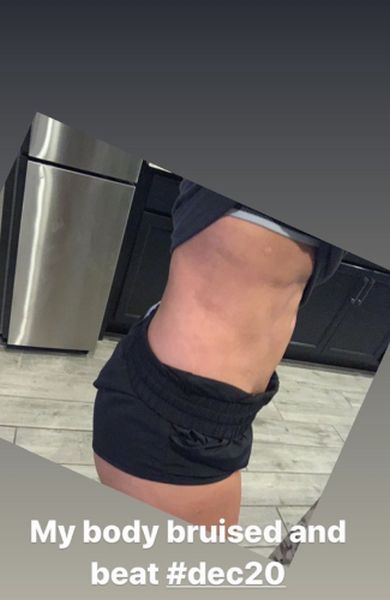 She then posted screenshots of private messages that seem to be between her and Nicole, in which Jen calls Nicole out for being a bully.
"And thanks for victimizing me after he beat my ass in front of my daughter!" Jen wrote to Nicole. "You are a real bully. Honestly I did nothing to you."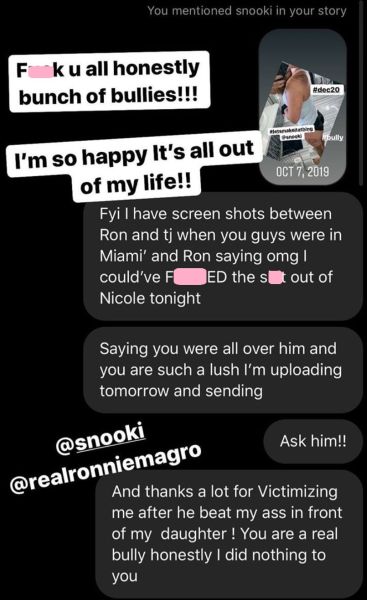 As far as the bullying claims go, Jen is likely talking about a conversation that Nicole had on her podcast shortly after the incident that caused Ronnie's arrest. After TMZ posted paparazzi photos of Jen displaying large bruises on both her shoulder and thigh, Nicole stated that she felt Jen was allowing herself to be photographed that way in order to get attention.
" … She's out to lunch with Ariana, she's wearing a tank top and shorts and she has bruises everywhere," Nicole said. "I feel like she went out intentionally to get a photo of her… You don't have to be wearing a tank top, showing off your bruises and the bruise on your leg. She's wearing booty shorts to show it off. Like, 'Girl, you can go out with your daughter and have lunch but cover those up so it's not a thing.' She wants it to be a thing."
This is not the first time in recent months that Nicole has been called a bully. A few weeks ago, she and her 'Jersey Shore' co-stars Jenni Farley and Deena Cortese caught a lot of flak for giving a cruel bridesmaids' speech at Angelina Pivarnick's wedding. After receiving a lot of backlash from fans (many of whom called Nicole and the other girls "bullies"), Nicole announced last week that she is retiring from Jersey Shore Family Vacation.
The screenshots also seem to show Jen telling Nicole that, while the cast was in Miami, Ronnie was telling people that he could have had sex with Nicole (who is married) because she was "all over him" and "such a lush."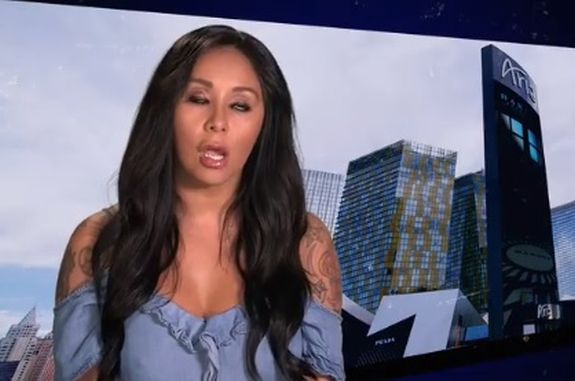 Anyway, Ronnie is currently facing seven misdemeanors, according to TMZ — one count of domestic violence, one count of brandishing a weapon, one count of child endangerment, one count of criminal threats, one count of false imprisonment (of Jen), and two counts of resisting arrest. This all stems from the events on the night in early October he was arrested after getting into an altercation with Jen at a Los Angeles-area Airbnb the couple was staying at.
Ronnie was arrested after Jen claimed he struck her and then chased her with a knife while he was holding their daughter. Ronnie went on to lock himself and his daughter Ariana in the home, ultimately earning himself charges for kidnapping as well as felony domestic violence. (Those charges were eventually dropped.)
Ronnie and Nicole have yet to respond to Jen's (now-deleted) posts.
RELATED STORY: Nicole "Snooki" Polizzi Announces She's Leaving 'Jersey Shore Family Vacation': "It's Turning Into a Nightmare"
(Photos: MTV; Instagram)