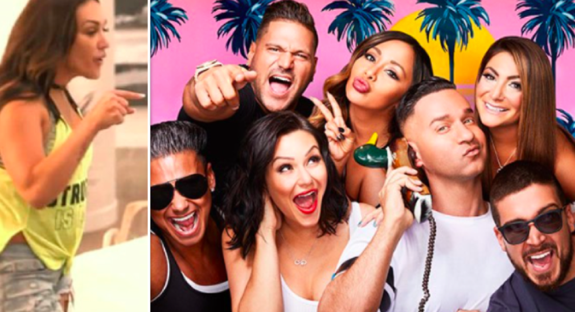 G.T.L.: gym, tan, let's take zero blame for our actions…
Ronnie Ortiz-Magro's baby mama Jen Harley is reportedly blaming Jersey Shore for the downfall of her relationship and for ruining her family, according to a new interview she did with In Touch Weekly. Jen told the magazine she "hates" the show and wishes "it was never part of our lives."
"It completely ruined our family, ruined the person I was in love with," she stated.
Jen said at first she was "excited" about seeing her then-boyfriend on the show's spin-off, Jersey Shore Family Vacation, but she quickly changed her mind after tuning in.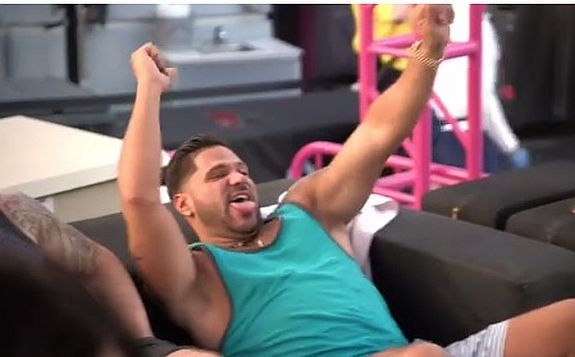 "So I started watching it and then I just realized everything they were doing and how Ronnie was acting on the show and it was just really sh**ty so I didn't watch it anymore," she said.
Jen went on to say that she actually did like Ronnie's cast mates (even though she previously called Nicole "Snooki" Polizzi out for allegedly bullying her), and said that they were all "really nice" to her — or at least to her face.
"But I mean, we weren't ever really friends," she added. "But I don't think we have any bad tension or anything."
Jen said Ronnie's fans often come to his defense online, preventing her from being able to defend herself "unless it's on social media" — something her and Ronnie partake in quite often. Just this week, Jen took to Instagram Stories to share her thoughts about narcissists. While she refrained from calling Ronnie out by name, the post mentioned those who "have no problem abandoning families and loved ones" and those who inflict "emotional manipulation and abuse."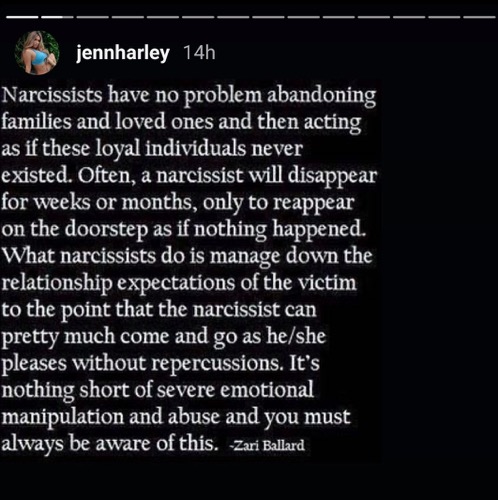 Jen later told In Touch Weekly that Ronnie hasn't seen their daughter Ariana "in months."
"We have no contact. We're not even allowed to talk to each other," Jen said, adding that the protection order that's currently in place bars the former lovebirds from even texting or Face-Timing. Due to the current global pandemic, Jen says this order will remain in place for the foreseeable future.
"We have to wait for our next court date to even modify [the protection order]," she said. "It's been put off."
Ariana's second birthday was last week, and Ronnie recognized it with an Instagram post, telling his daughter, "No matter where U are, who keeps U from me, I will always be here for U! It'll are my world, you are my reason! I wake up everyday thanking God for U! Even though I can't be with you, I will always be here. I love you so much! And will never stop fighting for U!"
Whether or not the show is to blame for the demise of Ronnie and Jen's relationship/family, the couple has been embroiled in constant drama for more than two years.
During a pretrial conference in February, Ronnie was ordered by a judge to stop contacting Jen following an altercation between the couple that happened in October 2019 — an incident for which Ronnie is facing several misdemeanor charges. Despite that order, in January, Jen allegedly attacked Ronnie in his home, resulting in Ronnie filing a restraining order against her.
In December 2019, Jen called Ronnie out on social media for allegedly abusing her.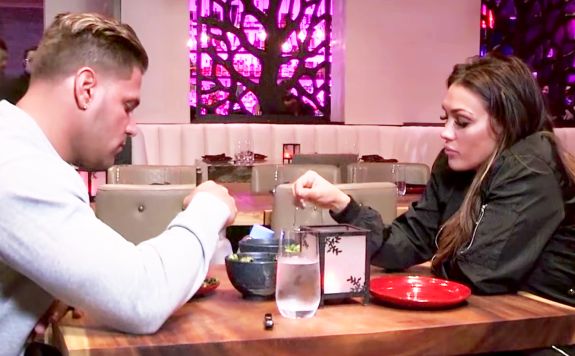 Ronnie has not yet responded publicly to Jen's latest interview but…stay tuned….
RELATED STORY: Nicole "Snooki" Polizzi Claims 'Jersey Shore Family Vacation' Producers Made Her Give Mean Toast at Angelina Pivarnick's Wedding
(Photos: MTV; Instagram)