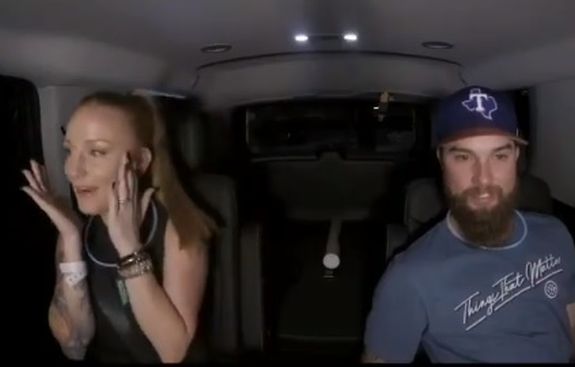 From angering their social media followers to announcing plans to continue their education, the stars of the 'Teen Mom' franchise (both past and present) have been keeping themselves busy lately!
In an effort to get you up-to-date on the latest 'Teen Mom OG', 'Teen Mom 2' and 'Teen Mom: Young and Pregnant' news, The Ashley brings you the Teen Mom News Pile. Here are some of the major (and minor but interesting) 'Teen Mom'-related things that have happened over the last week or so…
Maci Bookout & Taylor McKinney slammed for posting "disgusting" clickbait article that insinuates Kail Lowry miscarried her unborn baby.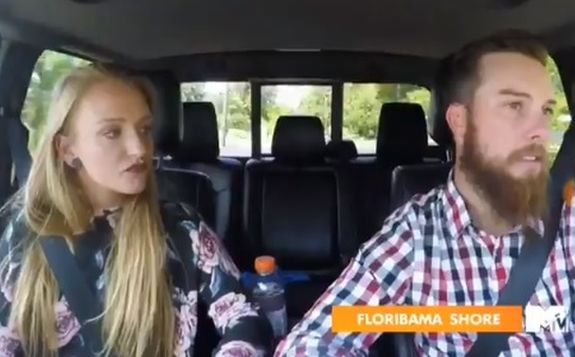 Maci and Taylor came under fire over the weekend after a story was posted to their Twitter accounts that made readers believe that 'Teen Mom 2' star Kail Lowry had miscarried the baby she's due to deliver any day now.
The story— which was posted with a photo of Kail, alongside the headline, "Pregnant Teen Mom Star Loses Baby"— appeared on the Twitter timelines of both Maci and Taylor on Sunday. (It has been removed from Taylor's timeline but is still up on Maci's as of press time.)

Although the photo posted with the story was of Kail, and the beginning of the story was about Kail's current pregnancy (which is fine, by the way), the story eventually turned to the topic of the recent miscarriage suffered by "16 and Pregnant" star Nikkole Paulun.
As The Ashley has previously reported, the 'Teen Mom' stars do not actually post the clickbait content to their own social media accounts, as an automated service does it for them. (They do have the right to have a story removed from their accounts, if they wish.) Despite the story not actually being physically posted by Taylor and Maci, the 'Teen Mom OG' couple still got completely trashed by their followers for allowing it to be posted to their accounts.
"Literally the worst clickbate. I thought more of you, Maci," one person wrote in response to Maci's Twitter post. "These types of things shouldn't be joked about, and using Kail's picture here is gross."
"This is disgusting that y'all used Kail's picture making it seem like she is the one who lost her baby and she didn't," another person responded. "Nikkole Paulun is the one who lost her baby. Shame on any teen mom's who allowed whomever to post this article!"
"I'd get a new publicist," someone else suggested.
UPDATE! Mackenzie McKee has also posted the same clickbait article and photo and it remains up on her timeline at press time.
David Eason does his Marilyn Monroe impression.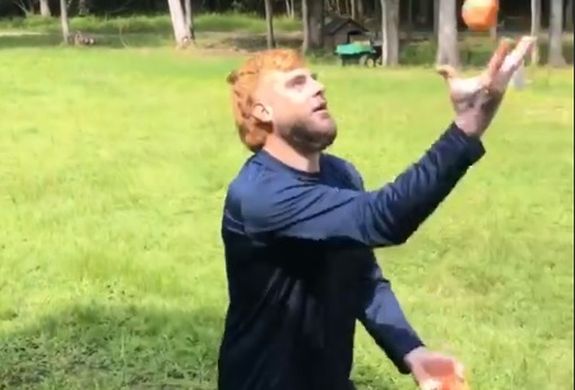 Things are "lightening up" over on The Land— and, no, we're not talking about a lessening of drama; unfortunately we're talking about David's hair.
On Monday, Jenelle revealed David's new 'do— which is now a delightful shade of orange.
"Lmao [David] is a blonde now!" Jenelle posted to Instagram Stories.
In a video posted by Jenelle, David's "blond" tresses blew in the swamp breeze as he attempted to juggle some apples.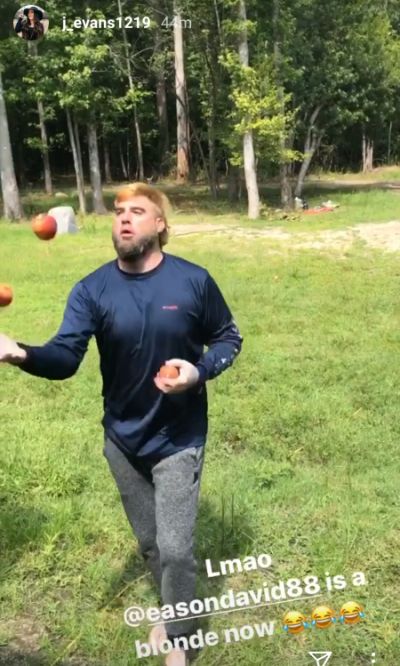 David later took his hamster-hued hair to the beach with Jenelle and the kids.
(To reminisce about some other hair-raisingly bad 'Teen Mom' 'dos, click here!)
Amber Portwood announces that she wants to continue her education from her couch.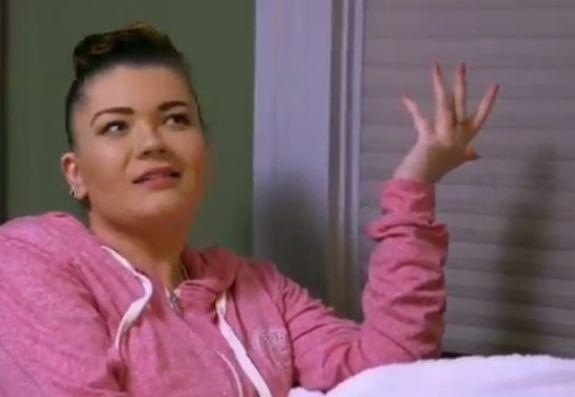 After revealing last month that she's "really into philosophers and philosophy right now," Amber has expressed an interest in taking online courses or obtaining a philosophy degree.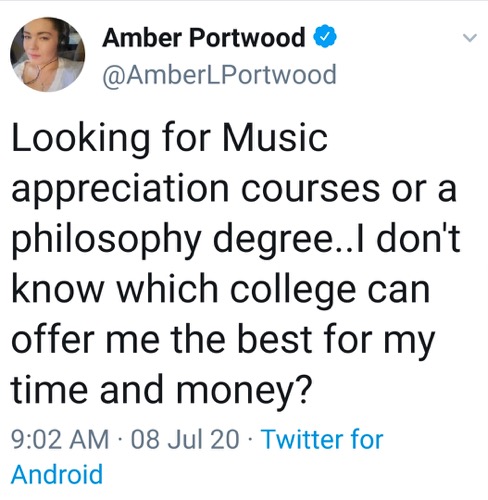 "Looking for Music appreciation courses or a philosophy degree," Amber tweeted last week. "I don't know which college can offer me the best for my time and money?"
When asked if she was "Googling languages" from the comforts of her favorite couch indention (in so many words), Amber fired back at the individual with a response suggesting she's already taken a course or two in Farrah Speak (in lieu of grammar classes, obviously).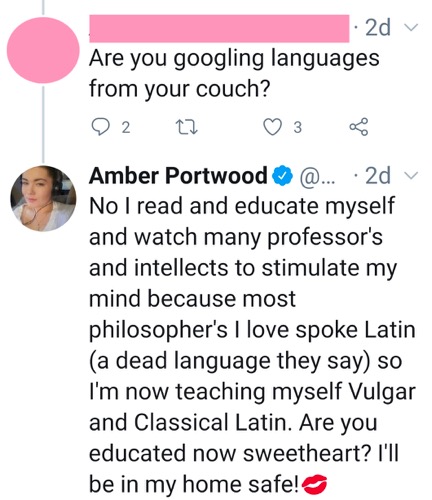 "No I read and educate myself and watch many professor's and intellects to stimulate my mind because most philosopher's I love spoke Latin (a dead language they say) so I'm now teaching myself Vulgar and Classical Latin," Amber said.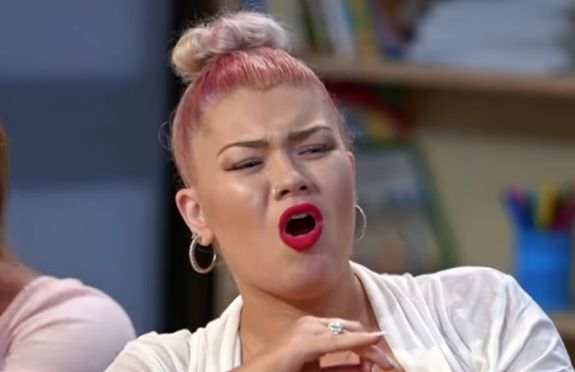 Amber ended her "slam" by asking if the individual was "educated now sweetheart?" She added that she'll be "in [her] home safe," …as if we'd expect her to be anywhere else.
'Teen Mom: Young and Pregnant' stars battle it out over boutiques, blogs & securing the bag.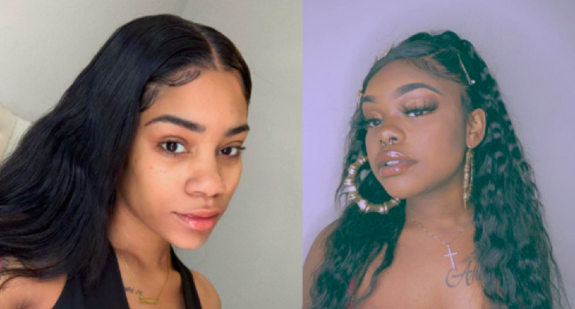 Ashley Jones and Kiaya Elliott of 'Teen Mom: Young and Pregnant' engaged in a social media feud recently after promotion of their respective online boutiques turned into a back-and-forth shade-fest between the two, complete with accusations, insults and plenty of name-calling!
The drama reached a boiling point when Ashley– who runs an online smoke shop in addition to her beauty product boutique– took to Twitter, touting her accomplishments as a businesswoman.
So many people and blogs down talk me for running my business 😂 but it's successful 🌈🌈 and for that I am so thankful . Most businesses don't make a profit in the first 18-24 months, and I have tripled mine since March ❤️ follow your dreams people

— ASHLEY SIREN (@_mermaidbarbie) July 10, 2020
"So many people and blogs down talk me for running my business but it's successful and for that I am so thankful," Ashley tweeted on Friday. "Most businesses don't make a profit in the first 18-24 months, and I have tripled mine since March follow your dreams people."
Ashley posted a screenshot of her same message on Instagram, adding that she had recently been accused of stealing someone's business – an allegation she "had to laugh at."
" … I work hard in this house of mine researching and making from scratch," she wrote. "I don't sell stories or do fake a** money scams or GoFundMe's to get quick cash."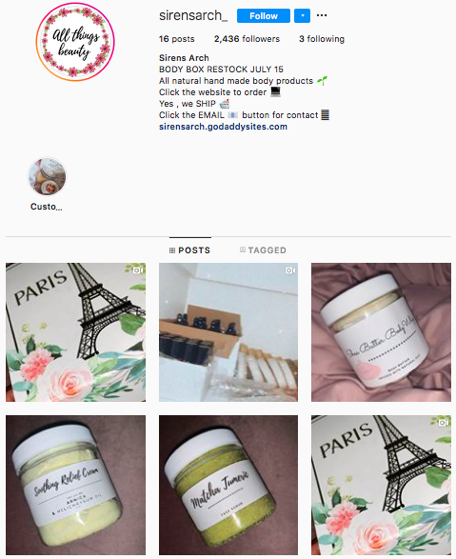 Ashley went on to argue that big-box stores carry items similar to what she offers, and yet these stores have no issue.
" … do you see them arguing? No," she continued. "Find what you like to do, find out how to make money doing it. Don't worry about how to make money doing it. Don't worry about others in your lane, because they are not you."
After seeing the post, Kiaya posted a screenshot of Ashley's caption, calling her "childish asf" and denying that she ever accused Ashley of copying her.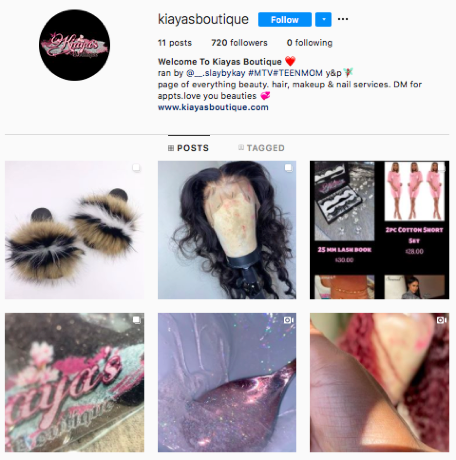 "I never not once said you 'copied me,' Kiaya wrote. "And second, if you had a problem you could've dm me. Third don't ever speak on some s**t you don't know [baby] girl I've never scammed no one. I can post blogs for money if I please why you so worried bout how the next b**ch getting her bag? Weird."
When asked by one of her followers why Kiaya "made a whole post" about her, Ashley said she didn't know, but there was room for the both of them in the business world.
"lol idk but like I said, the world is big enough for both Black girls to make bank, we sell similar products," she replied. "She can be Target I'll be Walmart. I don't hate on anyone's bag."
Ashley also addressed the issue on her Instagram page, denying ever calling out Kiaya in the first place.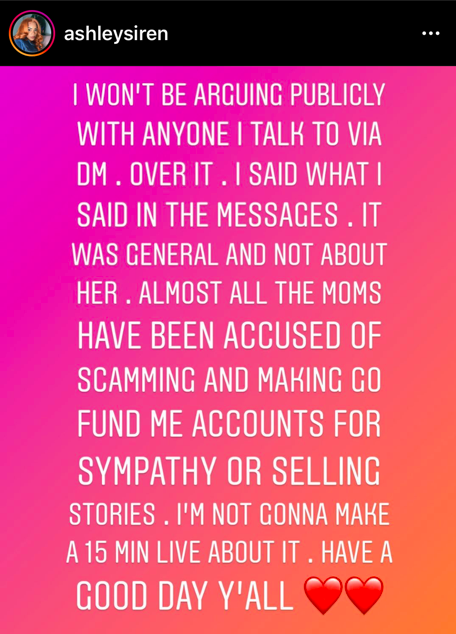 "I won't be arguing publicly with anyone I talk to via DM. Over it," she wrote. "I said what I said in the messages. It was general and not about her. Almost all the moms have been accused of scamming and making GoFundMe accounts for sympathy or selling stories. I'm not gonna make a 15-minute [Instagram] Live about it. Have a good day y'all."
The cast of 'Teen Mom: Young & Pregnant' is notorious for their drama. Last fall, the set of the 'Young & Pregnant' Reunion exploded when Ashley called out several of the other girls on-set, which brought on a screaming & cussing fest, complete with threats of show-throwing and off-camera brawls!
To read more recent 'Teen Mom' news, click here!
(Photos: MTV, Instagram, Twitter,