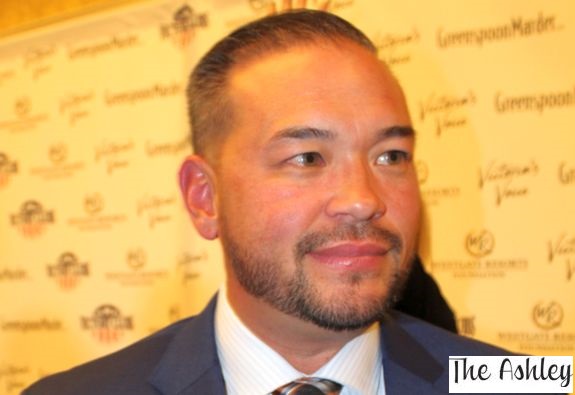 Jon Gosselin's mother is coming to his defense following accusations that the former Jon and Kate Plus 8 star recently abused his 16-year-old son Collin.
In fact, The Sun reports Pamela Gosselin is making her own abuse allegations toward her son's ex-wife Kate Gosselin, who spoke out against Jon following the abuse allegations.
"I am appalled that a mother who has abused her children has the nerve to accuse Jon," Pamela said. "She is the cause of my grandson's pain. She has made false statements about Jon and the very worst part is she has always been the abusive parent. Anyone who knows both Kate and Jon as parents also knows she is the perpetrator of this."
Pamela went on to say she was "furious at Kate's lies about Jon," arguing there were no charges pressed against her son because he didn't hit Collin. She noted Jon and Kate's daughter Hannah, who has lived with Jon full-time since 2018, "witnessed Collin and Jon together" the day of the alleged attack, adding "it's just untrue."
Regarding Collin's alleged behavioral issues, Pamela admitted her grandson does act out at times, though she places that blame on Kate. According to Pamela, while still in Kate's custody, Kate stopped Collin from eating meals with his seven siblings, prevented him from going to school and favored her daughters over her sons.
As The Ashley told you last week, Collin posted (and soon deleted) a disturbing message on Instagram in which he accused Jon of kicking and punching him.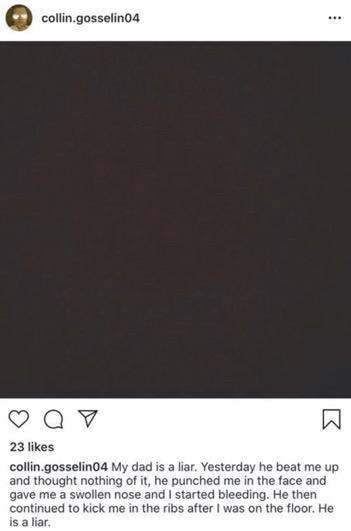 "My dad is a liar," Collin captioned his post. "Yesterday he beat me up and thought nothing of it, he punched me in the face and gave me a swollen nose and I started bleeding. He then continued to kick me in the ribs after I was on the floor. He is a liar."
The father and son were reportedly involved in an argument that resulted in Collin throwing a heavy bottle of liquid at Jon's car, which ended up denting the vehicle. Jon then allegedly put Collin in a headlock, punched him in the nose and kicked him in the ribs. Jon has denied the abuse claims.
Collin reportedly called the police, who responded to the incident, prompting an investigation by the Berks County Children & Youth Services in Pennsylvania. Jon, however, was not named in the alleged CYS report.
After the incident, Kate said she was informed by police that Collin was "removed" from Jon's home "immediately." Kate vowed not to let the incident be "swept under the rug or minimized" and stated "Jon needs to be charged with a crime" for what he did.
Jon was awarded sole physical and legal custody of Collin in December of 2018, prior to which, the teen had been living in treatment facility for children with special needs. Collin was placed in the facility by Kate for alleged behavioral issues and had been living there for a few years before leaving in 2018. Kate was a no-show at the custody hearing for Collin.
Jon's mother is not the only person to accuse Kate of abusing or mistreating the kids. In punishing her children in the past and in 2009, she was photographed spanking one of them. At the time, she defended her actions, saying she loved her children and when they misbehave, she disciplines them as she deems "appropriate for the situation."
The mom of 8 was also accused of hitting her kids in Robert Hoffman's 2015 book, Kate Gosselin: How She Fooled The World. Kate has denied the abuse claims, calling them "unfounded."
Pamela added that the years her grandson spent in a treatment facility have also contributed to his issues, claiming that she doesn't "blame Collin for getting out of control when he gets upset."
"He has been through pain and we as a family have given him nonstop unconditional love. When he is angry we are patient and do the best we can because we understand what he has endured," she explained. "The years of being institutionalized and isolated from those that love him most have caused him long term pain. My family fought to save Collin from a terrible situation and brought him home so we could love him and care for him and get him the help he needs."
UPDATE! Jon's daughter Hannah— whom he also has custody of— has defended him in a statement to Daily Mail.
"My dad loves us," she said. "He's never been abusive.
"My dad has been there for me and Collin no matter what. He's been a very loving and supportive dad throughout everything," she continued. "Collin is facing many difficult issues and my dad is doing everything in his power to help him. My dad loves us and has never been abusive to us in any way."
Jon also gave Daily Mail a statement, saying that he only addressed the issue publicly because Kate did.
"I really didn't want to have to come out and talk about this for Collin's sake, but when Kate is in the media attacking me, calling me a child abuser, I have to defend myself," Jon said. "I love my son and I would never hurt him."
RELATED STORY: Jon Gosselin Denies Abusing Son Collin; Kate Gosselin Says She's "Ready to Fight Back" Against Jon & Claims Collin Was Removed From Jon's Home
(Photos: Instagram; TLC; The Ashley)