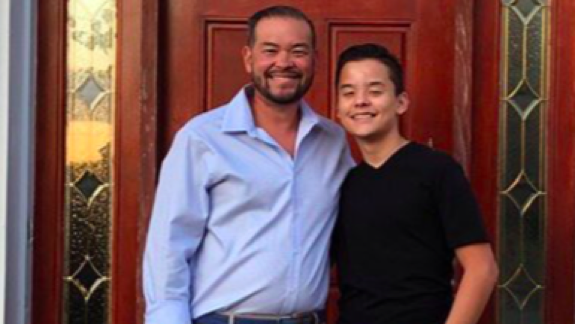 Allegations of abuse made on social media by Jon and Kate Gosselin's 16-year-old son Collin Gosselin have prompted an investigation by the Berks County Children & Youth Services in Pennsylvania. They have also spurred a response from Kate, who is estranged from both Collin and her ex-husband Jon.
While Collin has had a strained relationship with Kate for quite some time, the allegations were actually made against Jon, who has had custody of the teenager since 2018.
Last weekend, Collin posted a disturbing message to Instagram, but quickly yanked it down after only a few moments. Still, the post was noticed by a number of Collin's followers, who were disturbed by what he wrote.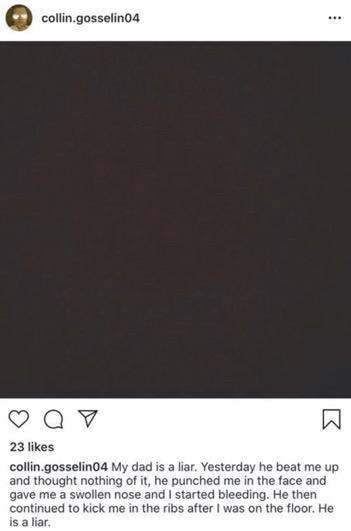 "My dad is a liar," Collin wrote on Instagram. "Yesterday he beat me up and thought nothing of it, he punched me in the face and gave me a swollen nose and I started bleeding. He then continued to kick me in the ribs after I was on the floor. He is a liar."
According to Us Weekly, Collin's allegation is "causing bodily injury to a child through recent act/failure to act: hitting/punching." However, Jon is not named in the CYS report.
District Attorney John Adams told Us Weekly in a statement that the incident Collin spoke of on social media is "the only incident we are aware of at this point." He also noted there had been no citation or charges filed as a result.
Kate spoke to the outlet as well, during which she said she did not want her children around Jon, nor did she want to hear any excuses for the alleged abuse.
"You do not punch and kick your children," she said. "You do not kick a child. I don't want to hear any excuses from anyone, not from his father, not from local law enforcement, not from court personnel whose job is supposedly to ensure the best interests of my children. There is a child abuse law, PA 23, section 8i states that doing any of the following, regardless of whether it causes injury, is child abuse, and first on that list is kicking. Period."
As those who have followed the Gosselin family over the years may recall, following Jon and Kate's 2009 split, Kate was awarded full custody of the couple's eight children, though both exes were granted shared physical custody. Currently, four of the couple's sextuplets – Aaden, Leah, Alexis and Joel – remain in Kate's custody, while Hannah has lived with Jon full-time since 2018. (The couple's 19-year-old twins, Madelyn and Cara, are currently away at college.)
Jon was awarded sole physical and legal custody of Collin in December 2018. Prior to that ruling, the teen was residing in a residential treatment facility for children with special needs, which Kate had placed him in for a few years for alleged behavioral issues. Kate was a no-show at the custody hearing for Collin..
Jon has continued to tout Collin's achievements since leaving the treatment facility, as well as speak out against his ex-wife for deciding to send their son there in the first place. Recently, Collin has become more vocal about his post-facility life as well and in May, he even praised his dad's longtime girlfriend, Colleen Conrad, in a Mother's Day Instagram post, in which he called her a "mother figure."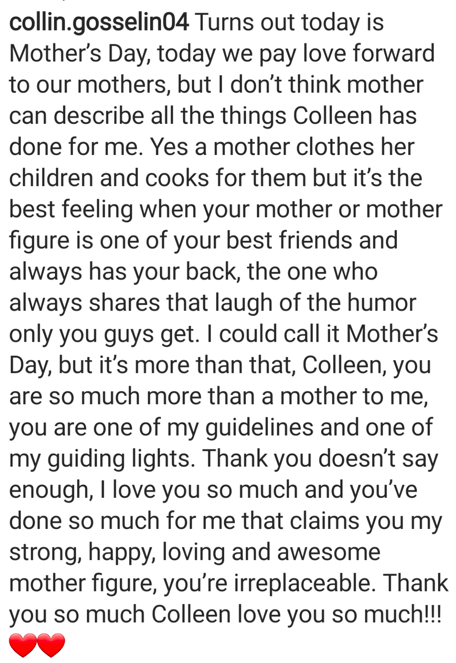 Neither Jon nor Colleen have commented on the abuse allegations, though their followers continue to ask them to comment on Instagram.
Days after posting and yanking the abuse claims, Collin posted a selfie to Instagram, proclaiming that "he's "doing better than ever."
"Got a new cut and I'm doing better than ever🤙🏼🤘🏼 Life is too great to not enjoy! #livelikeitsyourlastday"
He has since turned off comments on the post.
RELATED STORY: Jon Gosselin Asks His Kids in Kate Gosselin's Custody to Contact Him; Says He's Not Stopping Them From Reuniting with Their Siblings But Kate Might Be
(Photos: Instagram)