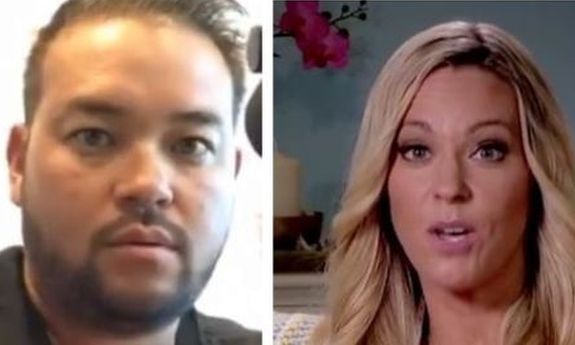 Jon Gosselin is demanding that his ex-wife Kate Gosselin stop making negative comments about him amid allegations that he recently abused the couple's 16-year-old son Collin.
While Jon denied the physical abuse claims made by Collin earlier this month and was also cleared of abuse allegations, Kate has publicly spoken out since the incident, calling her ex-husband a "violent and abusive person."
Now, Jon is threatening to press charges against his ex-wife if she doesn't stop alleging in the press that he abused Collin.
During an interview with ET, Jon had a message for Kate, warning her to cease the malicious accusations.
"Kate, the message to you is to stop," Jon said. "Unless you don't want to have any ounce of any relationships with your children in the future. You're ruining that. It's not about me. It's about how they have to live their life by you making false accusations about things that never occurred."
A rep for Jon recently told Us Weekly that Kate's comments were "malicious statements" and they would take legal action "if her false accusations of abuse continue."
Jon was awarded sole physical and legal custody of Collin in December 2018, prior to which, the teen had been living in a treatment facility for children with special needs. Collin was placed in the facility by Kate for alleged behavioral issues and he had been living there for a few years before leaving in 2018. Kate was a no-show at the custody hearing for Collin.
Hannah, another one of the couple's sextuplets, has also been living with Jon full-time since 2018. Jon and Kate's remaining sextuplets live with Kate; the exes' 19-year-old twins, Cara and Mady, are currently away at college.
Hannah recently defended her dad, denying Collin's abuse claims that were ultimately supported by Kate.
"My dad has been there for me and Collin no matter what," she told Daily Mail. "He's been a very loving and supportive dad throughout everything. Collin is facing many difficult issues and my dad is doing everything in his power to help him. My dad loves us and has never been abusive to us in any way."
During a 2016 appearance on Good Morning America, Kate herself faced abuse allegations (which she's faced more than once in the past) when questioned about a report claiming that Collin told staff at his treatment facility that he had been abused by her and that child services had opened up an investigation.
"I'm in the public eye," Kate said. "I have been investigated many times. It's always unfounded, obviously."
RELATED STORY: Jon Gosselin's Mom & Daughter Hannah Defend Him Following Abuse Allegations; Jon's Mom Insists Jon's Ex-Wife Kate Gosselin "Has Always Been the Abusive Parent"
(Photos: Instagram; TLC)