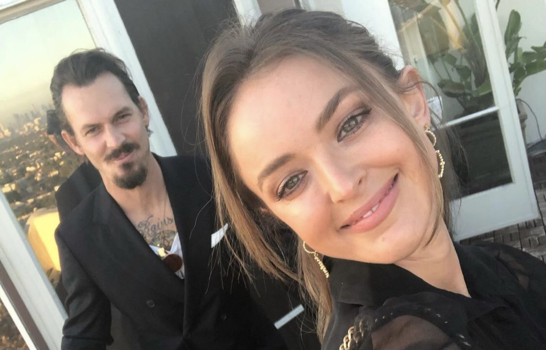 Nearly two years after her split from Brody Jenner, Kaitlynn Carter has revealed she is expecting her first child.
The Hills: New Beginnings star showed off her baby bump in an Instagram photo on Thursday, in which she also tagged boyfriend Kristopher Brock – co-founder of clothing brand Brock Collection.
As fans of 'The Hills' may remember, Kaitlynn and Brody announced they were divorcing in August 2019, though it was revealed at the time that the two were never legally married to begin with, as they had tied the knot the previous year in Indonesia and never made things official.
Kaitlynn's big news was met with congratulations from some of her family from 'The Hills,' including Audrina Patridge, who complimented her co-star's "cutest belly."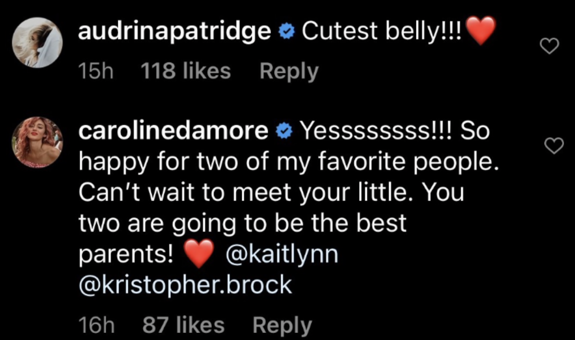 "Yessssssss!!! So happy for two of my favorite people," 'The Hills' newcomer Caroline D'Amore commented. "Can't wait to meet your little. You two are going to be the best parents!"
Ashley Wahler, wife of Jason Wahler, who is currently expecting her second child, also congratulated Kaitlynn and Kristopher.

"We can't wait for Wyatt to have a new friend," she wrote. "Love you guys so happy for you."
In an Instagram post from May, Kaitlynn revealed she and Kristopher were introduced by a mutual friend in May 2020. A few days after meeting, they had their first date "and the rest is history."
After the two went their separate ways, Brody rebounded with Josie Canseco as Kaitlynn began dating Miley Cyrus, though Kaitlynn and Miley ultimately split in September 2019. (Brody and Josie went on to break up as well.)
While Kaitlynn is no longer part of the Jenner family, Brody's mom, Linda Thompson, congratulated her on Instagram, revealing they remain on very good terms – and also possibly revealing the gender of Kaitlynn and Kristopher's baby.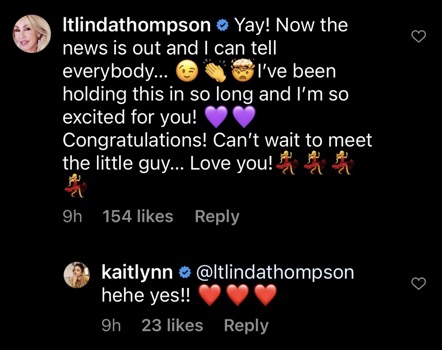 "Yay! Now the news is out and I can tell everybody… ," Linda wrote. "I've been holding this in so long and I'm so excited for you! Congratulations! Can't wait to meet the little guy… Love you!"
Brody has yet to comment on his ex's post.
RELATED STORY: Spencer Pratt Talks About Being Bullied Into Being the Villain on 'The Hills' & Explains Why Mischa Barton Got the Boot From 'The Hills: New Beginnings'
(Photos: Instagram; MTV)