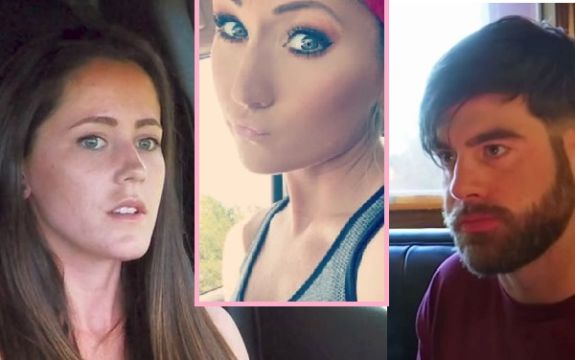 Jenelle Evans battled back against accusations that she drinks to much…just days before her husband David Eason accused one of his other baby mamas of being an alcoholic!
Over the last few days, the former Teen Mom 2 star took to her TikTok to clap back at her followers who accused her of drinking too much. In recent videos and Instagram Story posts, Jenelle has been seen slugging back beer, wine or cocktails and, recently, her followers began to comment on Jenelle being fond of the drink.
On Thursday, Jenelle denied having a drinking problem and told nay-sayers on TikTok that she'll slug the slosh if she wants to! This declaration came just a few days before David accused his second baby mama, Olivia Leedham, of being an "alcoholic."
(As The Ashley has previously reported, David does not have custody of Kaden– the son he shares with Olivia— and in recent years has not had visitation with him.)
Anyway, Jenelle got saucy when she was accused of being fond of the sauce.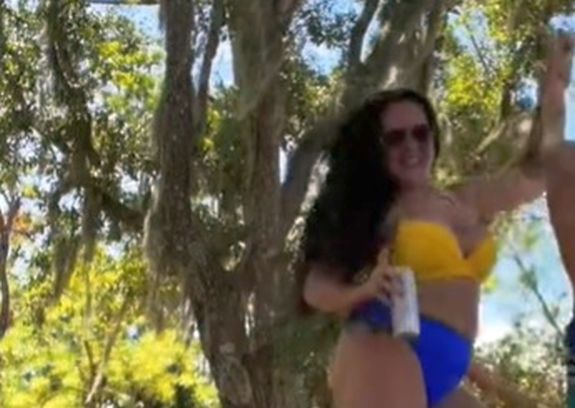 "I'm 29 years old. I can drink. If I want to switch to wine from beer, I'm gonna switch," Jenelle told her TikTok followers after they pointed out that Jenelle wasn't drinking her favored Corona beer. "Because I don't have an alcohol problem. That's why I don't care. So for you to constantly bring [my drinking] up, I don't know your point. and I don't really give two f**ks!"
@jenellelevans

Reply to @myusername572 sooo yeah the haters point out the obviously like idk 😂🤷🏻‍♀️ you think I really care about you're opinion?
"Since when is it against the law for me to drink?" Jenelle titled another video posted on Thursday, which featured her drinking a White Claw.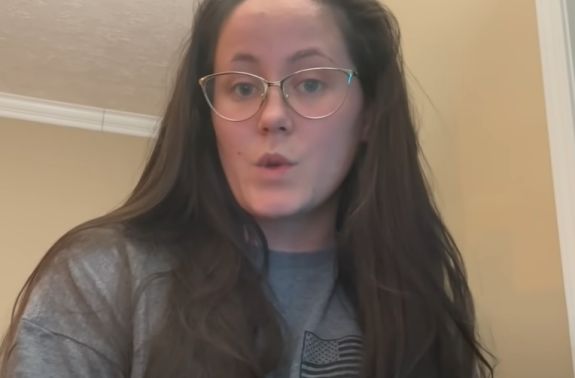 In the comment section of her video, some of Jenelle's followers brought up that Jenelle probably shouldn't drink, given her plethora of never-ending health issues.
"The point is you're 'dying' on a daily basis," one person wrote. "Alcohol aggravates literally EVERY health issue." (Jenelle has stated that she has Gastroesophageal Reflux Disease, or GERD, and recently commented that drinking is a "bad idea" for her.)
"Every video you post you have a drink in your hand!" another person wrote.
(In a recent TikTok, Jenelle was seen shaking her rump roast at the swamp's edge while enjoying a canned alcoholic drink.)
"Don't drink alcohol. No wonder you aren't getting better," someone else wrote.
During an interview in December 2020, Jenelle denied having a problem with alcohol and stated that she only has "one or two beers a week or something."
"But that's it. I can't do it anymore; those days are over," she added.
David has yet to address Jenelle's critics' claims that she drinks too much; however, on Friday he did declare that Olivia had a problem with booze.
After posting a photo of their son Kaden to Instagram, David wrote in the comment section that Kaden's mother Olivia "was a very abusive alcoholic."
"I am always worried for his safety," David wrote of his son.
In August 2019, Olivia raised money via an online fundraiser to help pay for an attorney to prevent David from getting any custody of Kaden.
David has not been allowed to see Kaden for the majority of the child's young life. Olivia obtained sole legal and physical custody of Kaden after David was charged with domestic violence against Olivia while she was pregnant with their son.
"[David] endangered the life of the child by pushing [Olivia] when she was eight months pregnant and leaving her in the middle of the road at night when she was seven months pregnant," the court papers from the incident stated.
Olivia filed a restraining order, and David was not allowed to have contact with her or Kaden after that. In March 2016, David was arrested for approaching Kaden in a grocery store and violating the restraining order.
In February 2017, The Ashley broke the news that Olivia had a change of heart and was allowing Kaden to visit David occasionally. However, by February 2018, Oliva had become alarmed by the change in David and the situation on The Land and begged a judge in court papers not to make her son go to be with his father.
"[David] is exhibiting erratic and concerning behavior," Olivia claimed in the paperwork filed at the time.
A month later, though, The Ashley broke the news that Olivia had backed down and closed her case in the New Hanover County, North Carolina, court, agreeing to comply with the custody order in place and allow Kaden to see his dad on The Land. David was allowed to have Kaden on overnight visits after that, provided that the boy was not shown on 'Teen Mom 2.'
That all changed, though, after Jenelle called 911 in October 2018, claiming that David physically assaulted her. Jenelle later called the incident "a huge misunderstanding" in the press and on 'Teen Mom 2,' but Olivia went back to court to get David's physical visitation with Kaden discontinued.
Olivia has yet to respond publicly to David's latest claim that she was an abusive alcoholic.
RELATED STORY: RECAP: Jenelle Evans Talks Britney Spears, Doing Drugs & Being Cancelled During Second Podcast Episode with Husband David Eason
(Photos: MTV; Instagram; Facebook; TikTok)