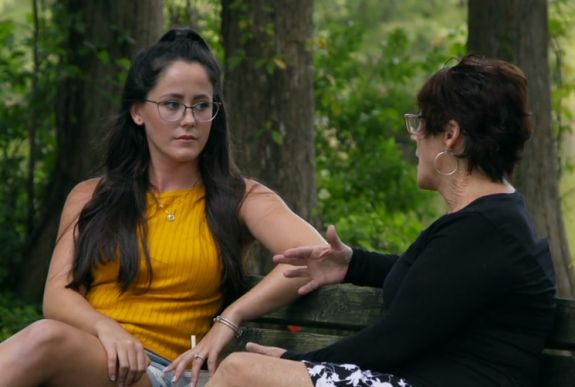 From making it your goal to deter others from following in your daughter's swampy footsteps to making a TON of MTV money, the stars of the Teen Mom franchise (both past and present) have been keeping themselves busy lately! In an effort to keep you up-to-date on the latest Teen Mom OG, Teen Mom: Young & Pregnant and Teen Mom 2 news, The Ashley brings you the Teen Mom News Pile.
Here are some of the major (and minor but interesting) 'Teen Mom'- related things that have happened over the last week or so…
Barbara Evans is overheard sharing advice with the 'Teen Mom: Young and Pregnant' cast on how to NOT end up like her daughter.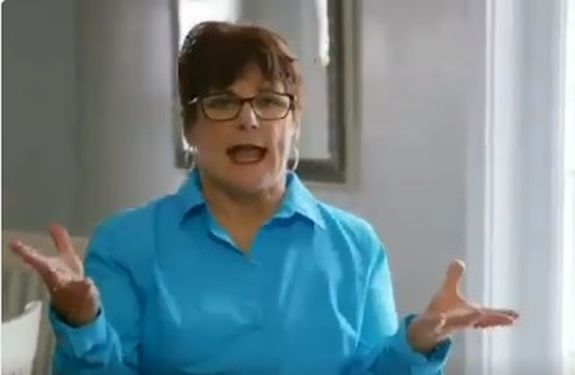 Former 'Teen Mom 2' grandma Barbara Evans shared some words of wisdom with the Teen Mom: Young and Pregnant cast recently, while using her daughter Jenelle Evans as a cautionary tale.
As The Ashley told you last week, Barbara and former 'Teen Mom OG' grandma Debra Danielsen–- mom of Farrah Abraham–- were photographed with the cast of 'Young and Pregnant' last weekend, as both parties were in Los Angeles filming respective MTV projects.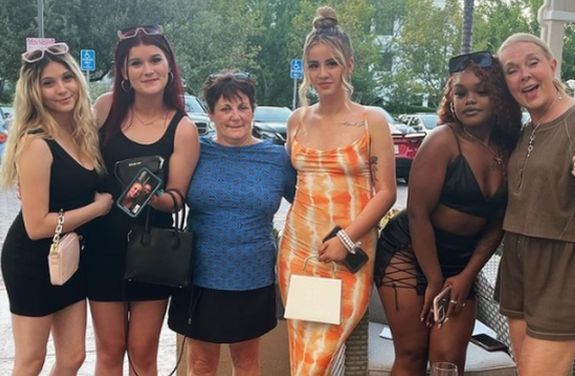 During the mini-franchise meetup, the ladies took an opportunity to mingle with the 'Teen Mom' grandmas–- part of which was recorded in one of the 'Young and Pregnant' girls' Instagram Live videos.
In one particular clip reposted by the Instagram account @kittyjakers, Barbara can be overheard sharing some words of advice with some of the 'Young and Pregnant' cast on how they should spend their MTV paychecks–– or rather, how they shouldn't use the cash to spoil their boooyyyyfrrriieends boyfriends (like Jenelle did). She also warned them not to let the fame change them (like Farrah did).
" … make sure– listen to me, I'm gonna give you advice– do not get sucked into this fame and do not, no seriously, do not blow your money," Barbara can be heard saying in the background of the video. " … Do not get sucked into fame, because it will ruin your life."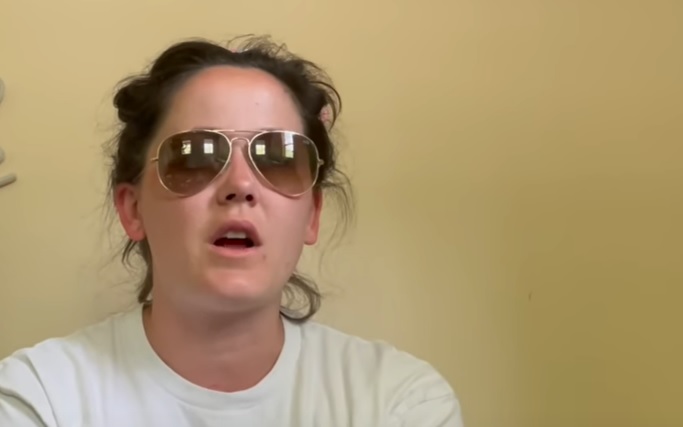 As the recording goes on, Barbara claims "that's what happened to Farrah; she's a f**king mess," before noting the same thing happened to Jenelle, as well.
" …even Jenelle, she spent so much money buying cars, boats, everything for her boyfriends, what are you f**king NUTS? Ya know, taking trips," Barbara says.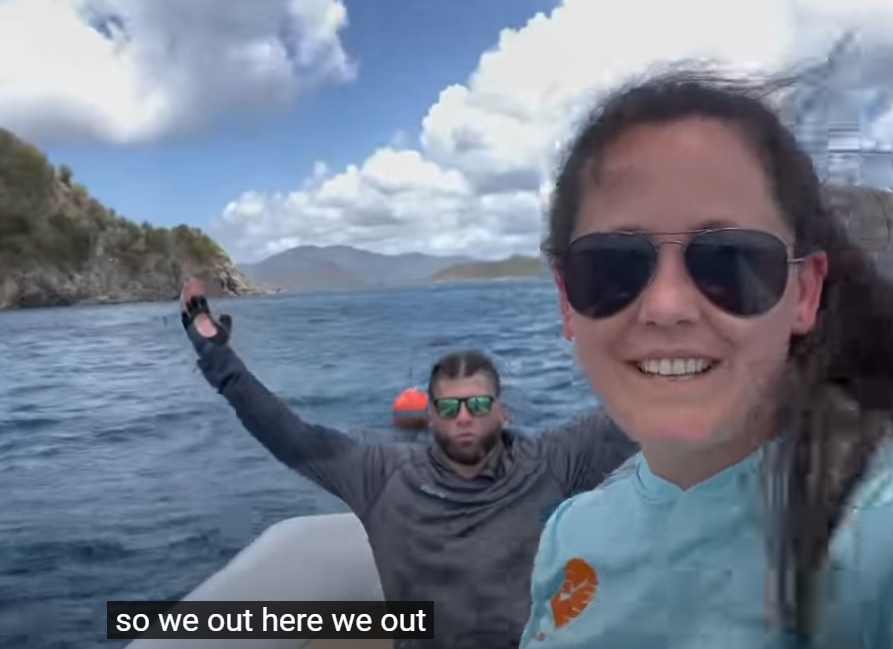 Instead of blowing their MTV shekels on she-sheds and such, Barbara advised the franchise-newbies to play it smart and think about the long game.
"I like, took my money and invested it," Barbara claims.
Amber Portwood's massive MTV salary is revealed during custody battle with baby daddy.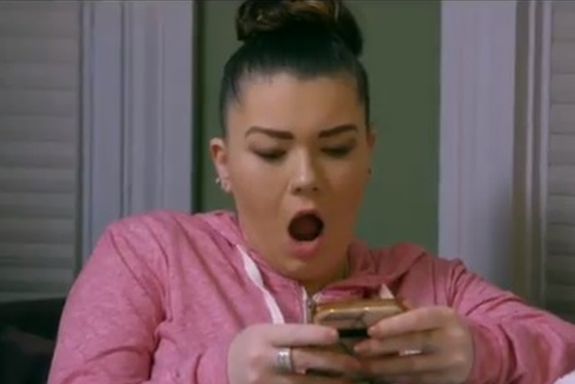 As The Ashley told you earlier this week, Amber Portwood's years-long custody battle with ex Andrew Glennon over their son James finally ended, with a judge ruling that the couple's four-year-old son is allowed to move to California with his father.
While Amber, who lives in Indiana, will be allowed to have a monthly visit with her son, a judge ruled that she must pay her ex $52,266 in back child support, $3,000 in attorney fees, and $624 weekly for child support. Fortunately for Amber, she has her MTV salary to cover these costs.
According to The Sun, court documents reveal that Ambie rakes in a cool $600,000 yearly for appearing on 'Teen Mom OG.'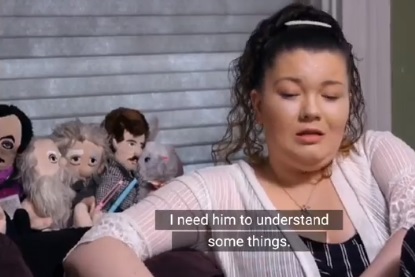 Court documents state that after other expenses-– including costs related to agents and lawyers–- Amber still brings home around $475,000 annually. It was also noted that Amber's recent book, So You're Crazy Too?, failed to bring in any significant income.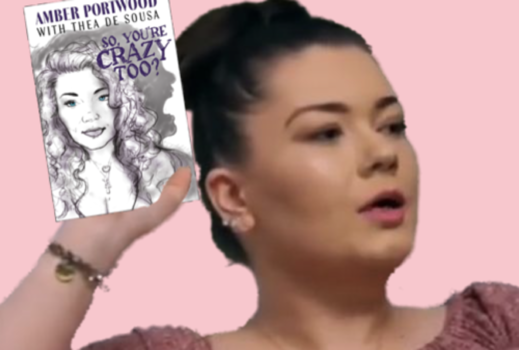 When determining the total amount Amber has to pay her ex, the judge took into consideration that Andrew has been shacking up in Amber's Indiana home with their son since July 2019. More importantly, Andrew–- James's primary caretaker–- has been living in the home completely rent-free, while Amber has resided in Airbnbs.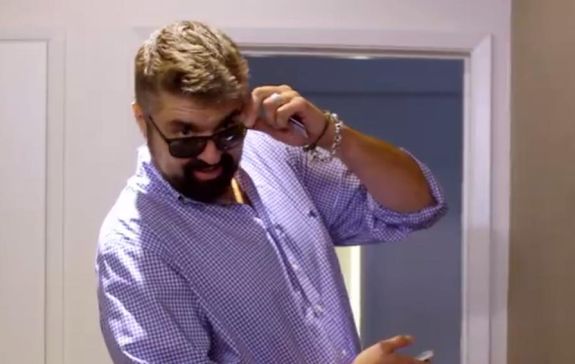 Cory Wharton announces that he's going to be in a movie, but not in the boxing ring.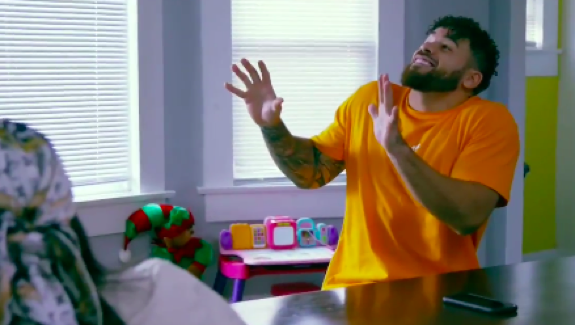 Those who were looking forward to seeing Cory Wharton of 'Teen Mom OG' and The Challenge go a few rounds in the boxing ring next week against Chase Demoor of Too Hot To Handle will unfortunately have to wait until September, as the "NO MORE TALK" match scheduled for July 30 has been postponed.
The Ashley will give you a moment to gather yourselves and deal with the extreme disappointment you must be feeling upon hearing this devastating news…
According to a statement posted by Social Gloves– the company hosting the match/stroking Cory's already larger than life ego– the "NO MORE TALK" boxing event is being postponed until early September "due to the current unavailability of main event fighter Aneson Gib."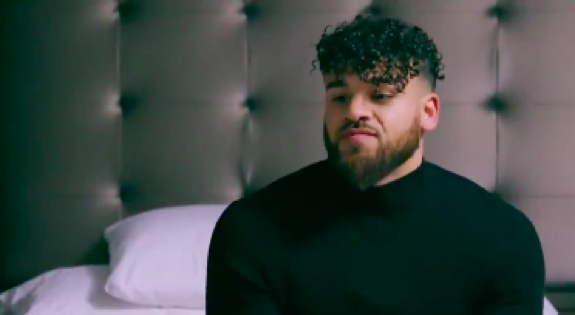 After hearing the news (and likely breathing a sign of relief that his MTV-money-making mug is safe for at least another month) Cory took to his Instagram Story to assure his fans that he has another project lined up and surprisingly, it won't be airing on MTV.
"I finally booked my first movie and I'm really excited to tell you guys about that and what the movies about," Cory said in the IG Story, reposted by @mtv_reality_teaa. "But yeah man, looks like we'll be fighting in September and not next weekend… "
Cory has yet to provide details about his movie debut; however, according to IMDb, he has been cast in the upcoming horror movie The Devil's Ride, credited as "Basketball Player."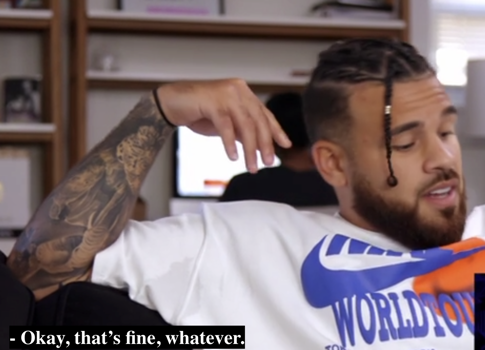 Starring James Moses Black, The Devil's Ride follows Aaron (played by Marcus Ellison) who suffers from what he believes is sleep paralysis and nightmares, though he "finds that no matter what he does, the darkness will never leave him."
The Devil's Ride is currently in pre-production.
Farrah Abraham accused of animal abuse after renting her sick mini horse out to become a birthday party mural.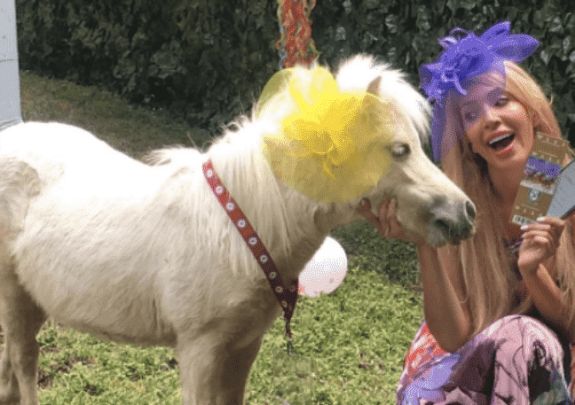 Former 'Teen Mom OG' star Farrah Abraham took a break from surgically modifying her face, claiming to be a victim of discrimination/"batterment," and verbally attacking others this week to once again exhibit questionable pet ownership practices.
Farrah— who has been accused of mistreating her dogs in the past— was accused of animal abuse after she posted a photo of her mini horse, Starburst, with her body and mane covered in paint. Farrah proudly announced that she is now renting Starburst out for children's birthday parties and forcing the animal to become a canvas for kids to paint on.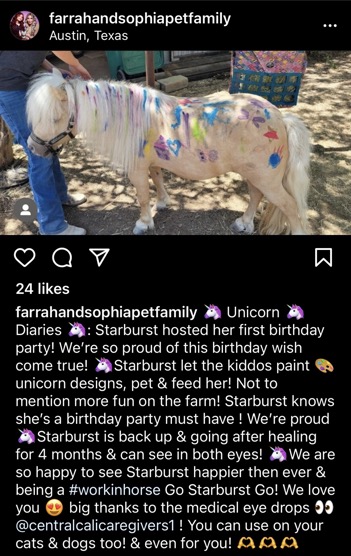 In the caption of the photo of the miserable-looking horse, Farrah revealed that "Starburst hosted her first birthday party," during which she "let the kiddos paint unicorn designs, pet & feed her."
"Starburst knows she's a birthday party must have!" Farrah added in the caption, seemingly confirming that she sees nothing wrong with pimping out a mini horse and allowing it to become a coloring book.
Starburst only recently recovered from a very serious eye infection and just regained her ability to see, making the timing of the paint party even more awful.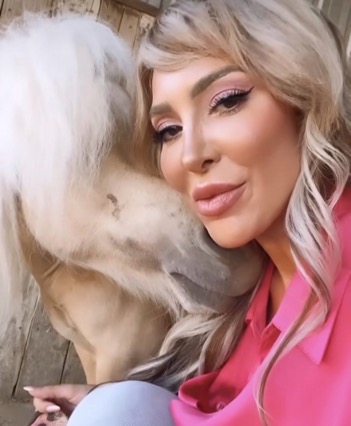 Farrah claims Starburst is happier than ever to be a "working horse."
After seeing Farrah's latest act of questionable pet parenting, many people flocked to the comment section, some asking why Farrah hasn't been reported for her recent antics.
"This is animal cruelty, you can't take care of yourself much less your animals," one person commented. "You have treated them all like crap and now having kids paint all over this beautiful animal?!"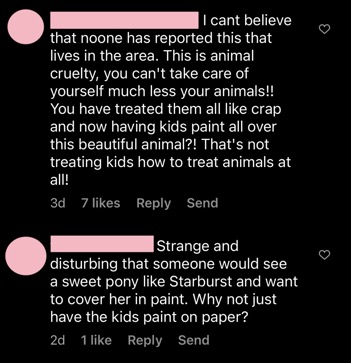 "Strange and disturbing that someone would see a sweet pony like Starburst and want to cover her in paint," another wrote. "Why not just have the kids paint on paper?"
"Animal neglect and abuse!! You should not be allowed to have animals or kids! Pathetic!" another person commented.
"Please don't alter her natural beauty in any way. Letting the children draw on her was probably the highlight of their day, but it isn't good for Starburst," someone else wrote.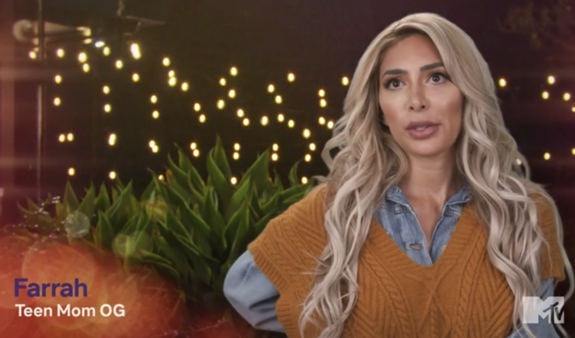 Starburst currently resides in a horse boarding facility in Texas but had previously been living in the backyard of Farrah's father, Michael Abraham. Farrah and Michael are apparently no longer on speaking terms, which may explain why the horse was finally moved out of the backyard in Texas, where she had lived for years.
The facility Starburst lives at now– Spicewood Farms— offers this "painting party" as an add-on for its birthday parties. It costs $125 extra to paint a horse at a birthday party apparently.
"This fun option includes adding a 2nd horse & Cowgirl to lead the kids in actually painting on a real horse. While they wait for their turn to ride, kids can paint shapes & images on the horse, just like the Native Americans did to their horses, long ago. Fascinating & Fun!" the facility's website reads.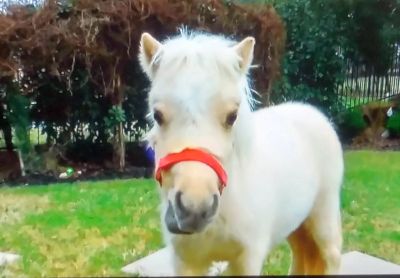 As mentioned above, this isn't the first time Farrah has been called out for treating pets poorly. Back in March 2020, Farrah was issued a warning from PETA after posting a video of her dogs Boo and Cupcake– dyed blue and pink at the time– that showed Cupcake walking around with a red ribbon tied on its muzzle. The video (rightfully) outraged people on social media, who accused Farrah of mistreating the pup and leaving it unable to eat, drink or make noise.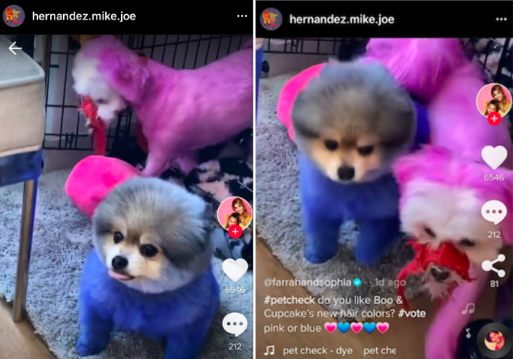 In response to the backlash, Farrah straight up lied claimed she was using the ribbon as a "muzzle" because it had been recommended by her trainer. She then lied some more claimed the shredded hair ribbon contraption was "sold at all pet stores."
In 2018, Farrah's former friend Phoebe Price accused the 'Teen Mom OG' star accused Farrah of mistreating her dogs at the Coachella Music Festival.
"At Coachella, I had to water and walk these dogs because Farrah left them in a basket, not to run around," Phoebe stated in an explosive social media rant. "How would you like to be trapped in a basket for three days?! These dogs were starving for attention! When they barked, she squirted water in their face. Who does that?!"
That same year, Farrah was under fire after her dog Blue mysteriously died. Her daughter Sophia, then nine years old, admitted that the dog died right after she tossed him.
"I was getting Blue to go outside and my only choice was to toss him outside. And then I did, but then he went into shock and 30 seconds later he passed with no heartbeat," Sophia explained on her Musical.ly account at the time.
Farrah went on to blame the dog being stressed about the construction happening at their apartment building for the death. She then proceeded to have the dog stuffed…as you do.
Farrah did not respond to the comments about cruelty toward Starburst.
To catch up on more recent 'Teen Mom' news, click here!
(Photos: MTV; Instagram; YouTube)