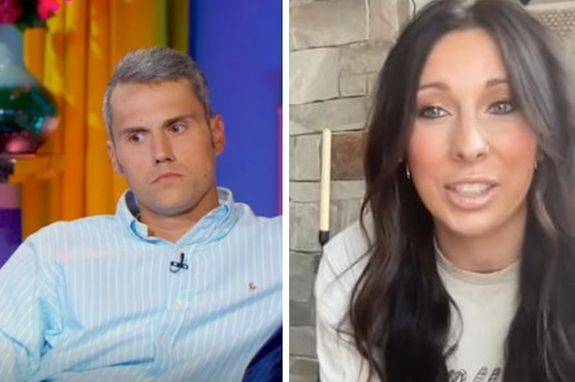 Mackenzie Edwards took out a protective order against her husband Ryan last week, claiming that the Teen Mom OG dad had threatened her life. The threatening phone call allegedly took place just days before he was arrested and charged with harassment, violating the protective order and multiple drug-related charges.
The arrest affidavit– which was first obtained by The Sun and later secured by The Ashley— provides details of the terrifying phone call Ryan made to Mackenzie in which he claimed men from a "club" he had recently joined were going to come to Mack's work to question her about things she did that were "disrespectful" to Ryan.
"What's about to happen to you is gonna be ugly," Ryan told Mackenzie during the phone call— which Mackenzie recorded. (She later gave the video to the police as evidence.)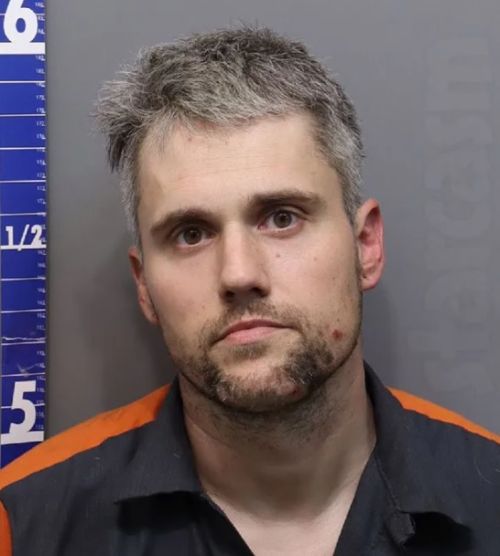 Mackenzie— who told cops that Ryan has a "history of domestic violence issues" with her—stated that Ryan called her around 2 p.m. on February 8. She said she only answered the call because she and Ryan share two kids together, and the call came from the landline of Ryan's workplace. (He has been working at a heavy equipment company in Chattanooga.)
The officer wrote that Mackenzie played him the videos she had recorded of her and Ryan's phone conversation.
"I heard what sounded like a male with a hushed and raspy voice speak," the officer wrote in the affidavit. "The voice in the video was difficult to understand."
The officer then transcribed what he called "the most-threatening part of the video."
In the chilling transcript, Ryan first advises Mackenzie to lie to "the dudes who come and ask you, they're gonna come ask you at work."
Mackenzie asks Ryan who is coming to her work, and he responds by telling her that he'll "take the f**king ass whoopin'."
A confused Mackenzie again asks Ryan who is coming to her work.
"The people in the club I f**king joined Friday," he responded, before alluding to the fact that the people in the club plan to hurt Mackenzie due to her alleged disrespectful actions toward Ryan.
"You know it's a big no-no to be married and have your wife disrespect you in that kind of way but I said I'd take the ass whooping because I didn't want the outcome to be [unintelligible] for you, and that ain't fair," Ryan responded.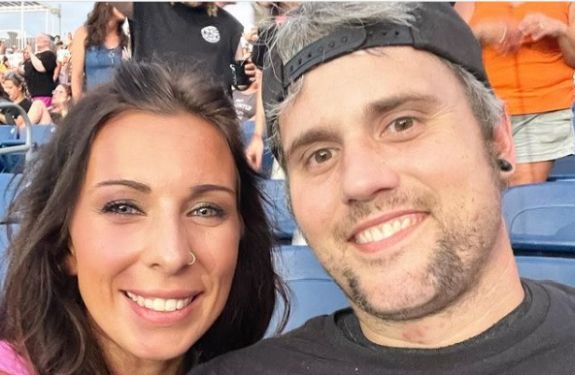 Mackenzie seems confused, asking Ryan what club he's talking about.
"It's the black— you know what club it is," he responded.
Ryan then seemingly tries to get Mackenzie to admit to whatever "disrespectful" actions he thinks she committed.
"If you don't tell me the truth right now, God, you're gonna f**king regret that," Ryan said.
"I don't want to be with you," Mackenzie tells Ryan.
"Look…I guess you didn't hear me…What's about to happen to you is gonna be ugly," Ryan responded.
After listening to the 1.5-minute-long recordings of the phone conversation, the Hamilton County Sheriffs Office determined that Ryan had committed harassment.
"Mrs. Edwards repeatedly confirmed that she interpreted this as a legitimate threat on her life," the officer wrote.
As The Ashley previously reported, Ryan made a series of Instagram posts last week about Mackenzie, whom he has accused of cheating on him. The posts included one in which Ryan posted a revealing photo of Mackenzie (along with a caption calling her a "spineless sl*t," among other things.)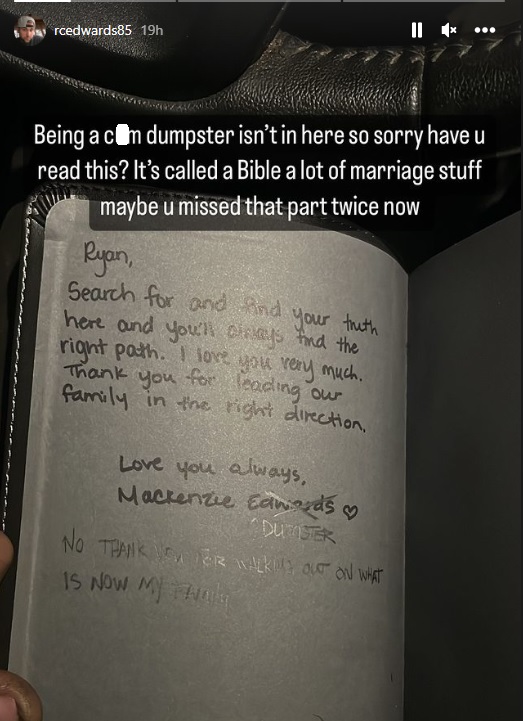 On Wednesday, (the day Ryan posted a photo showing Mackenzie wearing a leather jacket with seemingly nothing underneath it), the Chattanooga Police Department took out an active warrant for harassment against Ryan. (A post on the Hamilton County Sherriff's Office Facebook page on Friday states that Mackenzie was listed as the victim in that incident.)
On Thursday, Ryan continued to post things about Mackenzie, and also violated the protective order when he called Mackenzie's father. One day later, Ryan was arrested at his job, where he was found to be in possession of a glass pipe and two baggies of powder consistent with heroin and cocaine.
Ryan is currently out of jail and is next due in court on March 30.
This is not the first time someone has taken out a protective order against Ryan, claiming he threatened their life. Back in March 2018, Ryan's other baby mama, Maci Bookout and her husband Taylor McKinney took out protective orders for themselves, their children and pets after Ryan told Taylor he was going to show up at their home and shoot him in the head.
In his protective order request, Taylor wrote that Ryan also threatened to show up at his son Bentley's baseball game and confront Taylor and Maci. In Maci's request for a protective order, she wrote that Ryan "has left voicemail messages threatening to show up at my house and take my son. He has made threats to show up and hurt me if I don't answer my phone.
"I fear for my son's safety because of these threats and proof that he drives while under the influence," Maci wrote in court documents. "His behavior and actions are getting worse, I am fearful for my three children and myself, and what he may do, based on his threats."
In May 2018, Maci and Taylor were granted a two-year restraining order against Ryan for themselves and their two children. (Their request to keep Ryan away from Bentley was dismissed.)
View this post on Instagram
The Ashley will update this story when more info is available…
RELATED STORY: More Details of Ryan Edwards' Arrest: Heroin, Cocaine & a Glass Pipe Found on the 'Teen Mom OG' Star
(Photos: HCSO; Instagram; MTV)