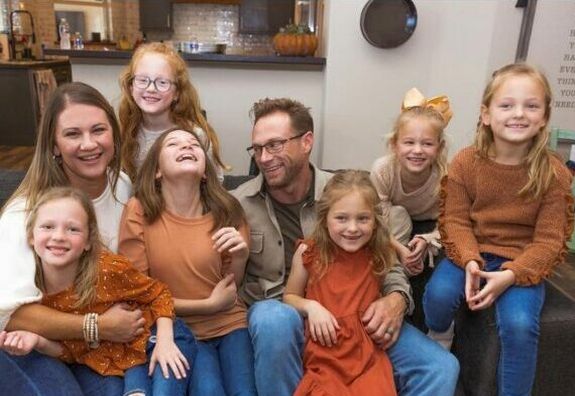 The COVID-19 pandemic made the Busby Family, stars of TLC's OutDaughtered, rethink their reality TV stardom and led parents Adam and Danielle to make the decision to walk away from the show that features their lives as parents to six daughters.
While Adam and Danielle and their daughters— pre-teen Blayke, and eight-year-old quintuplets Olivia, Hazel, Riley, Parker and Ava— eventually went back to the show to do another season (which premieres later this month), it was not a decision they took lightly.
In a new interview with Today, Adam and Danielle talked about their decision to restart with the show after a long absence away from the cameras.
"It just started to weigh on the kids, and us. You could feel it in the room," Adam said of filming for the show during the pandemic. "So we were like, 'Man, let's take a break. Let's take a breather.'"
"We just kind of had to reassess, like, 'What are we doing?'" Danielle added.
The season filmed during COVID aired its last episode in May 2021. After filming that season, Adam and Danielle reevaluated what they wanted for their family.
"Honestly, it wasn't just TV, we said no to a lot of things. We said no to a lot of projects– very lucrative projects that we could have stepped into– business opportunities that we had, and we said no to it all, and we just wanted a time of rest," Adam said in a video the couple posted to their It's a Buzz World YouTube channel in early June following TLC's announcement that their show would be returning July 11.
View this post on Instagram
One venture they did say yes to during what this time was opening a brick-and-mortar storefront for Danielle's Graeson Bee clothing boutique. The store recently celebrated its first anniversary and is going to be featured heavily in the upcoming season of 'OutDaughtered.'
"It's just opening up a whole new set of dynamics with now opening up a local store in Graeson Bee where Danielle's going to be at a lot," Adam said in the video. "I mean she's the face of the store so she's going to be there a lot, which changes the dynamic of our home as well.
View this post on Instagram
The couple has stated that they weren't sure if they wanted to return to TV. They credit interactions with neighbors and strangers, as well as their Christian faith, with encouraging them to get their family back on TV.
"We were like… 'we're not going to seek it out, the next time [the network calls], we'll hear them out, hear what they have to say,' and this time around it was literally two days later…" Adam said in the video. "…it was a lot more serious call, like, 'We really want you all to come back.'
"So that's what really got us talking and, obviously, negotiating because, at that point, like contracts and everything was expired just because we didn't think we were going to go back and we didn't think we were going to need to renew anything. But it lead to where we are now."
As part of the Busbys' new deal with TLC, Adam and Danielle are now executive producers of 'OutDaughtered.' These new positions will give them more say in the creative direction of the show, they stated.
Even with this new role on the show, the parents still had some concerns about getting their family back in front of the cameras.
"I think that there was some anxiety in the, 'OK, are we going to go back to this being the life again, we've had this time off, we've found a new direction and just, like, replenished our souls?'" Danielle said in the YouTube video.
She shared similar concerns in an early June Instagram post announcing the show's return.
"I really am still shocked at the journey God places our family on," she posted. "When we thought we were done filming 'OutDaughtered' years ago…here we are again with a new season airing July 11th. I have to say, this decision was not easy for me…to go back into production BUT you know what I have learned in this life ? *We can't CONTROL GOD's plan for our life**"
View this post on Instagram
Following their break, the Busbys have a new excitement for their show and what it means to viewers.
"Our job as a family, as the Busby family, is to go out and put something out there that is entertaining, that families can sit down and watch together, and it brings joy to their homes," Adam said in the YouTube video.
The new season of 'Outdaughtered' premieres Tuesday, July 11 on TLC.
You can watch Danielle and Adam's recent YouTube video below!
RELATED STORY: TLC Announces the Return of 'OutDaughtered': Catch Up With the Busby Family & Watch the Season 9 Trailer
(Photos: TLC; Instagram)