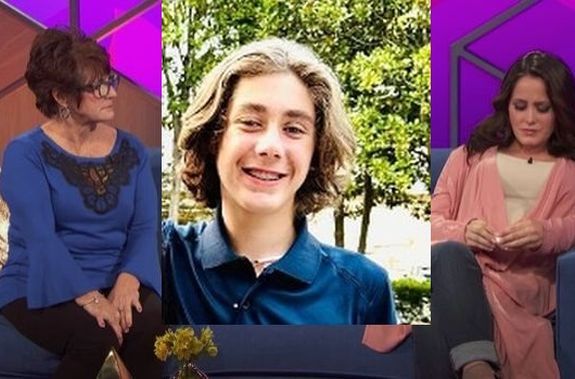 Teen Mom
Jace Evans' troubles continue.
The Teen Mom 2 offspring had been living with his grandma Barbara Evans for the last month or so, after being removed from his mom Jenelle's home after her husband David Eason allegedly assaulted the 14-year-old. Things were going relatively well up until the last week or so with Jace's living situation, with Barb set to go to court next month to make Jace's living arrangement more-permanent, but The Ashley can now reveal that things have sadly changed.
The Ashley became suspicious that something was going on with Jace after Jenelle and David each posted cryptic messages to social media this week. (David posted a "Where's Waldo" post, while Jenelle posted a meme with the caption "When the weapons formed against you ain't prospering," along with, "Hell yessssss, if you only knew.")
The gloating post came on Saturday, the same day a resident of Boiling Springs Lakes, North Carolina, emailed The Ashley, informing her that Jace had run away from Babs' home and was on the loose.
"Cops have advised us in the neighborhood to keep an eye out for him," the neighbor wrote to The Ashley on Saturday in the email. "Apparently he has been gone for almost two days."
The Ashley can confirm that Jace was found on Sunday, nearly 48 hours since he had gone missing. (That means that Jenelle and David posted the gloating posts at the same time Jace was missing. Jenelle was aware he had run away, as CPS had to notify her.)
"Jace was dealing with a lot. He was aware that if he got into trouble, he wouldn't be able to stay at Barb's," a source told The Ashley, adding that he was hurt by some of Jenelle's posts about him over the past few weeks.
"Jace wasn't able to get on his proper medications while he was at Barbara's, due to Jenelle still having the power to deny him access to certain meds," a source tells The Ashley, adding that several local therapists wouldn't take Jace on as a client because they didn't want to deal with the "wrath of David and Jenelle."
In fact, a 'Teen Mom'-themed Instagram account recently uncovered a Google review written by David about three weeks ago in which David accused one of Jace's long-time therapists of trying to "brainwash your child into thinking they have mental issues in order to keep them coming back for medication."
In his review, David also accused the doctor of trying to "make my children believe things that are not true and loves to take everything out of context and to the extreme!"

Jace's future is uncertain; however he will not be going back to Jenelle's home, or back with Barbara at this time.
The Ashley will update this story when more info is available…