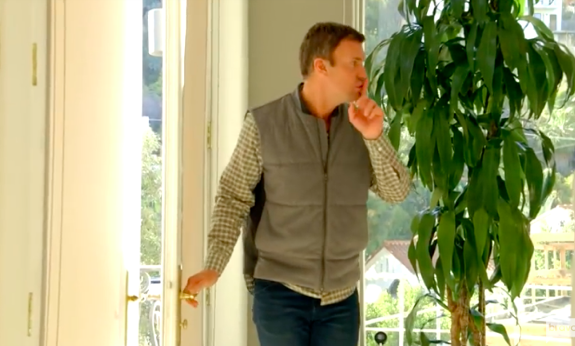 Former Flipping Out star Jeff Lewis is currently recovering in the hospital after undergoing neck surgery for Cervical Myelopathy, a spinal cord condition from which he suffers.
According to People, Jeff went under the knife on Wednesday. He spoke about his condition on a recent episode of his SiriusXM radio show, Jeff Lewis Live, explaining that he had been experiencing pain in his lower back and neck, as well as instability in his legs. After an MRI, he was informed that he was suffering from Cervical Myelopathy.
"There is a disc actually in my neck that's pushing against my spinal cord and has bruised my spinal cord, which has caused nerve damage," he said, adding, "if it goes untreated it can cause paralyzation – and it gets progressively worse."
On Wednesday, Jeff's radio show co-host and former 'Flipping Out' interior designer Megan Weaver shared the news that Jeff had made it out of surgery and was recovering.
"He made it! Thank god I still have a job," she wrote. "Successful surgery and recovering in hospital. Thank you for all your DMs checking in. Put funeral plans on hold."
Proving that his sense of humor had survived the procedure as well, Jeff shared a snarky edited image to Instagram on Thursday, featuring his ex Gage Edward pulling the plug on his hospital equipment.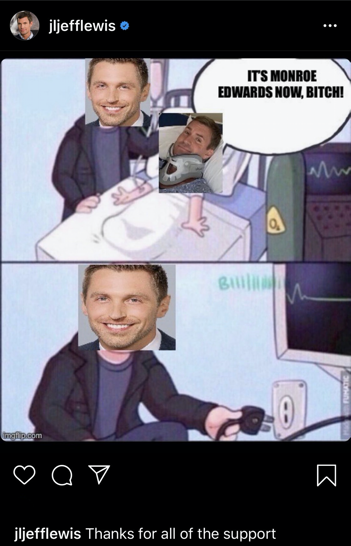 The image included a speech bubble that read, "It's Monroe Edwards now b*tch," – a dig at the lawsuit Gage served Jeff in February asking that their daughter Monroe's name be legally changed to include Gage's last name, despite "Edward" not actually being Gage's last name, but rather his middle name.
Gage commented on the post, writing "I've been looking for that [plug] for a while."
The former couple/co-stars split in 2019 and have seemingly battled each other in court and in the press ever since.
In August of last year, the exes were able to put aside their differences and come to a temporary custody agreement for Monroe but by October, they were at odds once again and the custody agreement was off.
RELATED STORY: It's Over! 'Flipping Out' Star Jeff Lewis Reveals His Boyfriend Scott Anderson Has Broken Up With Him
(Photos: Bravo; Instagram)