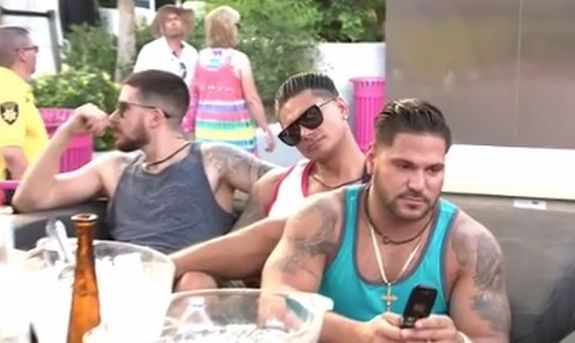 Ronnie Ortiz-Magro made it clear on social media that he values loyalty before anything else, with his post coming just one day after it was reported that his Jersey Shore co-stars have refused to film with him, due to his "mental instability" and their feelings that his recent actions are making them all look bad!
On Saturday, Ronnie— who stated earlier this week that he's stepping away from Jersey Shore Family Vacation to seek treatment for his mental health issues— posted to Instagram Stories about "loyalty" being at the top of his list of core values. He also thanked the "friends, family and fans who have been supportive through my journey to finding my mental health & happiness."
Many suspected that Ronnie's posts were an attempt at shading his 'Jersey Shore' costars for refusing to be filmed with him.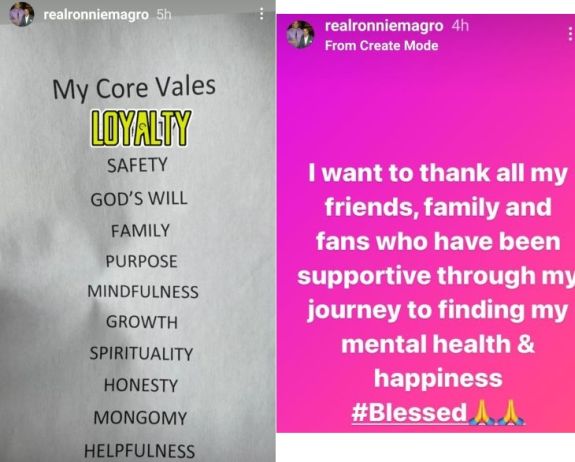 One day earlier, The Sun reported that Ronnie's co-stars are turning their back on him.
"The entire cast has said they don't want to film with him because they believe he is not mentally stable," the site reported on Friday. "They feel he is a ticking time bomb and he makes all of them look bad."
"They were uncomfortable filming with him moving forward," the site's source added.
As The Ashley recently reported, Ronnie was arrested last month on suspicion of domestic violence against his girlfriend Saffire Matos. Ronnie, who is on probation for a previous domestic violence plea for an incident involving his baby mama Jen Harley, eventually had his charges dropped; however, he will face a judge next month regarding the potential probation violation.
Also this week, Ronnie released a statement informing fans that he and MTV made the decision together that he would not appear on future 'Jersey Shore Family Vacation' episodes, at least for the time being.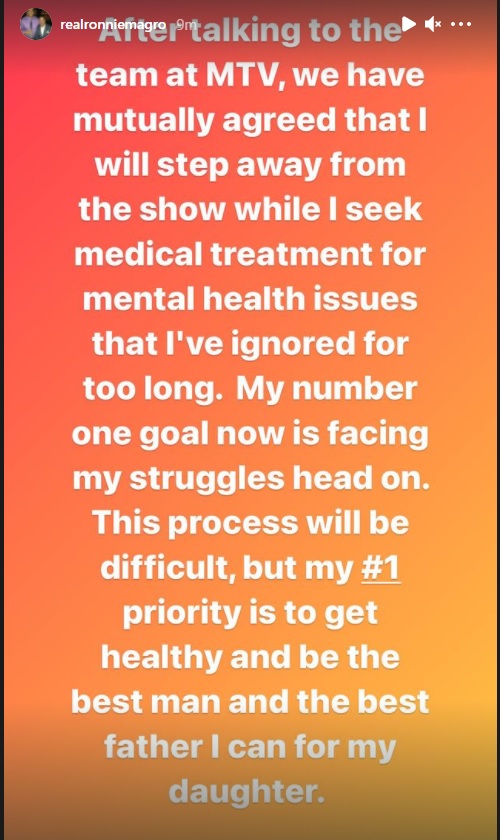 "After talking to the team at MTV, we have mutually agreed that I will step away from the show while I seek medical treatment for mental health issues that I've ignored for too long," Ronnie wrote. "My number one goal now is facing my struggles head on. This process will be difficult, but my #1 priority is to get healthy and be the best man and best father I can for my daughter."
The trailer for the upcoming season of 'Jersey Shore Family Vacation' was released on Tuesday and showed no traces of Ronnie. It is unknown if Ronnie filmed for the season or not. If he did film, it's possible that his scenes have been edited out.
"The cast doesn't know if Ronnie has been politely fired. He has been part of the filming until now, but they don't know if anything he has filmed will air," the source for The Sun stated.
Although Ronnie told his fans he is seeking help for his mental health issues, he is apparently not attending any sort of in-patient treatment or drug/alcohol rehab. (In 2019, Ronnie spent a month in rehab to treat mental health issues as well as alcohol dependency.)
"He is not in rehab yet. He has shared with others in the cast that he is not ready for rehab," The Sun's source said. "He is trying to say he can get better with mental help without going to a facility."
At press time, none of Ronnie's 'Jersey Shore' co-stars had spoken publicly about Ronnie's latest arrest or decision to seek treatment.
RELATED STORY: 'Jersey Shore' Family Vacation' Season 4B to Premiere Next Month: Troubled Ronnie Ortiz-Magro Missing From Season's Trailer
(Photos: MTV; Instagram)