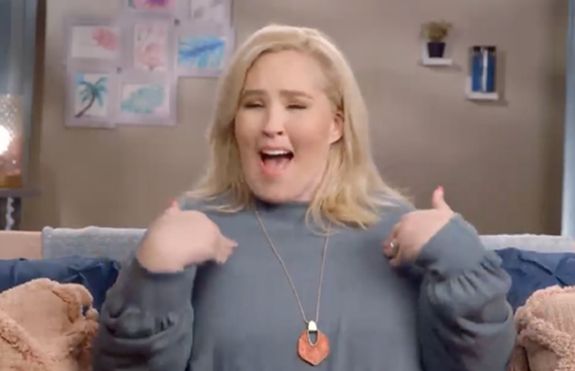 Mama June Shannon is returning to TV, and this time, she isn't holding back.
In a clip from the upcoming season of Mama June: Road to Redemption, June sits down for an interview, warning the film crew that what she's planning to say "may piss off some people," The Sun reports.
"There's a lot that happened behind closed doors that a lot of people don't know," she continues. "I'm just tired of lying and hiding … ."
As the clip continues, June is seen getting emotional after someone from the 'Road to Redemption' crew says, "You asked us to come today, what do you want to talk about?"
While the clip ends before we are able to hear June's response to the question, it likely involves the 42-year-old's continued road to recovery from drugs and efforts to continue repairing the relationship with her children.
As you may recall, June and then-boyfriend Geno Doak were arrested in 2019 for crack cocaine, followed by a downward spiral of traveling, using drugs and trashing/getting kicked out of hotel rooms. The couple eventually turned things around by checking into rehab and in January 2021, they both celebrated one year of sobriety. (They went on to split later that year.)
Prior to getting sober, June's addiction caused her to become estranged from her children, with her youngest daughter Alana "Honey Boo Boo" Thompson eventually choosing to live with her older sister Lauryn "Pumpkin" Shannon and her family.
June relocated to be closer to her children while filming their reality show last season, and though Alana continues to live with her sister, she and June appeared together on The Masked Singer last season as the "Beachball."
Alana told ET at the time that she and her mom were "definitely working" to fix their relationship and had already made some progress.
"I don't feel like it's 110 percent fixed, but it's definitely getting there, that's for sure," she said.
As The Ashley previously reported, Geno and June have not been in contact with each other since September and June has since moved on with Justin Stroud, a 34-year-old mechanic. Unfortunately for June, her new man was recently arrested in Florida for an outstanding warrant and for owing approximately $10,000 in child support.
The new season of 'Mama June: Road to Redemption' premieres in May.
RELATED STORY: Geno Doak Credits Ex-Girlfriend Mama June Shanon for Helping His After His Suicide Attempt & Relapse
(Photos: WeTV; Instagram)