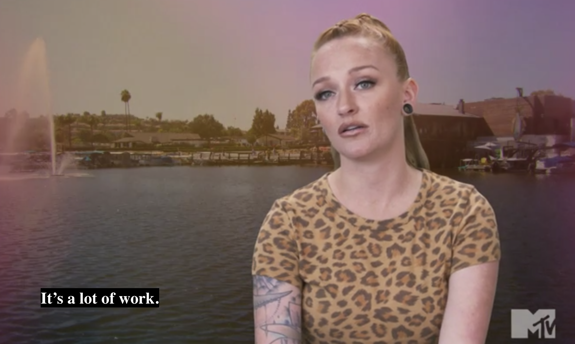 From making a podcast, to making money off a failed marriage, the stars of the Teen Mom franchise (both past and present) have been keeping themselves busy lately! In an effort to keep you up-to-date on the latest Teen Mom OG, 16 & Pregnant and Teen Mom 2 news, The Ashley brings you the Teen Mom News Pile.
Here are some of the major (and minor but interesting) 'Teen Mom'- related things that have happened over the last week or so…
Maci Bookout is co-hosting a new "Chattanooga-based" crime podcast.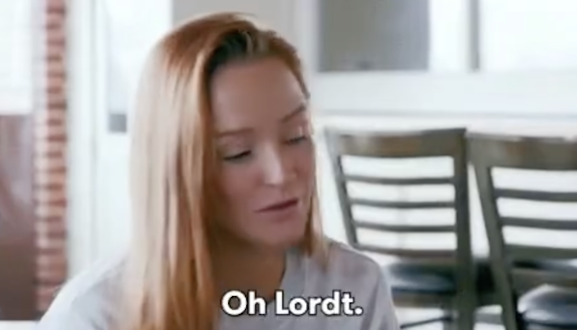 Former 'Teen Mom OG' star Maci Bookout is following in the footsteps of so many others in the 'Teen Mom' franchise by launching her own podcast.
According to The Sun, an Instagram page for the 'Teen Mom: The Next Chapter' star's new project was spotted by some fans online, and while little details have been provided at the time, the bio for the page reads, "The Expired Podcast is a Chattanooga-based crime cast."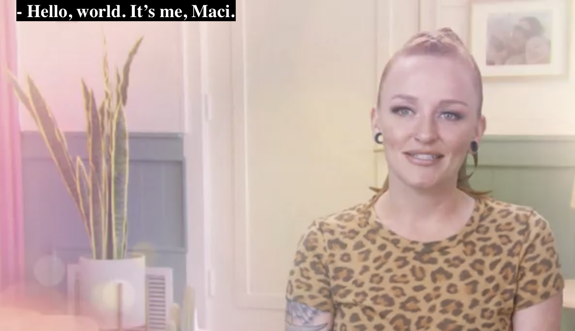 Maci will share hosting duties with Natalie Gard, of the Hits 96 radio station in Chattanooga, Tennessee.
Days before 'The Expired' social media page appeared, Natalie had teased the upcoming project on TikTok to some of her fans, telling them they'd "never guess who her co-host is."
Maci is certainly not the first in the 'Teen Mom' franchise to give podcasting a try (and let's be honest, she probably won't be the last). Former 'Teen Mom 2' star Kail Lowry currently hosts/co-hosts three separate podcasts, while her (third) baby daddy Chris Lopez has gone on to launch one of his own; Ashley Jones has a podcast; Cheyenne Floyd is a co-host on the Think Loud Crew podcast; fired 'Teen Mom OG' star Farrah Abraham previously launched Abraham Gals with her daughter, Sophia; Leah Messer briefly dabbled in the podcasting world, too, as did fired 'Teen Mom 2' star Jenelle Evans (more than once).
'Girls Night In' is back…with its most-famous grannies this time.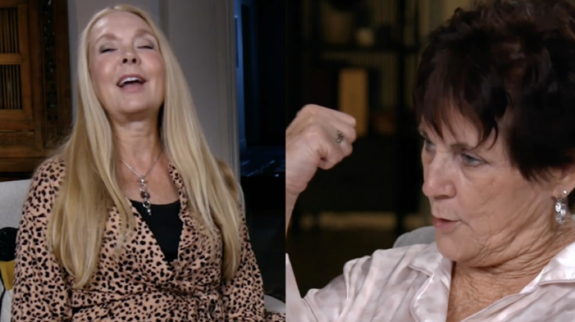 Cover up the hickeys all ovah ya friggin' neck and get rid of your belligerent anti-Christ attitude because Debra Danielsen and Barbara Evans are making their MTV comebacks.
The 'Teen Mom' grandmas, whose daughters–- Farrah Abraham and Jenelle Evans, respectively–- were booted from 'Teen Mom' years ago, will once again grace our TV screens when Season 2 of Teen Mom: Girls Night In kicks off next week. The Ashley broke the news in July that Barb and Debra would be filming the next season of the series after the 'Teen Mom' grandmas popped up in an Instagram photo alongside some of the Teen Mom: Young and Pregnant girls.
Barbara and Debra were in Los Angeles at the time, as were the 'Young and Pregnant' girls, to film for the upcoming season, with Barb and Debz OG scheduled to film about six episodes.
In the trailer for the upcoming season, viewers are invited to watch along with the moms of 'Teen Mom' and 'Teen Mom 2′ and some "special guests"– presumably Barb, Deb and the 'Young and Pregnant' girls. The Ashley's sources said Deb and Barb's return is an effort of the producers to get the ratings for the franchise up, as viewers want "to see some of the favorite characters from the past."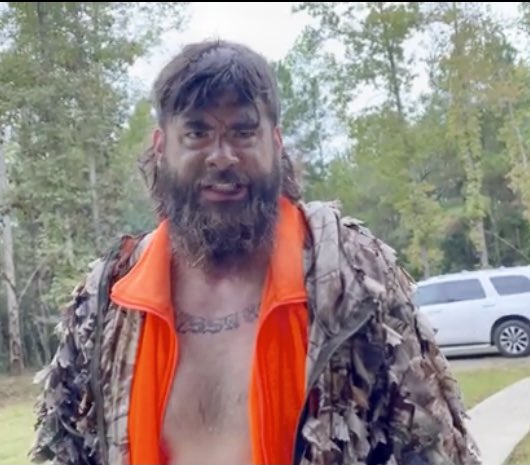 On the Season 2 premiere, viewers can watch as Jade Cline and her permanent plus-one Chau "crack jokes while Catelynn and Tyler find out they're having a girl," and see Ashley Jones and Bar Smith and Bar's yet-to-be-fully-removed brow tats "commend Maci and Taylor for calling out Bentley's grandparents."
More importantly, Deb and Barb will be on-hand to get our spirits HIGH, HIGH, as they "worry Mackenzie's snack intervention won't help her father."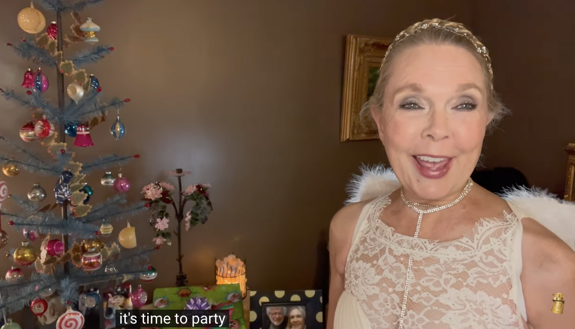 Other cast members expected to make appearances from their couches this season include Briana and Brittany DeJesus, a pajama-clad Jenelle, Pastor Tea, and Leah Messer and her now ex-fiance Jaylan Mobley.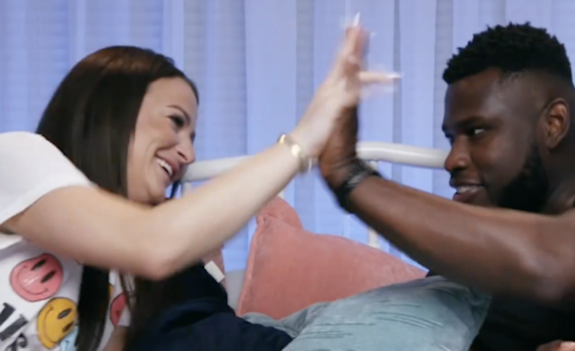 'Teen Mom: Girls Night In' returns Tuesday, October 25. Watch a sneak peek below!
Mackenzie McKee is hocking her wedding ring on eBay.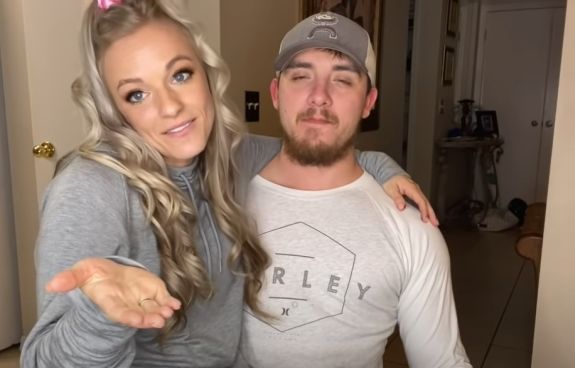 Former 'Teen Mom' Mackenzie McKee is hoping to pocket a little cash from her failed marriage to Josh McKee by selling her wedding ring set on eBay.
As you may recall, Mackenzie revealed over the summer that she had parted ways with her rodeo-ridin' hubby after three children, nearly nine years of wedded bliss marriage and enough breakups and makeups to last a lifetime. As of August, Mackenzie told fans the divorce was "very close to being done and finalized."
This week, Mackenzie appeared to take another step forward in closing the chapter to her marriage after listing her (obviously) pre-owned, size 4.5, white gold "double-cushion frame" set on eBay.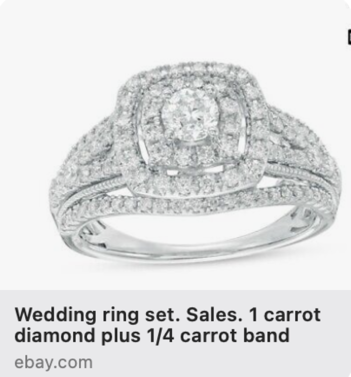 "Wedding ring set. Sales. 1 carrot diamond plus 1/4 carrot band," the listing reads.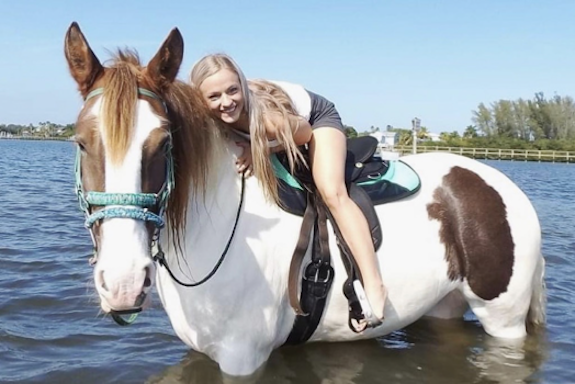 When potential buyers/self-admitted snarkers scroll for more details, they will see that Mackenzie has noted in the description that her wedding bling "was featured on teen mom."

The current bid on Mackenzie's bad juju jewelry is at $1500. Interested buyers have until Monday to snag this piece of 'Teen Mom' history.
Rachelle Perez & Chase Keough of "16 and Pregnant" Season 6 are engaged.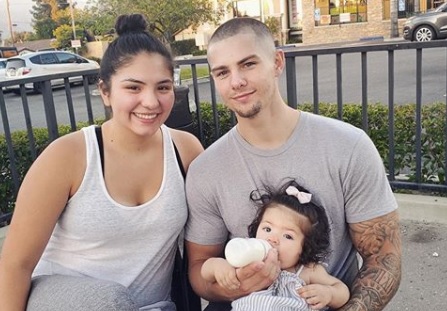 Rachelle Perez of "16 and Pregnant" Season 6 recently revealed on Instagram that she is engaged to her baby daddy, Chase Keogh.
Rachelle shared the big news on social media, hinting that she and Chase may tie the knot in 2023. She also told followers in an Instagram Q&A that Chase's proposal was a complete surprise to her.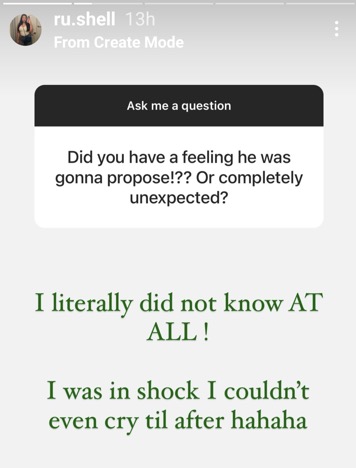 "I literally did not know AT ALL!" Rachelle said. "I was in shock I couldn't even cry til after hahaha."
Fans may remember Rachelle making her MTV debut as a 20-year-old from Los Angeles who was expecting a daughter with her 23-year-old boyfriend, Chase. Rachelle and Chase went on to welcome daughter Boston during their "16 and Pregnant" episode. (And yes, Chase's love for the Red Sox is the reason the couple chose their daughter's moniker.)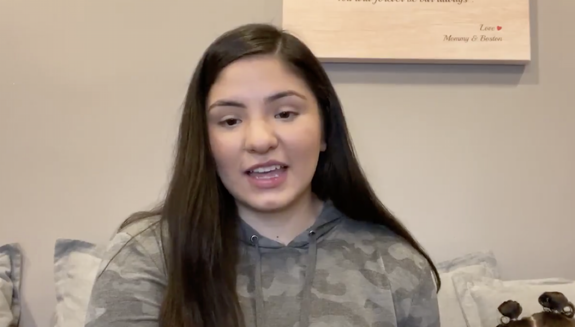 While Rachelle and Chase split briefly following Boston's birth, Rachelle told MTV in October 2020 that she and Chase had rekindled things and were living together again, just months after filming wrapped.
"It's better than before because there's just less arguing," she said of her relationship with Chase. "Communicating with Chase has gotten a lot better now because we both understand that it's not only one-sided … the effort has to come from both of us, not just one of us."
In September, Rachelle announced that she and Chase had purchased their first home together.
To catch up on more recent 'Teen Mom' news, click here!
(Photos: MTV; Instagram; eBay)
(Photos: