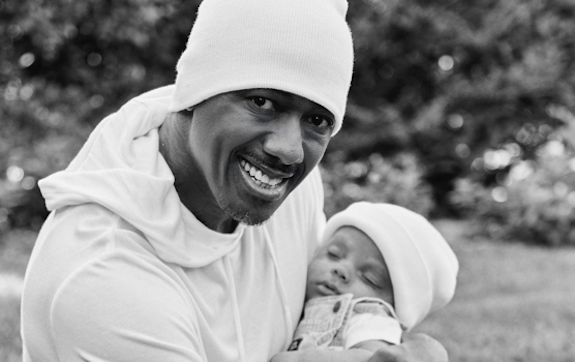 Nick Cannon is opening up about the tragic death of his and Alyssa Scott's son, Zen, who died of brain cancer and a subsequent tumor at just 5 months old in December 2021.
As fans may remember, Nick shared the news of Zen's passing on the (now cancelled) Nick Cannon Show, which came as a shock to viewers, as Nick had not previously spoken publicly about his son's health issues. According to Entertainment Tonight, keeping Zen's diagnosis out of the news was something the father of 12 believed to be the best decision at the time.
"I kept the idea-– and maybe it was more out of optimism–- I'm gonna keep this in," Nick shared recently during Men's Health's Hip-Hop Health: Mind Over Music event. "I'm not gonna tell anybody about what my family or what my son is going through because I don't want to be sad … But in hindsight I probably should have talked to people, so it wouldn't have been such a shock when it did happen."
As for that particular episode of the 'Nick Cannon Show,' Nick said he didn't know how he would deliver the news of Zen's death, he just knew he "had to get it out."
" … I didn't know what to say, I probably did some things, I know I did some things that I know weren't the correct way to handle it, but I just had to get it out," he said.
During the December 2021 episode, Nick explained to viewers that he had lost his youngest son "to a condition called hydrocephalus, that is [caused by] pretty much a malignant, mid-line brain tumor– brain cancer." He also shared some of the health issues Zen had experienced from birth, which ultimately led Nick and Alyssa to have their son checked out by a doctor.
Nick also took a moment during the episode to share a message to Alyssa for "the strength that this woman possesses in this moment."
"I apologize for so many things, but I just know if there's any weight or anything that I've caused– I'm not gonna get everything right, this is difficult for the both of us– but I thank you for being that strength and being that rock," he added.
In December 2022-– just over a year after Zen's death–- Nick and Alyssa welcomed daughter Halo Marie.
As fans know, Halo is one of five kids The Masked Singer host welcomed in 2022 alone. Last year's baby boom kicked off in July when Nick and Bre Tiesi welcomed son Legendary Love. Two months later, LaNisha Cole gave birth to daughter Onyx Ice and one week after that, Rise Messiah was born to Nick and Brittany Bell. (Brittany is also the mother of two more of Nick's children– son Golden, born in 2017, and daughter Powerful Queen, born in 2020.)
In November 2022, Nick welcomed daughter Beautiful Zeppelin, born to Abby De La Rosa. (Abby and Nick also share twin sons Zion Mixolydian and Zillion Heir, born in 2021.)
Nick is also a father to 11-year-old twins, Moroccan and Monroe, whom he shares with his ex-wife, Mariah Carey.
RELATED STORY: Nick Cannon Says He Isn't On Child Support For Any of His Six Baby Mamas: "What They Need, They Get"
(Photos: Instagram)