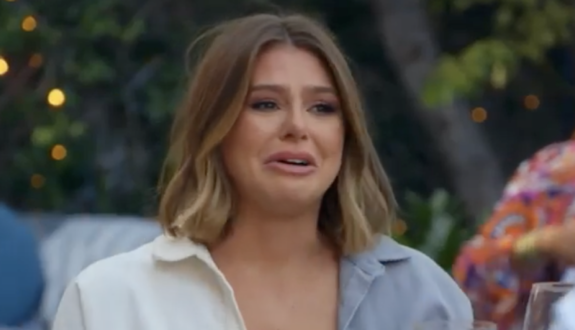 Raquel Leviss may be one of the two biggest villains on reality TV right now (the other being her secret lover, Tom "Worm With a Mustache" Sandoval)– but, according to a new report, things have become downright dangerous for Raquel.
TMZ broke the news on Friday that Raquel and her family have contacted the FBI due to the wave of death threats the Vanderpump Rules star has been receiving in recent days. (As fans know, the 'VPR' Season 10 finale aired last week, while the first part of the explosive reunion aired on Tuesday. Both episodes covered the Scandoval affair of Sandoval and Raquel.)
According to Raquel's rep, she has received "violent and graphic" death threats coming from all angles, with angry haters calling her on the phone and contacting her via messages on social media.
"We're told some of the alleged threats include messages sent to Raquel through social media, saying … 'Tear you limb from limb' and 'Un-alive and dump the body,'" TMZ reported.
It appears that some of Raquel's family members have also been receiving threatening messages in the months since the Scandoval was exposed.
"It's understandable why people hate her for the Scandoval, but to elevate that hate to the point of threatening Raquel and her family takes things too far and is disturbing," one source told TMZ.
View this post on Instagram
The FBI would not confirm or deny if it is assisting Raquel and her family; however, in a statement to TMZ it stated that it does "review all allegations" that are reported.
Bravo— the network that airs 'Vanderpump Rules'— has also released a statement regarding the frightening hate messages being sent to the Leviss family.
"The threats being made on social media are appalling," a network spokesperson told TMZ. "Bravo strongly condemns this behavior and urges people to stop."
As The Ashley previously reported, Raquel's rep announced last month that the disgraced 'VPR' star was heading to get treatment at a mental health facility. (While some members of the show's cast openly questioned if Raquel was, indeed, at a mental health facility, Sandoval called them out, stating that Raquel is getting treatment at a facility.)
It's unknown if Sandoval is also getting death threats. However, back in March when the Scandoval broke, his Schwartz & Sandy's bar was inundated with negative reviews on Yelp that were written by angry fans.
View this post on Instagram