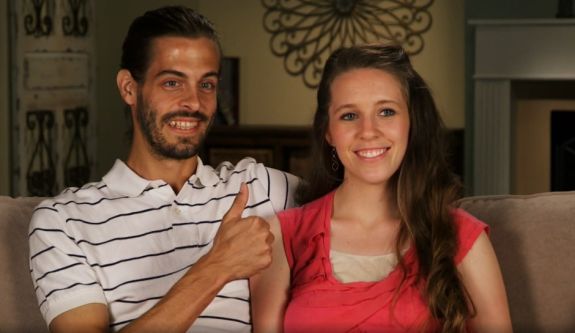 Former Counting On star Derick Dillard is following his wife Jill Dillard's lead by serving up some unsolicited advice on "hot love" because, according to him, it's what the people want.
(Feel free to insert gagging noises here!)
In his post (and the comments that resulted from it), Derick revealed some surprising things about his relationship with Jill— including that they refuse to be in the same room alone with a person of the opposite sex. He also wrote that they use an Internet restriction device to help keep themselves away from those devilish, tempting websites and…that they are not against birth control, as most Duggar family members have stated they are!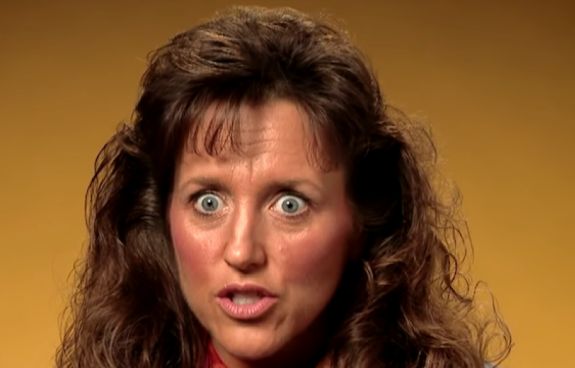 Derick's post, entitled "Hot Love: How to Love Your Wife Like You Mean It," was shared to the Dillard Family blog and is a followup to Jill's "More Than Sex: How to Love Your Husband," that we were all gifted with earlier this summer.
"Alrighty, so recently Jill wrote a post on [our blog] about how wives can love their husbands, and it was apparently a really big hit," Derick wrote. "She also told me that she received a lot of feedback that the ladies would like me to write a post to husbands about how we can better love our wives."
In other words, we have Jill to thank for this.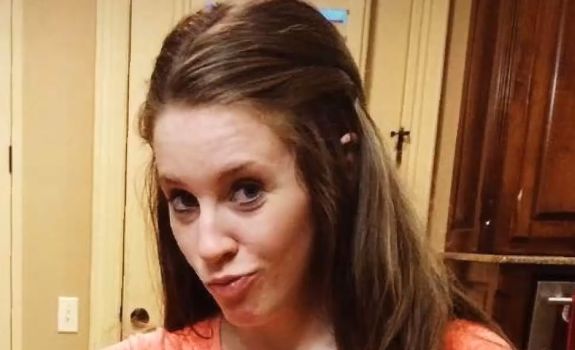 Here are some of the most-interesting revelations were learned from Derick's post…
Derick & Jill refuse to be alone in a room with a member of the opposite sex.
Derick stated in his blog that he and Jill do whatever they can to avoid being caught in a room alone with a person of the opposite gender. (There will be no shady, on-the-side side hugs for the Dillards, y'all!)
Derick admitted that this can be a bit tricky to accomplish at times, given that they live in a world of sinners.
"Sometimes this is hard and requires more intentionality," he wrote. "For example, if I have a private meeting with a female, I may choose to leave the door open, or if Jill needs a repairman to come work on something at the house when I'm gone then she might invite a friend over while he's there.
"We realize though that safeguards alone aren't enough…it is more about the heart and commitment to purity, but they may be helpful in reducing the prevalence of some situations, or even just the appearance of evil," he added.
Derick did not state if this same rule goes for family members of the opposite sex.
Derick & Jill have lots of sex…
In true Fundie-fashion, Derick's list doesn't leave out the obligatory part about jumping each other's bones and remaining "joyfully available."
"Have lots of good sex! You both need this time together regularly (5-6 times (or more) a week is a good start)," he writes.
While Jill keeps her shaggin' schedule aimed at a more modest "3 to 4 times a week," Derick and Jill are on the same page when it comes to keeping themselves "joyfully available" to get down whenever, wherever.
Over the last few months, we've learned more about Derick and Jill's sex life than we ever wanted to know. In July, Jill shared that she and Derick like to use a clean, Christian version of the sex manual the Kama Sutra to keep things hot in their bedroom.
She insisted, though, that she and Derick "don't practice anything unbiblical." However, for the Dillards, it doesn't always have to be basic baby-making sex.
"When you may not be able to actually have intercourse for a period of time or for health issues, find other ways to have fun and be intimate," he wrote in his blog. "Let your spouse know that you're always available."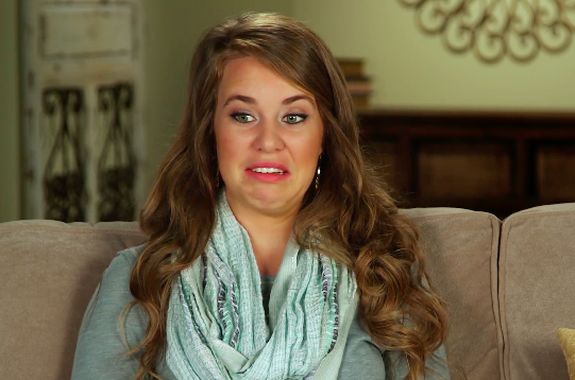 Derick and Jill save up their sexy-time for each other.
In her post, Jill told her followers that you should "guard against fulfilling sexual desires alone." (Translation: don't masturbate!)
Derick confirmed that he also refrained from wacking the funky monkey solo.
Derick and Jill agree on their financial decisions.
Derick encourages married couples to be on the same page when it comes to finances, which would actually be a good piece of advice if it weren't coming from the guy who has begged fans for cash on more than one occasion.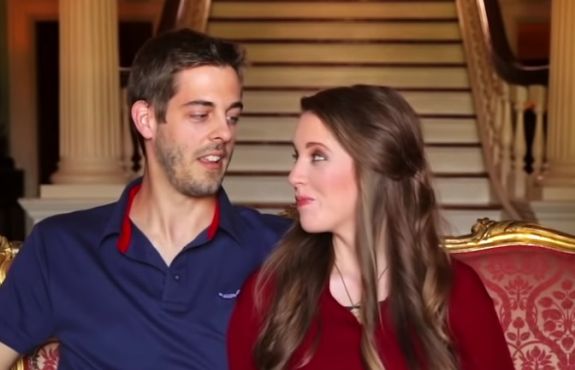 As The Ashley previously told you, the Dillards were accused in 2015 of misusing mission trip money that was donated by their fans. In 2017, Derick created a fundraising page on Pure Charity, once again claiming to be accepting cash for mission trips. (The page was ultimately shut down due to claims that it was in violation of the site's Terms of Use for Registered User Conduct.)
Derick & Jill have spent every night of their marriage together.
Derick revealed that, since their wedding day in June 2014, he and Jill have not spent a night away from each other. (That explains how they have so much time to hump like rabbits!)
"It may not always be this way, but so far, Jill and I have managed to spend every single night together since we've been married," Derick says.
(In case you suck at math, that equates to 1,887 nights in a row.)
Honestly, coming from Derick, this sounds more like a threat.
Derick and Jill don't trust themselves (or each other!) to use the Internet unfiltered.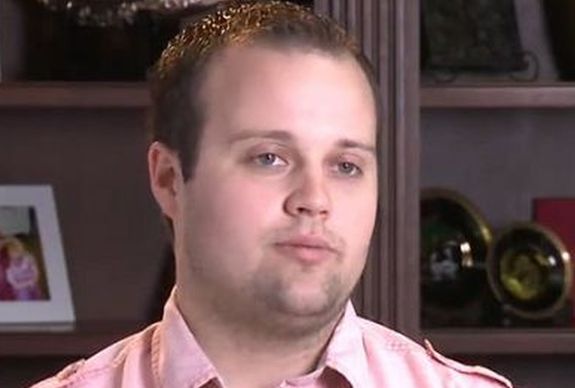 Jill's family has warned us about the dangers of the Internet, and her brother Josh has learned firsthand just how unholy the World Wide Web can be. Derick says that he and Jill take precautions against getting caught up in that Satan-filled Web by placing guards on their Internet-surfing capabilities.
"It is really important to both of us that we have some kind of internet filtering service on our phones and laptops, so we decided to pay for a monthly Covenant Eyes filtering subscription and also limit some accessibility on our devices to help us be accountable to each other," Derick wrote. "We also share our social media passwords with each other."
Derick and Jill (GASP!) are down to use birth control.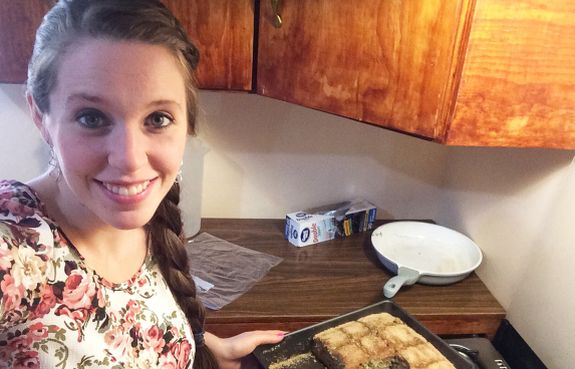 After sharing the link to Derick's "hot love" tips on Instagram, Jill's post was hit with some comments questioning how the couple hasn't had more children, given their frequent banging sessions and supposed lack of birth control. (The Duggars have famously stated that they refrain from using birth control because they want to have as "many babies as God will give" them.)
Surprisingly, Derick shut down one of those "misconceptions" in a comment on Jill's Instagram page.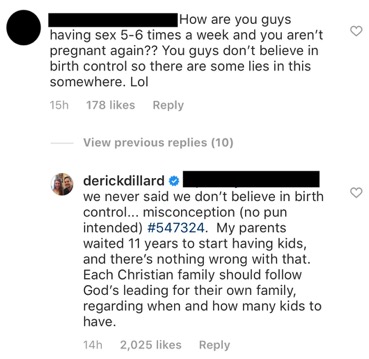 "We never said we don't believe in birth control… misconception (no pun intended) #547324," he replied. "My parents waited 11 years to start having kids, and there's nothing wrong with that. Each Christian family should follow God's leading for their own family, regarding when and how many kids to have."
While Derick didn't confirm that he and Jill are currently using birth control to prevent pregnancy, that does explain how Jill has managed to keep herself un-sperminated for several years, unlike many of the other married women in the Duggar family, most of whom are pregnant currently.
To check out Derick's full blog post, click here!
RELATED STORY: Jill Dillard Clarifies Post About Her Sex Life: States She & Husband Derick Don't Get Freaky With Regular Kama Sutra: "[We Don't] Practice Anything Unbiblical!"
(Photos: TLC; Instagram)