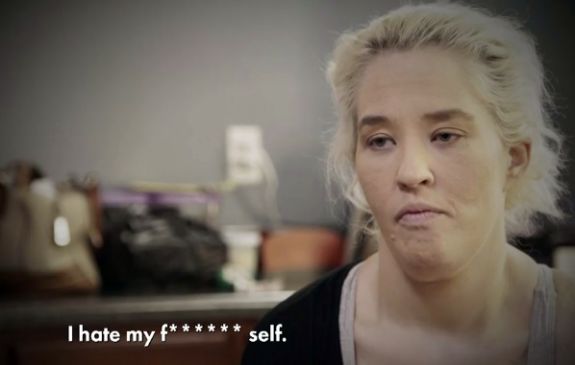 She's baaaack….
Well, kind of.
Mama June Shannon— who has spent the last few months on the road, wreaking havoc on the innkeepers of Georgia with her beau, Geno Doak— is apparently making her way back to the WEtv reality show (and the family) she abandoned.
June and her family members, including daughters Lauryn (aka "Pumpkin") and Alana (aka "Honey Boo Boo") announced on their social media accounts on Friday that Mama June: From Not to Hot will be returning— but with a new title.
The new season will be entitled Mama June: From Not to Hot Family Crisis, which is much more fitting of the Shannon Family's current situation.
As The Ashley has previously reported, June sold her Georgia home, in addition to most of her belongings and set out on the open road with Geno last fall. Since then the duo— who are still facing drug possession charges— has caused a ruckus at several hotels they've shacked up in, from refusing to pay their large hotel bill to trashing their rooms.
Anyway, the new season's first promo shows Alana eating her breakfast next to a milk cartoon that features June's mugshot underneath a "MISSING" headline. All of a sudden the door opens and Alana looks surprised. (Obviously this is all set up and not "real.")
"What's it going to be like when Mama finally comes home?" the narrator, who describes the new season as "shocking," says.
Of course, Mama June herself is not shown in the promo (except for her mugshot, naturally).
Back in December, Lauryn hinted that she and her family may have been back to work on their reality show when she posted a pic of herself, Alana and some of the show's production team.
"It's been fun, crazy, and a emotional ride but that's a wrap for now," Lauryn captioned the Instagram photo.
From what The Ashley has heard, the producers were considering changing the focus of the show from Mama June to Lauryn and her family. (Alana is currently living with Lauryn, her husband Josh Efrid and their daughter Ella, and has been for a while now.) They were also considering changing the show's name to 'Bringing Up BooBoo' but apparently decided against it.
The new season of 'Mama June' is scheduled to premiere in March, although no exact date has been released yet.
RELATED STORY: Mama June Shannon Resurfaces on Instagram to Tell Her Kids She Misses Them; Family Members Beg Her to Contact Them & Get Help
(Photos: WEtv, Instagram)