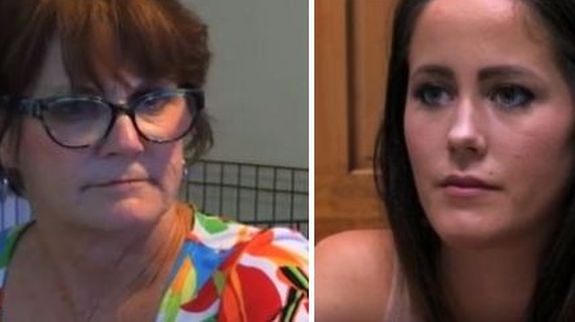 Jenelle Evans says she fears her son Jace is unsafe at his grandma Barbara's house, due to his "out of control" and "physically aggressive" behavior which she feels Babs is no longer able to control.
In a court paperwork (obtained by The Sun)— filed in January to obtain emergency custody of Jace— the former Teen Mom 2 star opened up about some of Jace's disturbing behavior– which allegedly includes setting fires to things inside Barbara's house out of anger, physically assaulting Babs and more. Jenelle claimed that, since Jace does not act out at her house on The Land, she felt it would be safer for him and Babs if he came to live with her.
(The Ashley can confirm that Jenelle's bid for emergency custody was denied by a judge.)
As 'Teen Mom 2' fans know, Jace has lived with Barbara since birth, and she currently has primary physical and legal custody of the 11-year-old. Earlier this year, Jenelle claimed that she was getting full custody of Jace back, and The Ashley confirmed that this was, indeed, the plan. However, Barb became upset that Jenelle was insinuating publicly that she could not handle Jace so she backed out of the agreement to allow Jace to live with Jenelle. (That happened right before she and Jenelle were due to sign legal papers to make the arrangement permanent.)
Since then, Jenelle and Barbara's relationship has been strained.
Anyway, in January, Jenelle filed for emergency sole custody and told the court the custody agreement needed to be amended due to a "substantial change in circumstances affecting the welfare of the minor child." Jenelle stated that the change puts Jace at risk of "bodily injury."
"[Jace's] increasingly worse behavior problems…cause him to be physically aggressive, out of control and unsafe," Jenelle wrote, adding that Barbara "cannot control the minor child's behaviors."
As The Ashley previously reported, Barb has reached out to Jenelle many times to get help with Jace, and even left him on The Land for a period when she felt she could no longer handle him. After that happened, Jenelle opened her big mouth a bit early, bragging about having full custody. This caused Barbara to pull the plug on the whole plan!
In the court paperwork, Jenelle alleged that one of those times was December 19, 2020. (This is actually Jenelle's birthday, and the day Barbara posted the Instagram video below.)
Jenelle stated that Barb and Jace were arguing all day and things finally came to a head and ended with Barbara injured and her carpet on fire.
"The minor child physically assaulted [Barbara] twice causing injury to [Barbara]," the court paper states, according to The Sun. "The Minor child also burned the carpet because he was angry with [Barbara]…The minor child has a history of starting fires in the home of [Barbara]."
Jenelle stated that she was concerned because, after this incident, Barb failed to call a crisis line (as Jace's doctor had allegedly instructed her to do multiple times if Jace's aggression escalated). She also failed to "seek any treatment or professional help for the minor child during this incident."
Instead, Jenelle says, Barb reached out to her for help.
"[Barbara] cannot manage the minor child's behavior without assistance from [Jenelle] and the conflict in [Barbara's home] has resulted in domestic violence between [Barbara] and [Jace]," the paperwork states. "It is not safe or healthy for the minor child to remain in the custody of [Barbara] as [Barbara] is not properly treating the minor child's mental health or managing his behaviors."
Jenelle also asked the court to restrict contact between Barb and Jace, except for visits that are "therapeutic in natural until they are able to appropriately manage the conflict in their relationship."
"[Barbara is] not fit and proper to have the care, custody and control of [Jace] due to her lack of ability to properly care for the child and ensure he has a safe home environment," Jenelle added.
Barbara and Jenelle have both mentioned in the past that Jace struggles with mental health issues, but neither has gone into detail publicly about those issues.
Jenelle has not yet commented on the release of the court documents, which are public record.
The Ashley will update this story when more information is available.
RELATED STORY: Jenelle Evans Says It's Unfair That People Are Still Holding a Grudge Against Her & David Eason For Dog Killing Incident "That Happened Years Ago"
(Photos: MTV; Instagram)